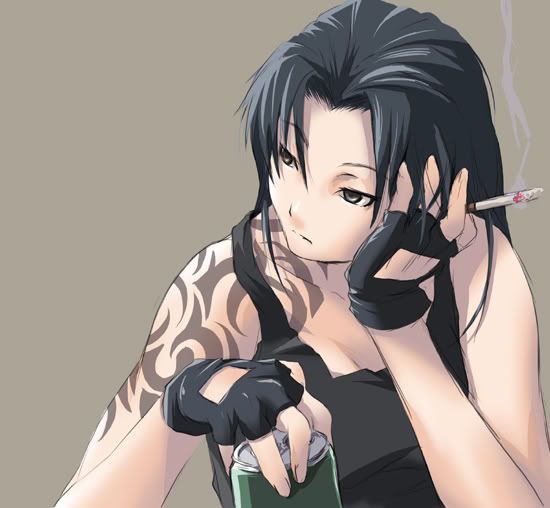 Name:
Elisabeth Engel
Gender:
Female
Age:
30
---Appearance----
Elisabeth stands to 5'3, Her normal attire is often the punk style.
---Personality---
Elisabeth has been through a lot in her time yet coming the age of twenty seven her personality has been and remains quite serious, laid back, and blunt. She herself is not in the slightest ambitious and often says "what happens happens." Although as lazy and uncaring as she may seem, Elisabeth does believe in having a job and has soft spots which she rarely ever shows. Due to her nature of being blunt and uncaring at times, she can come across as being a "bitch" to some people or players. Other then her social side, she herself is a smoker yet not an alcoholic. She enjoys cheesecake often with coffee and is rather good on punctuality. She herself has always loved enjoyed video games and online games and often if shes not doing that she reads or goes out for fresh air or works out. She barely goes out at night and usually claims to not have much time away off now in days. Yet this was all before being trapped among the game. She now strives to get out, her ambition towards beating the game only went higher and she has no intentions of dying.
---Background---
Year 2026...
Elisabeth was actually working as a bartender at night. Her days were often long and she had been getting on her current MMO at the time less due to high amounts of stress especially being in college at this time of her life. One day when she was looking over her MmoRpg site she noticed a new notification.
"Heine Online: The New Virtual sensation"
Virtual reality was becoming popular but when she read the additional information this was beyond its time and obviously was going to be something. She spent nearly every night after work for an hour, Looking up new information about the game until the alpha sign up was released. Elisabeth immediately signed up and eventually got an email back saying she was accepted. However It also claimed quite intense news saying the alpha will release in a year's time. This however was rather normal for these games now in days due to the preparation.
Year 2028
When the alpha released, Elisabeth was happy and still working at her normal job. The first time logging in was amazing especially seeing how the game portrayed her. It was all done by her mindset. To her, she really had no idea what was going on due to it being so different from every mmo actually made. Elisabeth didn't slow down and got a decent amount in to the alpha's cap of level 10... After hitting this level she continued exploring the region that was given and enjoyed it. It only came then when all good things had to end and at that point it was all over. The alpha was complete and Elisabeth had an idea ready.
Year 2029
Elisabeth had quit her bartending job once she was accepted being a GM and a part of the team for Heide Online. She however soon came to realize a suspicious attitude from her boss Omata Tsukari, she payed no mind to it. Someone this brilliant and making such a game, why would he do anything bad right?
As the beta launched she herself did her Gming job as she played the game after work... It was only at the very end when things were too late that she finally realized her feeling was right.
Year 2030
The launch hit finally and Elisabeth was excited immediately getting time off for two whole weeks to play the game. Perhaps taking paid time off during this point was bad and she'd have no vacation days but she didn't care at least until two weeks later when she finally realized the very boss she served and looked up to and the creator of this glorious world suddenly traps her inside!
Username:
Caitsith25
Beta Tester
Yes
Current Location
: Tyr
Cities Visited
:
Heine
Odin
Tyr
Name:
Sieghilde
Gender:
Female
Guild:
None
Guild Position:Gold:
650
Bought Items/Perk
EXP increase - Increases the amount of exp per post to 2 - 1500 gold
Gold Increase Lv.1 - Increases the amount of gold per post to 10 and +250 for dungeons/arcs cleared - 1000 gold
Class:
Marauder
Weapon Type
: Lance
Level:
18
EXP:
10/10
Strength:
63 + 3 per level
Vitality:
47 + 2.2 per level
Agility:
47 + 2.2 per level
Mind:
21 + 1 per level
Intelligence:
21 + 1 per level
HP:
426 (8xVIT +50)
SP:
105 (5xINT)
P.ATK:
(74)63+11
P.DEF:
(34)23+11
M.ATK:
42
M.DEF:
42
Speed:
47
Abilities
Level 1 -
Lance SpecializationType:
Passive
SP:
N/A
When Sieghilde uses lances, her P.ATK is boosted by .25x Agility.
Level 5 -
Die Gebühr des DrachenType:
Active
SP:
25% SP
Translated to be called "Dragon's Charge". Taking up her drachen stance before moving in a blink Sieghilde rushes her opponent with unbelievable strength and speed. This attack is very linear and those with lesser speed may not be able to dodge it. Those with greater speed might. Upon the rush her speed is multiplied by 1.5. When she collides or hits, It deals 2x P.ATK and stuns for 2 seconds.
Level 10 -
Das Tauchen des DrachenType:
Active
SP:
25%
Translated to be called "Dragon's Dive". Takes one second to charge, Sieghilde then jumps into the sky before diving lance forward towards the opponent taking one second to come back down full speed. This deals 4x P.ATK.
Level 15 -
Die Verteidigung des UlansType:
Passive
SP:
N/A
Translated to be known as "Lancer's Defense". Increases Sieghilde P.DEF by .25 Vitality.
Level 20 -
Der Schub des DrachenType:
Passive
SP:
N/A
Translated to be known as "Dragon's Thrust". Sieghilde's attacks are said to resemble a dragon's power those who've fought against her say that her attacks get stronger by the hit. When she attacks normally it adds an 4 damage per attack. Yet after 30 seconds half of the power goes away. (Basic Attacks Only)
Level 30 -
Lancer's StanceType:
Passive
SP:
N/A
Occasionally Sieghilde will use multiple/counter attacks when basic attacking. This can only occur after she does a natural jab, a swing and a counter. When its a jab It will add 4 extra jabs dealing 50% of her damage each hit (These can miss). If its a swing down, She will then immediately swing her polearm back up dealing another 100% damage stunning for 2 second. If its a swing up then she'll swing back down doing the same effect. Countering can only be done by deflecting a normal attack – It will deal 50% damage to the target. This effect counts as a normal hit and all normal hits can be defended against/evaded if the post makes sense..
Character History
The Beta Test week....
Elisabeth's progress among the last week of the beta went quick, having already the information and knowledge from the Alpha. She immediately was aware of where to go and what she wanted to do. Elisabeth started out killing monsters, doing quest and naturally increasing her crafting abilities not speaking to anyone among this time. She did have a few encounters for Pks but those proved to easily be shrugged off unless battle was unavoidable.
First Week Of Release...
Upon the first week of release her pace stayed the same only this time she had met very few people and often those were done through trade. Other times and rarely she would help noobs in Heide when she was there. Elisabeth still remained only to herself, She began to get known for her rare avatar yet no one knew her name. Although it was brief she did have a run in with a PK guild although their levels didn't match Sieghilde's level. It was only because Elisabeth rejected to join their guild and fought against the guild leader which she of course at the time won.
Second Week Of Release...
Upon the second release her usual routine continued, getting on when she could and exploring and progressing through the world. It wasn't til the end at midnight when she logged in that it all went upside down. With the patch updated she finally realizes that she herself may not get out of this game without a fight and answer. She now stands in the Valley Of Tyr being one of the first people to actually visit this place. Yet she couldn't feel accomplished by the information that had reached her.