---
---
This is a tale of the rebellious few. Those fearless men and women who keep what is theirs and fear no one. Those who took to the spray of the sea and the crash of its waves seeking their fortune, adventure and the freedom to choose their own heading. Many of these men and women, have either been scorned by or fled the kingdoms and empires of civilization for a life of their own choosing. So where is your tale told? Is it in a trading house, seeking to earn riches through the sale of merchandise acquired by less than legitimate means? Is it atop a deck of a fearsome pirate vessel, with cutlass in hand fighting through the smoke of cannon fire? Or perhaps it is in a brothel, maneuvering to become more than what fate has allowed? Find your heading, seek your fortune, seize your freedom. By Blood or By Gold, the choice is yours.
Our World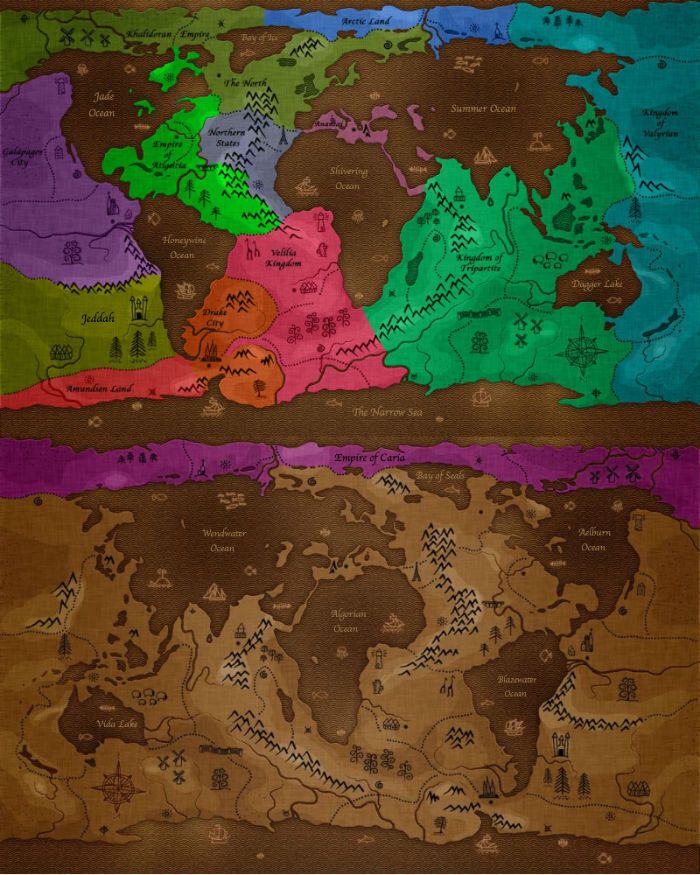 Nassau, a Kingdom for Thieves
** Props to TvAddict13 for the map, this entire story takes place in the world she created. This is a spin off of sorts set a few years in the future so gracias Khaleesi
-Create a pirate, a pirate captain, merchant, inn keep, whore, madame, fence, you name it as long as it is in the spirit of pirate awesomeness.
-No predetermined characters are being set up so no roles to fill. Make whatever kind of character you want. Pirate ships are filled with characters.
-The story will be taking place on a central island called Nassau that has no true central government and the pirates kinda run shit so no need to inquire about kings and shit.
-Any character can be made, be creative and keep in mind of the time period. This the golden age of piracy here so no automatic weapons. Smoke and black powder are fine.
-Feel free to add some supernatural or magic. Gypsies, witches, mermaids, curses etc
-You can be up to as many characters as you want. Just make sure that you can handle all of them.
Code: Select all

[center][i]Name:

Age:

Appearance:

Build: (Slim, Skinny, Fat, Stocky, etc…)

Personality: : (It is advised you create a flaw for your character to offset the good qualities and create new plotlines to follow)

Where they live: (Story is centered on Nassau so this is probably what should go here, js)

What/ who they are:

History:

Skills:

Other:[/i][/center]

1. God-modding is unacceptable, if you do so I will open up the biggest can of whoop ass and check your characters candy asses into the Smackdown Hotel before I murder the ever loving shit out of them. AND THAT'S THE BOTTOM LINE BECAUSE STONE COLD SAID SO!!!

2. Anime pictures will not be accepted. Real images only!

3. Sex scenes are to be expected given this is a pirate story but anything graphic needs to go to PM if you feel so inclined.

4. No character limit, so no need to reserve characters.

5. Although there is no character limit it is advised that you do not to make more characters than you can handle. If at some point you become overwhelmed we could always come up with some kickass way to murder the fuck out of them.

6. If you can't tell by now profanity isn't just encouraged, it's fucking expected. So is sex, and gratuitous violence. If you're squeamish drink a tall glass of shut the fuck up juice and go somewhere with your bitch ass.

7. Waging sea battles, sword fights and fisticuffs is going to happen, these are pirates after all. Any and all fights need to be fair to both writers as well as true to the story and characters involved. No one is invulnerable or unkillable. If you're unclear as to this rule, revisit rule #1

8. Please stick to the character sheet but don't be afraid to spice it up and add to it. If you want to added so extra details and stuff feel free.

9. Be respectful. What happens in the IC stays in the IC. No one wants drama in OOC.

10. No one line posts! If I wanted one liners I would have created this rp in Free Roleplay section. One liner's to me don't really advance the story. So try to at least type a paragraph or two. If you need help with ideas, bring it up in the OOC and we can all together come up with something.

11. I am a fan of a lot tv shows that takes place in medieval eras. If you want to make a character based around your favorite character or something like that is fine. Just spice it up and twist things around and make the character your own.

12. Real life can be unexpected and hectic at times. I would like it if everyone could post daily but I understand that they may not always be possible. So just be dedicated and post as often as you can. Dedication and activeness is how role-plays stay alive. If you are concerned with your stamina in this story but would still like to be involved, don't entangle your character in any big story archs or plot lines that way no one is stuck waiting for you if you get abducted by aliens or some shit.

13. No Jack Sparrows...
Taking place in...
Arcs are bundles of posts that you can organize on your own. They're useful for telling a story that might span long periods of time or space.
There are no arcs in this roleplay.
There are no quests in this roleplay.
Here's the current leaderboard.
There are no groups in this roleplay!
Welcome home, Promethean. Here, you can manage your universe.
Arcs are bundles of posts from any location, allowing you to easily capture sub-plots which might be spread out across multiple locations.
You can create Quests with various rewards, encouraging your players to engage with specific plot lines.
Settings are the backdrop for the characters in your universe, giving meaning and context to their existence. By creating a number of well-written locations, you can organize your universe into areas and regions.
Navigation
While not required, locations can be organized onto a map. More information soon!
There are no groups in this roleplay!
By creating Collectibles, you can reward your players with unique items that accentuate their character sheets.
Once an Item has been created, it can be spawned in the IC using /spawn Item Name (case-sensitive, as usual) — this can be followed with /take Item Name to retrieve the item into the current character's inventory.
Give your Universe life by adding a Mob, which are auto-replenishing NPCs your players can interact with. Useful for some quick hack-and-slash fun!
Mobs can be automated spawns, like rats and bats, or full-on NPCs complete with conversation menus. Use them to enhance your player experience!
Current Mobs
No mobs have been created yet.
Locations where Mobs and Items might appear.
You can schedule events for your players to create notifications and schedule times for everyone to plan around.
Add and remove other people from your Universe.
The Forge
Use your INK to craft new artifacts in Pirates: By Blood or By Gold. Once created, Items cannot be changed, but they can be bought and sold in the marketplace.
Notable Items
No items have been created yet!
The Market
Buy, sell, and even craft your own items in this universe.
Market Data

Market conditions are unknown. Use caution when trading.

Quick Buy (Items Most Recently Listed for Sale)
None
Discussions
Topics

Replies
Views

Last post
Most recent OOC posts in Pirates: By Blood or By Gold
There have been no posts in the OOC topic for this roleplay!