Aliases:
Máko Ödüs Galodon; "Great White"; Shark Man
Age:
29
Appearance:
The demi-human is quite enormous in more ways than one. Having the traits of one of the largest fish in the sea has not only made him a threat to many, but has caught the attention of thieves and freak shows trying to make easy money. To some, his appearance is fascinating, exotic, and strangely attractive but to most, he is seen as a freak of nature. His eyes are pitch-black and his irises gold, reflecting light to fool some Animalia to believe that they glow. His teeth are large, triangular and serrated, making his smiles wide and frightening. Behind his primary rows of teeth is a second set that have made him an infamous biter. His victims are often found with a portion of their throat ripped out. Those lucky usually escape him with either a missing limb or a piece of themselves. His teeth can crush, shatter, and sever most non-metals and weak metals.
His senses are more acute than normal. Like a Great White, he can detect electromagnetic fields emitted by the movement of living animals and can detect a heartbeat due to its faint electrical pulses. He regulates his body temperature to remain hotter or cooler than the climate of his surrounding environment. Finally, he can detect a drop of blood on the air and in the water up to 3 miles.
His rogue background is imprinted on his skin in the form of ocean-like tattoos. He has thick, wavy lines on his left deltoid, reaching down to his bicep, symbolizing the ocean, and a ring of triangular thorns circling his shoulders just below his jugular that could symbolize teeth. The shells of his ears are lined with jewel studded-earrings. On the back of his forearm are two fins that can protrude like knife blades and are just as sharp. They are sheathed behind a clear, film of flesh, and if he flexes his forearms, they protrude like a curved knife up to three inches in height, but two feet in length.
His gills are within the pits of his arms, often guarded for they are quite a vulnerable spot. Being mostly human, if ever his gills are assaulted, it's not the equivalent of being punched in the throat. He can still breathe just fine. However, if attacked underwater, then it would only amount to induce his drowning. If his gills take damage in a fight, he will be unable to breathe underwater until they recover. As with most sharks but not all, Mako can only breathe in salt water and not fresh. When submerged in water, his body undergoes a transformation adapting to its surroundings and turning Mako into a massive megalodon. He can often be confused for a tiger shark for his tattoos are still present on his body in wavy stripes going down his left side.
The shark's bulk is built from his diet of proteins and from naturally being a large predator. His muscles are smooth, thick, and texture described as rubbery. They are defined and act as a defense mechanism from most physical blows. His body can take an extraordinary amount of punishment to the point that gross afflictions or strong binds are a must.
Build:
Mako is very bulky and heavy set. He is 7' 2" (86 in) and 748 lbs of muscle.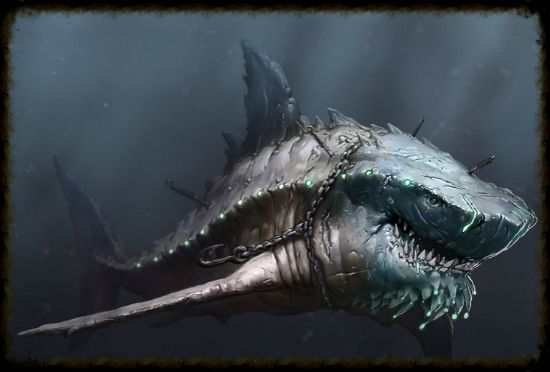 Personality:
Mako is quite the intimidating character due mostly to his appearance and the sea tales that follow his name. He is a legend in Nassau, and mostly known only to sailors, traders, and thieves as a deadly killer. If you're not by the sea, then you will seldom hear about "The Great White." His exposure to the ugly side of society has shaped him into a man of dark humor, pleasures, and sometimes violence. He can be prone to extreme violence if provoked, and the provocation can be as petty as an insult to his name. He loves to fight and will accept any excuse.
There exist some awkward tendencies with him. He can regard someone for several minutes in a stare so scrutinizing one might suspect he had x-ray vision. He often tends to smile and not just for the emotions of happiness and amusement. Au contraire, he has been known to also smile when he's pissed off. Having immense rows of teeth in your face isn't always a pleasant experience.
Mako fights dirty. He doesn't fight with honor; instead, he fights to overcome, live, and win. He used to live how he chose to until he found himself in a bind in Nassau. The fish cannot remain out of the water for longer than two hours. His skin tends to lose its supple texture and will harden, crack, and peel. He gets feverish and it becomes difficult for him to breathe, which then leads to an instinctual rise in panic. The fish will become wild and dangerous in his desperation to find fresh sea water.
With his size, there is much to compensate for in food intake. Mako can eat his weight if not exceed it in food, preferably fish or seafood, and in seldom cases livestock. When he doesn't consume enough calories to feed his cells with energy, he grows very weak and autophagy eventually develops. The shark loves fish, and if there is plenty, his appetite doesn't seem to have an off switch. It can become a problem.
The shark is slightly racist when it comes to humans, having been tortured by them since his captivity in Nassau. He has yet to like one and isn't against causing them harm. He has yet to find one human that could change his mind, but don't let his cruel reputation fool you. He can become a very loyal ally.
Where they live:
Since his exile, the fish was captured and held in captivity in The City of Thieves. He lives in a very small and deep cylindrical tank where his slavers weave tales to draw in those curious to see him. A rare few have ever really seen him. One man being his captor, Eduard Barnabus. Over the months, Mr. Barnabus has had to hire new staff to watch his pet due to
accidents
during feeding time. Some of the rumors have grown stale due to no one having ever seen the creature and customers began demanding proof. The only proof that they have is the fishing game they're required to play when they pay to see the creature.
The fishing game is where a player takes a fish and attaches it to a large, nasty-looking hook. The game is simple. The winner will have caught the Great White on the hook and will be able to reel him in to see him, while the loser loses either his rod or his bait. Because no one has ever been able to catch the Great White, Mr. Barnabus's fishing game has become quite popular in the city. Many flock to the tent to try their luck, and each time, the shark knows how to carefully remove the bait from the hooks. With a little more money, the players can upgrade to even larger, smaller, or fancier hooks to better increase their chance of catching him. The more complex the hook, the better chance for a catch—so they are led to believe.
With only the few fish offered during his feeding time, Mako's only chance to really eat depends on the amount of people who play the game each day. This has left him weak, crazed and starved unable to escape his predicament and the tiny swimming space.
What/ who they are:
He was once apart of a race of sea people known as the Mercos. They were a fish people that lived about the coral reefs in a city under the sea. He was the son of an Imperial guard and his siren wife. Born mutated and different from the pure blood of the clan, he was destined to be banished when he matured.
History:
Mercuria is a city of fish people in the tropics. Fields of coral make the poisonous barrier divers would have to swim through to reach the city, and there are many predators that live within it so that if the coral doesn't get you, they will. Mercuria is neutral in relations to other kingdoms in the world, offering hospitality and resources in exchange for continued peace. Mako's father was a well-known and respected Imperial guard, and his wife was one of the most beautiful fish in the kingdom whose voice could charm sea demons. It was expected that such a beautiful and renowned pair would have an equally beautiful child, but the pup that emerged from the egg hadn't been so. Mako was different as a baby with black and gold eyes unlike the black and sea-blue/green colorations of the other fish folk. He resembled a shark and they feared that he wouldn't ever have a humanoid form.
When Mako was thirteen, his curiosity led him to the surface and when he accidently beached himself, he discovered his body's ability to adapt. Excited to have a humanoid form, he swam back to his parents to tell them, but instead of excitement, they showed only fear. Their monstrous son was capable of doing what none of them could: walk the surface. Rumor soon reached the Mercurian king, and he had the boy arrested and brought before him. Mako's ability to walk the surface threatened the kingdom's relations with the landlubbers. If the humans knew that such a monster represented their people, then surely they would break relations with them. In order to protect the kingdom, the teen was banished from his home and was never to reveal his relation to the Mercurian kingdom.
The surface world had been a rough and unkind experience. The teenager found it difficult to fit in even though he walked upright like them and studied their language. He wore clothes like them and even tried to mimic their mannerisms, but he was still only a freak to them. One day, a gang of punks chased him down, strung him high like a fish, and harassed him with a harpoon. It had been a sea captain by the name of Jorn M. Gatling that had rescued him and with a loaded flintlock, scared the group away. The captain didn't see Mako as a freak or a comrade. He was to be a weapon, whether he liked it or not, he would mold him into one.
Mako was forced into slavery on Gatling's ship Widow's Scorn. There he was broken and learned to kill the captain's enemies. He patrolled the sea around the ship while the pirates slept, killing enemies that plotted underwater hijacking. He was known to bite holes into the hulls of ships, forcing them to slowly submit to the waves. He had even participated in a few raids, climbing aboard the enemy ship and scattering its crew across the deck. The captain had made a monster, and it had drawn the attention of a royal ship.
The captain of the royal ship was a naval genius and having learned much about Gatling's tactics, had an impenetrable hull added to his ship. The metal bottom kept Mako from sinking it, and the bombardment he faced from the gunners kept the fish at bay. The royal captain then ended the pirate captain's reign in a blaze of cannon fire that smashed the Widow and reduced it to driftwood. Mako had also been targeted in the attack and was thought dead when a cannonball struck him.
He washed ashore the beach of the city Nassau and was found by a man named Eduard Barnabus. Frightened at first, the man near fled from the sight, but instead an epiphany of greed had entered his mind. He abducted the unconscious fish and started his lucrative business, where Mako resides today.
Skills:
xInhuman Strength
xNavigator
xNaval Hijacker
xMarine
xUnderwater Stealth
xTracker
xIntimidation
xMuscle
xFisherman
xScout
xSlayer of Sea Monsters
Other:
Any character is welcome to try their hand at The Fishing Game in the Nassau marketplace. Feel free to send me a PM so that we can plot it out if you think that your character would be interested.