Sofia Caterina DelGato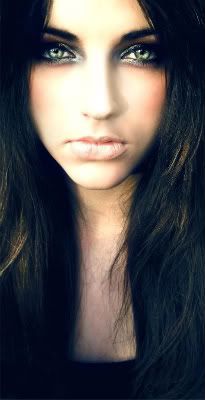 Age: Twenty-Five
Appearance: Sofia's hair appears to be a dark, warm brown in the sun light but often changes to a silky black once the moon comes out. She keeps it long and often in a braid or bun. Her height is average if not a little on the short side ranging around five feet five inches. Her body type could be described as 'voluptuous' but keep in mind that she is very fit. Her eyes are mixed hazel-brown that she has always been very proud of. Her skin has a golden tan year round due to her Spaniard decent and sailing around the tropics.
Title: Surgeon
Nationality: Spaniard
Languages: Spanish, English, Italian, and some French.
Literate?: Sofia is very literate for her day and age.
Personality: Sofia grew up in the lower-high class area of Spain. Just below royalty and just above the white collar workers. Her father was a well respected bank owner and her mother was actually ninety-eighth in line for the royal crown, rather large shoes to fill for a girl who never cared much for fanciness and riches. With good breeding comes responsibility. She was to be well educated and focused on her studies while also learning the makings of a good wife and home maker. She learned reading, writing, arithmetic, several languages, and when she could get away with it; science. At age fifteen she was betrothed to a young man entering medical school, a year later they were married. At first she did not love him, most days she couldn't be sure if she even liked him for she did not see much of him during his years in school. He spent a lot of his time in England studying new, and often provocative and frowned upon, methods and theories in the medical world. A few years later he finished his schooling and came home to practice medicine in Barcelona where they lived. Once they had more time with one another they truly fell in love. Her husband, Edward was his name, cared little about the stereotyped roles of women and greatly enjoyed his wife's interest in his work. He gladly began explaining things to her, allowing her to read his textbooks and answering all of her many questions. Quite soon she began practicing, unofficially, along side him. They often cared for the more poor and less well off so their patients rarely minded whether she had a degree or not. Life was very happy for the young couple for at least four or five years.
Unfortunately perfection can only last but so long. Her husband was killed February 22, 1975 by the angry husband of a patient who died in childbirth. Hard as he tried Edward could not save the woman nor the infant. The man was very angry and attempted to kill Sofia, her husband managed to stop him but lost his own life in the process. It's not really a memory she likes to recall. Soon after she closed the practice and shut herself away in her home to mourn. After a few months she began practicing again, just a few patients every now and then that she would see in her home.
One day a ship captain by the name of Arturo appeared on her door step. He seemed to have taken a shot to the left arm, just a light graze, that was in need of a little stitching. Granted stitches were not really common practice in the 1700s but Edward had studied and taught Sofia many uncommon and 'new age' things. She sat the captain down, gave him a bottle of his choice in alcohol, and set to work. She gave most of her patients alcohol to help dull the pain as steel needle brought flesh to flesh. Her technique was rather advanced, well practiced, and clean. Sofia always took pride in her work. While fixing up the Captain he told her a little about himself and his travels; small talk often helped to keep patients focused on other things beside the pain. Just as he had been about to leave Sofia turned asked him to take her with him. The words had slipped out before she'd even had a chance to think about what she had been asking. It took a little conniving, a little begging, and then finally a distressed demand that he allow her to go. She had swore to him that woman or not her work was incredible and could hardly be matched by anyone for miles. It took a while but he was finally convinced. She has yet to fail him thus far.
Opinion:
October 13, 1775
My Dearest Edward,
Today wasn't really all the eventful. The crew is slowly learning to accept me just as I am learning to not be so sensitive to their remarks. Really it's not that bad here at all. Of course, it really is no place for a lady but I hardly consider myself one anymore. Not since I lost you, darling. Honestly, I haven't the slightest clue why I asked to be this ship's surgeon. It was a reckless, hasty decision that I am sure my mother does not approve of. Do you approve, my Edward? I truly hope so. I just didn't know what else to do without you. Everyone said I
had
to remarry. You know the written and also unspoken laws of such things. But, Edward darling, I just couldn't imagine being in the arms of another man. Not yet, maybe not ever. I had to escape it, all of it. The painful memories, the constant nagging, I needed to leave it all behind. Even if only for just a small while.
I will eternally be grateful to the Captain for allowing me to join the crew. Oh, how adventurous that sounds! I'm part of a crew, the very thought makes me laugh. Who could have ever thought I'd be rubbing elbows with sailors and sleeping just a room away from men whom most of I don't even know the names! Oh yes, I am sure of it now. Mother wouldn't approve in the least. It really is a liberating thought, my darling. I no longer have to live to those high, prudent standards of being a lady. How much more enjoyable life is when you don't have to worry about such trivial things everyday! I am truly happy here, even though I am still getting my bearings. It would be completely perfect if I could share this new life with you.
Just imagine, Edward! You and I, traveling physicians, sailing around the world on a 'pirate' ship! Oh, the adventures we could have had. You would like the crew here; it seems pirates care little about the differences between old fashioned and new age. It's nice not to be constantly at everyone's criticism. Well, there are a few sexists remarks here and there but they're men, darling. What else could I expect? Still all in all there is no where else I could be this happy, this free.
Well, the Captain is calling, mi amor. I promise to not allow too much time to pass before I write you again.
As always, forever yours, Sofia. Te amo con toda mi corazon.