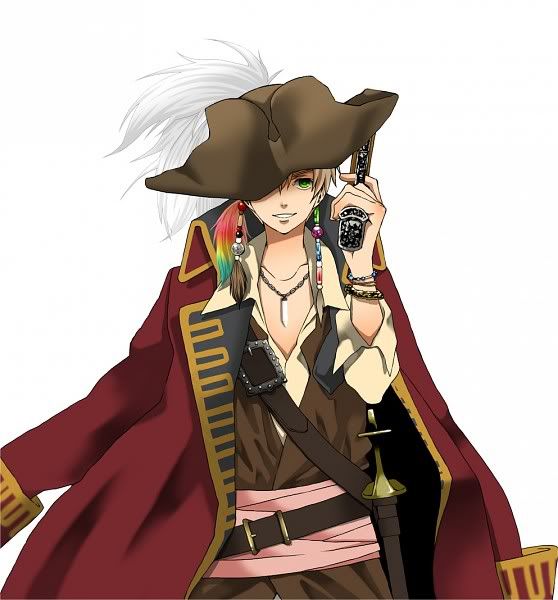 Name: Bartholomew "Jolly Roger" Hayes
Age: 23
Gender: Male
Hair color: Strawberry Blonde
Eye color: Light Green
Skin color: Pale white with a hint of tan.
Tattoos/markings: A large scar over his right eye. A tattoo of the Jolly Roger
Clothes: A beige shirt, with a brown waistcoat. A pink sash across his waist, and a bandolier across his chest. Brown trousers and boots. He wears a hat with dreads on the inside of it, a diamond necklace that Many people tried to kill him for, and random bangles on his wrist. He also wears a Red, Gold and Black overcoat which distinguishes him as "Quartermaster."
Weapons: He has a black, red and gold Flintlock Pistol with the initials "J.R" Inscribed on them. The same with his swords. A french Rapier sword, and a Cutlass hidden next to it.
Ship worked on: The Black Pearl
Rank: Quartermaster and Sea Artist
Other: He seems to be amused at no end to how similar Serna is to the tales of her Father when he was her age. He is the only known heir to the famous Pirate "Jolly Roger." He sounds like he's actually English, but still uses Nautical terms such as "Belay that!" and "Parley!"