This is a remake of the original roleplay!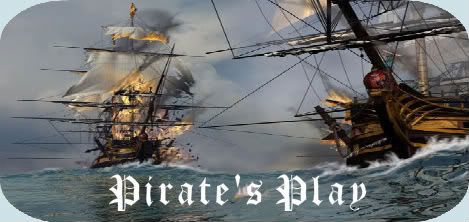 To El Dorado!


Pirates. They roam the sea, starving for profit and adventure. 1718 marks the date that The King of England's daughter has been seized by these bloody creatures and brought upon a ship. Only one crew of savages could ever think of doing such a thing: the fresh off the block, unspeakably clever Ratgrins! The question is: Why?

Only the Captain, first mate, and scholar know the real reason behind the abduction. For, this is not a tale as simple as petty kidnapping. Captain has far bigger plans. In fact, his plans are enormous. Captain started the Ratgrins with this sole reason in mind, not but five years ago. Since, he and his clever scholar have feverishly been deciphering the many cryptic clues necessary for this adventure. They will be traveling to the lost city of El Dorado. In order for their mission to be possible, however, they must have royal blood aboard their ship, as it's the only way to pass the golden gates. Their journey will not be easy, for unheard of forces are at work here in this magical city, heavily guarded and not at all easy to locate. Still, the mad men continue in their near-possible mission. They continue with both mythological and mortal obstacles in their way.

This is where your story starts. Maybe you are a member of the Ratgrins, indulging in whiskey, treasure, the sea, and battle, in store for one hell of an adventure. Maybe you're a British solider, bent on saving the princess for your honor. Perhaps you're a bounty hunter, looking to steal back the princess and maybe kill a couple infamous criminals for the massive reward. You could be the Princess' adoring fiance, who's been arranged to marry her from a young age. You might be the captain, maybe even the kidnapped daughter yourself.

Whoever you are, know that around these parts of town, even dead men tell tales.
CAST

The Wandering Jewel (Ratgrins)
Captain: Aniruddha Tok, played by AverageBear
First Mate: Siegfried Howell, played by Kurokiku
Scholar: Kong Long-Kai, played by Soki
Princess: Hermione Elizabeth Charlotte, played by Lovely VonSchultz
Helmsman: Raziah Moreau, played by onetrickpony
Boatswain: Kei Yukimura, played by BleedingCrimson
Carpenter: Paragon "Tinker" Whitfield, played by Yonbibuns
Doctor: Tiesa Elan, played by Aulelei
Lookout:Catherine "Cathy" Eccles, played by Wudgeous.
Crazy Loon:Atlas Winters, played by flyingmonkeychild

His Majesty's Ship Spiteful (British Navy)
British Naval Captain: William Henry Hamilton, played by LDSJediMaster
Lieutenant:Jallad Faires, played by Wudgeous
Princess' Fiance: Nathaniel Blackthorne, played by LovelyVonSchultz
Sailing Master: Lynette "Jack" Weaver, played by Kurokiku
Cook: Domus La'vala, played by Yonbibuns
Swabbie: Caleb Foul, played by AverageBear
Mermaid: Unnamed, played by That one guy.

A WORD FROM THE CREATOR
Ahoy! Average here. I have some big plans for this roleplay. We'll start of with the lovely, typical pirate deal and slowly delve into the aforementioned grander adventure. The captain will eventually tell his faithful crew about his scheming, and some can choose to drop out while others can stay with him in his ludicrous, highly dangerous, more-than-likely-fatal quest. They'll face things like the cracken and sirens and mermaids and a ghost ship and freakish storms before they make it to the gates to El Dorado. One mermaid in particular will abandon her clan and join the pirates on their adventure because she and a pirate will fall in love. Once they make it, the roleplay is over- BUT, a sequel could be made about their time in El Dorado, which would be just as interesting. That one would deal with associating with the natives, somehow taking the gold, bringing it back out, as well as eventually returning the princess if she stayed that far into the story.

Basically, this roleplay will be AWESOME if we have peeps who will stick around. :) I'd love to finish this little baby of mine, and I can only do it with your help!
BACKGROUND INFO
Here's the deal: The Ratgrins have technically been around for 13 years, but the first 8, they were completely under the radar. The current captain had been recruited when he was 17 and the ship had been in exsistence for only a year at that point. 7 years after that, the ship was attacked by other, more powerful pirates. The whole crew spare the current captain and just a handful of others were all that was left. Without food, booty, or hope, they were left for dead. The five men quickly elected a new captain (It being the now 24 year old current captain) and barely made it back to land without dying. Upon arrival, the captain decided to recruit, male and female, soft and strong, experienced and brand new. In these five years of the new Captain's reign, they've quickly gained infamy for their strategical hits and ability to escape out of danger like the gods are smiling on them.

At this point in the roleplay, the young princess has just been abducted and they're still located dauntingly close to where the navy could get them. Many men died in the efforts to pull off this mission, and thus, a lot of the crew members are angry, especially because they have no idea why they were taking the princess in the first place.

In this roleplay, El Dorado is basically a city that was created thousands of years ago by people in a religious tribe. All the scraps of information the scholar would find on El Dorado will imply that El Dorado was originally a mountain made entirely of gold that the people carved into an expansive city. The entire place, from the buildings to the ground, is made literally out of gold. It is said that even their trees are made of gold, delicious fruits that act as intoxicants growing all over the place.

They also go to claim that the gods have blessed the people there, being rewarded for their ancestor's good-doing. The people apparently live infinitely longer than regular people, due to the water that runs through their city's river. This implies the prospect of the fountain of youth also being tied to this city. Everyone there is supposed to practice a holy life, conflict and sin spared from their city, warmth, beauty, and love being the biggest virtues. This is why it is so heavily guarded, obstacles meant to keep all infiltrators out so that the city may stay pure.

They will have a society similar to the Aztecs. It is said that the view of El Dorado is the most beautiful thing a man could ever see in his mortal lifetime, enough to woo any visitor into agreeing to be sacrificed to the gods- another defense device. In all reports, no one has ever gotten both in and out.
RULES
First of all, don't be scared or shy to talk to me. Good role plays are built through communication. If you need any help, or have any questions, I'm just a PM away! I'm a friendly internet user, don't worry. Amour is too. So don't forget to ask Amour as well.
Reserve a position in the OOC!
Once you've reserved your character, submit it here in the tabs. (If you need help, just contact me) Once it's ready, I'll review your character with you or accept you right away and then you'll be in!
I want the characters to be realistic but not boring. Stick to just a few traits as the core of your character, then flesh them out with other things. I also don't want duplicates, meaning that before making a character, look at the ones already made so your character can be original and a bigger contribution to the roleplay!
Your posts should be AT LEAST two paragraphs. I personally vary from three to eight or nine per post, depending on what's happening.
Be assertive! Don't just walk around campus by yourself for thirty posts waiting for someone else to talk to you, move your character's tush over to where other people are and start conversation. However, try not to crowd around. Let people have a conversation between two people, because having a group all talking to each other can get tedious. YOU KNOW WHAT I'M TALKIN' ABOUT.
Dramatize it up, dawgs. Aint nothin' better than some role play drama to go with yo' mama.
A post every day or so is the pace I'd like. I won't harass you if you can't post for a week, but once we hit two weeks, I'll contact you to see what's up. I'm aware we all have lives.
You can have more than one character~
ENJOY YOURSELF
Taking place in...
Arcs are bundles of posts that you can organize on your own. They're useful for telling a story that might span long periods of time or space.
There are no arcs in this roleplay.
There are no quests in this roleplay.
Here's the current leaderboard.
There are no groups in this roleplay!
Welcome home, Promethean. Here, you can manage your universe.
Arcs are bundles of posts from any location, allowing you to easily capture sub-plots which might be spread out across multiple locations.
You can create Quests with various rewards, encouraging your players to engage with specific plot lines.
Settings are the backdrop for the characters in your universe, giving meaning and context to their existence. By creating a number of well-written locations, you can organize your universe into areas and regions.
Navigation
While not required, locations can be organized onto a map. More information soon!
There are no groups in this roleplay!
By creating Collectibles, you can reward your players with unique items that accentuate their character sheets.
Once an Item has been created, it can be spawned in the IC using /spawn Item Name (case-sensitive, as usual) — this can be followed with /take Item Name to retrieve the item into the current character's inventory.
Give your Universe life by adding a Mob, which are auto-replenishing NPCs your players can interact with. Useful for some quick hack-and-slash fun!
Mobs can be automated spawns, like rats and bats, or full-on NPCs complete with conversation menus. Use them to enhance your player experience!
Current Mobs
No mobs have been created yet.
Locations where Mobs and Items might appear.
You can schedule events for your players to create notifications and schedule times for everyone to plan around.
Add and remove other people from your Universe.
Orphanage
By marking a character as abandoned, you can offer them to your players as pre-made character sheets.
"The most difficult character in comedy is the fool, and he must be no simpleton who plays the part."
"And the day came when the risk to remain tight in a bud was more painful than the risk it took to blossom."
The Forge
Use your INK to craft new artifacts in Pirate's Play: To El Dorado!. Once created, Items cannot be changed, but they can be bought and sold in the marketplace.
Notable Items
No items have been created yet!
The Market
Buy, sell, and even craft your own items in this universe.
Market Data

Market conditions are unknown. Use caution when trading.

Quick Buy (Items Most Recently Listed for Sale)
None
Discussions
Topics

Replies
Views

Last post
OOC || Pirate's Play: To El Dorado!
1 ... 27

,

28

,

29by Averagebear on Tue Jul 05, 2011 3:52 pm


561 Replies
15025 Views
Last post by Kurokiku
on Mon Aug 13, 2012 4:55 pm

Recreation || Pirate's Play: To El Dorado!||
1

,

2

,

3by Averagebear on Tue Jul 12, 2011 6:34 pm


41 Replies
2981 Views
Last post by That One Guy
on Thu Sep 08, 2011 3:17 am

Ships || Pirate's Play: To El Dorado! ||
by Averagebear on Fri Jul 08, 2011 3:34 pm


1 Replies
817 Views
Last post by PanzerJedi
on Fri Jul 08, 2011 8:12 pm
Most recent OOC posts in Pirate's Play: To El Dorado!
There have been no posts in the OOC topic for this roleplay!