Role;
Fiance§§
Name;
Sir Nathaniel Jonathon Blackthorne§§
Nickname;
Nate§§
Age;
28
Written Appearance;
Nathaniel is a tall man, thin, with no real physique to show off. He does not train daily, nor does he partake in any kind of strenuous physical labor. He eats little and works less. In polite society, Nathaniel wears the white, powdered wigs of his peers, though his is very neat and clean without any curls. Beneath this wig is a thick head of black hair that he keeps long against his necks and bit down his back. When home or with close acquaintances, he will keep this tied back with a black ribbon, bangs dangling above steely gray eyes.
Most think of Nathaniel as a well groomed and handsome man. His face is always shaved and his skin is always clear. The resemblance he bears to his younger brother is far from uncanny, save for the muscular features his barbarian brother has taken on. Since his departure, Nathaniel hasn't seemed to care what Siegfried looks like or how alike they seem in features. His hands are large, though he only uses them for signing documents and holding cups of wine or tea in toast.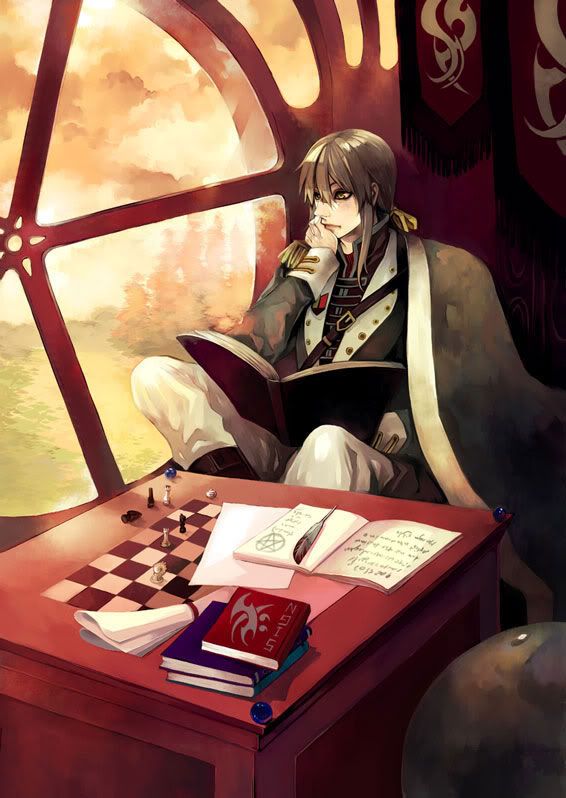 One will always find Nathaniel is the finest of clothing, though they are always of the same colors, black, white, gray, and sometimes a little brown. It is not that he is a severe man, just that he likes things a certain way and those colors suit his mood the best. These items will always be well-pressed, wrinkle free and very clean. His boots are always shining and as soon as that shine is lost, a new pair is retrieved.
Personality;
Aside from being terribly rich, terribly charming, and terribly handsome, Nathaniel Blackthorne, is a rather down-to-earth fellow. His past is no sordid tale. His parents were in love and he and his brother all got along as much as siblings possibly can. This resulted in a very balanced childhood that reared a very balanced young man. His manners are impeccable and he embodies chivalry above all else. His politeness extends to all, though he still follows societies classes and does not consort with the lower classes or servants.
Nathaniel has great faith in the court system and is blind to its flaws. Some would say he's rather stupid if he believes it is perfect and perhaps he is. Justice shall always prevail, no matter how cruel the punishment may seem. At the ripening age of 25, Nathaniel was left with his father's estate and a sickly mother to tend after. He is completely devoted to each and spares no time for others. This has resulted in a cooler, more aloof Nathaniel than usual. His trips to town for the Season have lessened and he rarely sends cards to friends and extended cousins.
Over the years, Nathaniel developed strange quirks and obsessive qualities. Things must be a particular way and if he finds they are not so, he is not below flogging and firing. His shirts are to be pressed a particular way and his mother was always be in the same spot in the same position when he comes to visit her. If she is not, he is prone to fits of rage that border on violent. He has been seen obsessing over books of law and knows the King's Court System like the back of his hand. This obsession continues on as the system continues to grow, change, and expand throughout the country.
Love is not something Nathaniel used to take great stock in. He has the love of his family and sees no need to procreate with the opposite sex. Most of the time he finds them sickly creature with bodies too big to want to hug. Their frills are preposterous and it causes him to twitch awfully and feel as if he may suffocate under their silks.
That was, until he met her.
If those close to him thought Nathaniel a changed man after his father's death, they are more than surprised to see him somewhat returned to his old ways. A death can lay a heavy hand on a man's heart, but since the meeting, Nathaniel has been heard humming, skipping, picking flowers for the little servant girls and even making more trips to town. He attends all the King's Balls and has even sought an audience with the King himself.
The engagement sent him head over heels. He became blind to everything. All he can see is her. All he wants to know is her. All he lives for… is her.
If you ask his mother, associates, even his butler, the man is not in love. The man is obsessed. It has created some great monster inside him that has most people frightened. Once, he raised his hand to his ailing mother when she spoke poorly of the girl's physique. No one knows why he feels so about her, why he is constantly mulling over her, talking to her when she isn't there, writing her terrible poetry and making promises that could get him killed, but he is going mad from it.
Motive/Goal;
To find his true love and save her. Once home, he will keep her locked away in his home forever so that she may never escape him again.
History;
Nathaniel was given everything he needed and grew up just as a young man should. His parents had a healthy love for each other and made a great example of what camaraderie should be like. Though there was a rivalry between he and his brother, they feigned getting along before his parents. At least, Nate feigned it. Siegfried had a great tendency to just be good at things. Nate had to try for most everything he gained, while Siegfried oo'ed and aw'ed the many audiences his father and mother presented them with.
Nate began to hate him. He began to loath the boy who could gain friends so easily. He was the good one. He was the one who followed the rules and had the perfect manners. He knew right from wrong and could save the damsel. But Siegfried was daring. He was fiery and tempestuous. His personality begged everyone to look at him and Nate hated him.
When the Duke was taken by fever, he was left as the head of the estate. It was unfortunate and Nathaniel did not take to the news well. His dream of becoming a Judge for His Highness, of becoming a man who sought justice in the land, was all dashed to the ground by the filthy dark hands of death. The once bright, educated young gentleman, was left with a sickly mother and a name. Of course, they still had their fortune, but Nathaniel could not do what he wanted so badly to do.
So for the years to follow after, Nathaniel walked his grounds daily, spoke little to those around him and became someone no one knew. His grief, unfortunately, was not for his family. He could have cared less what really happened to them. Nathaniel took care of his mother out of necessity and the same went for his father's lands and fortune. Siegfried was thankfully sent away and he practically forgot about the pestulent boy. Peasants came to him seeking out reasons why their taxes were increased, or coming to thank him when he lowered them for a summer. He did not care. They were eyesores to him and he would ignore their existence.
What was he without his dream? What was he if he wasn't presenting justice to the masses? What had he been doing all those years in court rooms and lecture halls? All of it had been for naught and it made him sick to look upon a world that would deal an unjust hand to a righteous young lad. No, he couldn't fight the way Siegfried could. He would be damned before he laid a hand on any person. His nerves couldn't stand touching another's skin. He would need to cleanse himself immediately of the dirt and grime.
Nathaniel Blackthorne was called to the King's Court on the 8th of December. An odd calling, but he was sorely needed in the matters of thievery amongst the servants. Nathaniel's knowledge of the Court Systems was well known and His Royal Highness took notice of the rumors. The King wanted one of his nobles to be questioned thoroughly, his statement and others' statements taken down. This favor was well looked upon and he became a favorite of His Royal Highness.
After a year, he was knighted and was well received the following Season by society and its courtiers. It was here where it all really begins. It is at this ball where Nathaniel first set eyes on her. Where he saw the lanky, tall young princess and thought she was plain and uninteresting. Princess Hermione was neither graceful nor well-mannered and he often found her speaking much too kindly to servants. It was well known that his younger brother had spoken with her once or twice before his departure into his barbaric ways. She made Nathaniel frown constantly and if it hadn't been for one particular evening, he may have dismissed her altogether.
It just so happened that Nathaniel was feeling rather stifled standing beside the Earl of Derbyshire. His cravat seemed a bit too tight but he wouldn't dare tug at it before polite society. Instead, he excused himself and found his way out into the small courtyard garden beside the tables of food and drink. The air was still but cool and he took in deep breaths of the perfume permeating off the petals of nearby flowers. A whimper could be heard behind one of the bushes and a soft voice was speaking, though Nathaniel could not make out the words.

He drew closer to a rose bush and turned an ear to hear a bit better.

"It hurts, madame!" A tiny voice whimpered. Nate frowned and shook his head. Someone had been hurt. Perhaps he should be of assistance.

"I know, darling. Just keep still for me, please?" That voice was familiar. A voice he knew but could not put a face to. It was incredibly gentle and made even Nathaniel feel like it would all be okay.

"But… But your Highness!" Nathaniel nearly jumped from his boots. His gloved hands reached through the roses to push them aside and peek with one eye into the scene he could only hear.

"You'll get in trouble!" It was a tiny little girl in tattered servants' clothing. Beside her sat Princess Hermione, a very expensive handkerchief held to a cut on the girl's elbow. She was holding it close, trying to stop the bleeding.

"Oh now," the princess hushed her with a smile. "I just want to make sure you won't stain your little dress before you head off to get it taken care of." The little girl was staring up at Hermione Elizabeth with wide, tear filled eyes, her dirty face streaked and smeared. Something about the way she spoke, the way she moved and helped that hurt child. Nathaniel didn't seem to care it was a servant girl and neither did the Princess. There was a tight squeeze in his chest and he had to pull away from the scene.
Though seemingly small and insignificant, it was the end all to his pain and suffering. He had to have her. Nathaniel had to gain her and keep her for all time. She was something perfect and yet flawed, much the way he thought of himself. They were two pieces to a puzzle he thought was already finished. She was his new passion, she was his forever.
And so the engagement came soon after, seeing as the King couldn't marry her off to anyone, his standards were not too high.
Then, she was taken. Kidnapped in the night by what Nate could only describe as "evil men." He was far from distraught. In fact, Nathaniel hit a servant woman so hard it knocked a few of her teeth out. His general stupor at the news sent him into a great whirl of fear, anxiety, rage, and determination that he couldn't seem to walk in a straight line. It was his butler that spoke up, finally, and gave him the perfect idea.
He bought a ship only two hours later and crewed it in one. Nathaniel has no idea what he's doing and he most positive the trip will turn his stomach over and over, but he must get her back. Hermione must be in his possession or Nathaniel will lose his mind. At least, that's what he thinks will happen.
Like&Dislikes;
Likes:
Organization (only the way he prefers it, though).
Straight edges
Squares
Cleanliness
A new pair of boots
Justice
Etiquette
Calm
Dislikes
Dirt
Sweat
Swearing
Religion
Attachments (to inanimate objects).
Ale
Character Inspired by
Where's My Angel? By METRO STATION
|
The Only Moment We Were Alone by Explosions in the Sky
|
Yeah Yeah Yeah by Jack Conte