Role; Princess
ღღ
Name; Hermione Elizabeth Charlotte of Wales
ღღ
Nickname; Your Highness, M'Lady, Your Excellency, blah blah blah
ღღ
Age; 18
Written appearance; Hermione is too tall for her age, but has yet to really "fill out" her attire. Her mother, well endowed in every place, constantly makes remarks about this. Because of her height, the princess is only allowed to wear slippers. Heels are forbidden in her changing room. Her hair, golden in the sunlight, can lay well passed the waist of her dresses but she is meant to plait it every morning. This makes it almost consistently waving and silky, sometimes pretty when she looks at it at night. No man is allowed to see her hair down before her marriage, not even her fiance. Rules of the court and all. Hermione has soft green eyes, only in color. The fire she keeps at bay within her shines through, making them sharp and sparkling. They are striking to peer into, though her eyes are much too round for most. Since we are now upon her physical traits, let me explain: Hermione's lips are too big and her cheekbones too high. The chin is too pointed and her neck too long. Her fingers are too thin and her lashes too curled. Hermione is far from society's idea of beauty. Though she can be beautiful on the inside, she has come to terms with the fact that small features on a face, plump cheeks and round bosoms are what men want. Women to bear children. It was difficult for her father, the King, to find her a capable suitor, and one to look past her physical faults and see the fortune that lay ahead.
Personality; Hermione, in her own head, is fiery and full of adventure. She is a very good reader, but is constantly punished for spying into adventurous tales instead of her Latin texts. She is neither smart, nor well mannered, but her heart is always in the right place, in her stomach. Jokes aside, Hermione does love her sweets. She has been seen begging servants to snatch her a sugary tart or two. Servants are not afraid of her, and some don't even respect her much. When she gets into these sugary moods, some take great advantage of it. Hermione is constantly berated by her mother because of this. Despite her obvious addiction to sweets, she is able to maintain a very thin physique. This could be exaggerated because of her lack of bust or because she sneaks away from her chaperons and runs wild in the castle garden. For this, Hermione has been caught many times and punished as well. It is hard not to like her, however, for she is always kind and gentle. Once you have befriended Hermione, she will be your loyal confidant forever. Unfortunately, Hermione has never been able to prove this, for no one wants to be the King's ugly daughter's friend. And as if she didn't have every flaw possible, she has a fainting disorder. The royal physicians aren't exactly sure what causes it, but Hermione tends to faint at the most inopportune moments.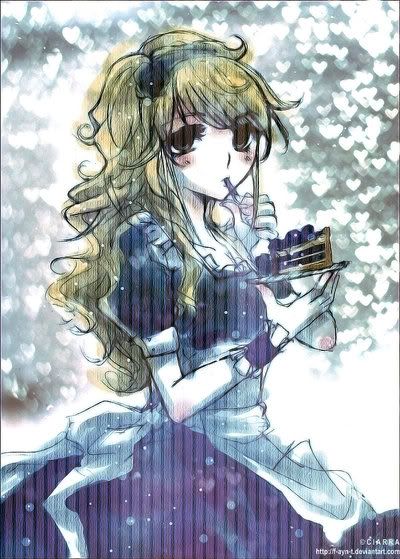 It should be recognized as well, that Hermione has the uncanny ability to know when a person is lying. Their faces, bodies, gestures, and sometimes even their sweat, can tell her the truth behind their lies. It is a natural habit she has had for many years. This makes it all the more difficult to fathom why she lets people get away with tricking her. Though she can see their deceit, Hermione will always try to find the good within a person. Her kindness is by far her greatest flaw.

Motive/Goal; She is unsure, seeing as how she was the one being abducted!

History; Hermione has always tried to live up to her mother and father's expectations. In a society where looks are important and etiquette is key, Hermione cannot seem to do anything right. As a small child she was taught and spoiled by the best, only to hit puberty and be shunned by all. When she was only twelve, she thought she may have found a dear friend in a young maid girl. It turned out she was only there to steal Hermione's jewelry and clothing. If she had just asked the princess would have gladly given them to her. This was a consistent problem in Hermione's life. She soon took to dwelling in books and daydreaming in her tutoring sessions. It has caused quite a stir in the royal family. Not to mention the fact that her disorder is always causing chaos among the people. It happens while she's greeting diplomats, speaking with suitors, or just bathing. No one knows when it will happen, not even Hermione. The most horrific incident is when she fell, face first, into the lap of a diplomat from Spain. No one was more humiliated than she really, but her father couldn't speak to her for a month. Hermione, though, will not complain openly to anyone of her plights. She stays inward with most of her feelings, since no one really cares anyway.

Likes&Dislikes;


Likes


Running
Reading sordid tales
Talking about anything but the weather and family issues.
Sweet cakes
Short bread
Tarts
The Sun
A comfortable bed



Dislikes


Lectures
Latin
Balls
Dresses with too many layers
Bows in her hair
Proper men
Any meat from a pig
Fainting


Character inspired by Firework by Katy Perry & Wonderful by Gary Go.