---
---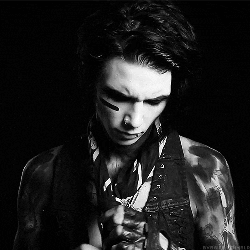 |Name|
Blake Quinn
|Nickname|
None
|Age|
22
|Birthday|
September 28th
|Sexual Orientation|
heterosexual
|Hometown|
Las Vegas, Nevada.
|Year|
4th year
|A Capella Team|
---
---
|Personality|
His personality can vary from his energetic, hyperactive, and bubbly side to a solemn, depressed side. This is due to bipolar disorder. Despite his chronic mood swings, he'll always be very protective over people who he feels deserve the right to be protected. Blake is also creative in art, writing and his musical career is top priority. He's not crazy or psychotic like some people have claimed him to be, and in fact he's very in control of his mood-changes. Only certain triggers will cause a bipolar episode, such as people disrespecting someone he cares for, or anything involving hospitals in general.
|Likes//Dislikes|
+Music
+ Storms
+Eyeliner
+Whiskey
+Punk/emo music
-His Bipolar medication
-Doctors and Hospitals
-Needles
-Writers Block
|Hobbies//Fears|
+Writing stories, songs, poems, etc.
+Sleeping
+Watching Horror movies
+Reading
+Video Games
-
-Needles
-Anything with an office, doctors, and sharp objects.
-Being chained down.
-Enclosed spaces
---
---
|History|
Blake had anything but a happy childhood. For the most part, his deep hatred and fear for hospitals, clinics, therapist, and anything of the sort due to the emotional trauma he was put though in places like those as a child. He remembers having to be brought in by his parents almost every month during his first few years of life. As a baby, he often had fevers, and growing up there was fear that he had mental disorders as well. Being sat down with a number of strangers all asking you personal questions was enough to nearly drive the poor little boy insane.
His most memorable and terrifying memory was when he was seven years old. He'd been diagnosed with bipolar disorder a few weeks before, and ever since his father had taken him to numerous councilors, doctors, and mental specialist. Young Blake was getting extremely annoyed with everything, and only wished to go home. When asked about it later, he would say he didn't remember anything, but apparently he had gotten so annoyed that he had lashed out at the doctor. attempting to strangle her. They managed to knock him out, but when he woke up he was tied down to the bed post, with tight chains that hurt his wrist and ankle, prohibiting him to move. He was forced to stay like this for several hours.
You can image because of this treatment, he wasn't very close with his parents. His best friend growing up was most likely his elder sister, Sarah. During his time at the hospital, she'd always hold his hand, tell him stories, and constantly find a way to make him smile.She didn't like the constant trips to the hospital any more that he did, as it was her who stood up to their parents and told them to stop that nonsense. Her anger and reaction when she found out what had been done to him after he had been chained down was not something pretty, and many breakable items had to be replaced. Later is his life he'd find a passion in writing, especially poems and music. Sarah was immensely supportive, and would cheer him on whenever he would put himself out there to show off his work. It was her who suggested he join that group in collage. She is currently working outside town, and they visit each other whenever they can.
---
---
|Face Claim|
Andy Biersack
|Dialogue Color Code|
#660000
|Writer|
StrawberryGahses99