---
---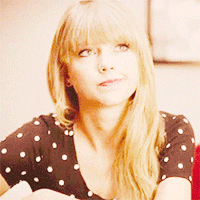 |Name & Nickname|
Stella Delihah McGuire. She often likes to be called Stells, or Dee but she does adore nicknames so she'll accept almost anything. She doesn't like cutesy nicknames unless it comes from her boyfriend, Jordan. She also doesn't like nicknames that downgrade or is derogatory towards her.

|Age|
Nineteen; 19.

|Birthday|
June 6, 1996; 6/6/1996.

|Sexual Orientation|
Heterosexual.

|Hometown|
Las Vegas, Nevada.

|Year|
Second; 2nd.

|A Capella Team|


Buck That!



---
---



|Personality|
At first glance, Stella may seem like a cold-hearted bitch but she is the complete opposite. She actually really nice towards others and cares from almost anyone that crosses her path. Most people say that Stella has a mothering nature to her and they're absolutely right. She has been very mothering since she was little, always watching her mother do things for her father and other people. Stella also has a very energetic soul, basically bouncing off of the walls every chance she gets. Before she can fully practice with Buck That! she runs around in a circle or in place to get herself pumped up and ready to go. On the negative side of things, Stella is a little too blunt for her own good. She says things that may be hurtful to others but she tries her best not to be brutal with her words. She also tends to get very pissed off when things do not go her way or go as planned. Overall, Stella is a great person to hang out with and you will not regret being her friend.

|Likes//Dislikes|


+

Singing & Dancing.


+

Jordan.

<3




+

Writing.


+

Being Apart of Buck That!


+

Creative Ideas.


+

Meaningful Conversations.


+

Social Gatherings.


+

Smiling & Laughing.

-

Liars.


-

Girls that stare at Jordan.


-

Hypocrites.


-

Reality TV.


-

Coffee.


-

Serious People.


-

Douchebags.


-

Yelling & Arguing.

|Hobbies//Fears|


+

Coming up with new ideas.


+

Photography.


+

Scrapbooking.


+

Creative Writing.


+

Practicing with Buck That!

-

Falling off stage.


-

Forgetting the words to a song.


-

Buck That! breaking up.


-

Breaking a leg - Literally.


-

Snakes & Spiders.

---
---

|History|
Growing up, Stella always knew that she destined for greatness, she just never knew what it was until she was five and opened her mouth to sing. Her mother heard it first and was very impressed with the incredible tone Stella possessed at such a young age. Her mother entered Stella into numerous competitions, though she either came in third or runner up. Stella didn't really like competing but since it made her mother happy, she continued to do it anyway. Her father was hardly ever around, considering that he was working as a district attorney at the time, so he came home really late and she would be in the bed sleep. At the age of seven, Stella's mother entered her into the Miss Las Vegas Pageant for kids. Again, Stella came runner up and she was happy though her mother was furious. She didn't want to do the competitions anymore and told her mother, who was very agreeable. As the years went on, Stella joined the chorus in her elementary school and was given almost every solo. She loved being the center of attention, at the time and wouldn't change anything during that time.

As soon as she reached middle school, Stella had once joined choir and even band. The competition was fierce than elementary school and she knew that she had to step her game up. Sadly, she didn't get every solo but she got at least two a performance, which really relieved her. As her middle school years went on, Stella made a few friends and talked to them every single day. She would even bring them home baked goods from her house and hand them out. When she graduated from middle school, her father had announced that they were moving to California - Los Angeles, to be exact. Stella protested and pleaded to let her stay in Las Vegas, where her friends were and she did not want to lose them. Stella hung out with her friends through most of the Summer and then delivered the news. They were just as devastated as she was but they did make it the best Summer of her life, especially on her birthday when she received numerous gifts from them, all of which she still has.

Entering Los Angeles, Stella didn't really know anyone. It wasn't really hard to make friends at Hollywood High, since they had the same impeccable talent. She had joined the Glee Club and was one of their brightest stars. They won Sectionals twice, Regionals three times and even went to Nationals in New York and won that once. She was so happy to be apart of something that made her feel special. Stella was also apart of the drama club there but soon dropped out so that she become fully committed to the Glee Club. Also, while in Los Angeles, she met a guy named Jordan. At first, they started off as hating each other but as their bond grew stronger they became the close of friends and are now in a relationship - Though, she is getting the feeling that he is hiding something from her. Stella graduated from high school and got accepted to UCLA, where she met a group of friends just like her and eventually joined their group entitled Buck That!

Stella is in her second year at Buck That! and is loving being apart of the group. She usually tries to come up with creative ideas for the group and even writes most of their lyrics. Buck That is the best thing that has happened to her since graduating high school, besides Jordan of course. She doesn't have any intention of leaving the group soon and hopes that they win at least one A Capella competition.


---
---


|Face Claim|
Taylor Swift.

|Dialogue Color Code|


#ff00f2



|Writer|
Dumisa.