---
---


ID Number: #66666
Informal Name: Desmond "Des" Shepard
Age: 23
Gender: Male
Sexual Orientation: Bisexual
Floor: 12
---
---
Physical

From the neck up, Desmond resembles a fluffy duckling when he first wakes up in the morning. All newborn blinking innocence and messy hair. As the day goes on, depending on the company, that will either remain or change to something far harder and sharper. There is exactly one person that he is a fluffy duckling around, which is why the two of them are allowed to be together.

More on that later.

When angered or focusing, Desmond doesn't so much walk as prowl, and his walk is better described as a murder strut. He has a strong core, with his shoulders tilted a little forward and his chin slightly down, hips swaying and shoulders moving a little with them when he moves. He walks with a slight forward tilt, as if he's going to reach out and grab you. It also works to conceal his true height, which is 6'3. Despite his footsteps often being silent, he has a presence that few fail to notice. His expressions are usually in the realm of soft and earnest and genuine, though. He has heartbreaking puppy dog eyes, and often appears somewhat like a kicked puppy. He can also move his eyebrows individually, so sometimes that will catch people off guard, which will make him laugh. Normally, he walks as if terrified that he'll scare the dust particles in the air. He's very careful in how he steps.

Desmond's eyes are a bright icy blue that occasionally change color in the light and with his mood, turning flinty when he's angry and more watery when he's laughing. He has long eyelashes, set above has high, chiseled cheekbones. He has red, pouty lips and a strong jaw, with a cleft in his chin and three-day stubble, because he is a lazy butt and doesn't want to shave nearly as often as he should. Speaking of his mouth, he has a soft accent that turns to into ta and you into ya and sometimes drops G's off the ends of words and occasionally just kind of throws words together. He hates his voice, to be honest. It's deep and should be smooth, something that would be sweet and good for crooning love songs deep into the night. However, what throws it off is the metallic sound that echoes beneath it. Sometimes, when he gets angry or close to tears, speaking hurts, as his vocal chords have been replaced partly with metal that doesn't quite fit right. He was created for utility, the only purpose his voice would have had would be mission reports.

Desmond's hair is dark, and far too soft for his own good. He keeps that kind of long too, down to his shoulders. Inevitably, every morning, it will be sticking up literally everywhere. It feathers out a little at the ends, though it falls straight for the most part. His greatest weakness is likely his hair, as it happens. Whenever someone plays with it or scratches his scalp, he just kind of... melts into their arms. It feels far too good, and it is the most sensitive area of his body, besides the seams where his metal limbs and plates meet flesh.

Desmond's most noticeable feature, though, is not his hair or his eyes or that jaw of his. About half of his body is made of a shiny, non-corrosive alloy that employs both hardness and strength to make him into a weapon of great potential. His left arm as well as his right leg are constructed entirely of this metal, along with most of his torso and neck, as well as his right ear. As lightweight as it is, it is still heavier than a human arm, and as such most of his bones are also made of metal to anchor his limbs and keep them from actually falling off. He still has many of his original organs, but he also has wires laced throughout him, as well as general things to make working on him easier. He can open the metal parts of his body to care for them and attempt to fix any glitches. In order to achieve the ability to move about perfectly, his metal parts are made of plates that allow him to move, bend, and otherwise act normally.

Each of the metal limbs and areas on his body are connected to his brain, and have artificial nerves. He has a full range of motion, as well as full access to the immensely important sense of touch. Which, of course, means that he can feel pain as well. Sparking or moving wires wrong inside of him can hurt immensely. He is waterproof, of course, and his eyes are also implanted with a chip that allows him to either view the world normally or as if looking through a computer interface, assessing threats and accessing the programming that is a part of him. Part of his mind is computer, and sometimes, he catches viruses, which is immensely annoying. Imagine him to be partly like Buzz Lightyear. The viruses don't exactly hurt him, but he may start wooing people in Spanish.

Desmond was created for usefulness as well, and much of his physique reflects that. In his right elbow, there is a place created specifically for a needle to go in, if drugs of any sort must be administered. There are various compartments in his sides, leg, and arm that can be adjusted to hold all sorts of things, from kill switches to weapons. He also responds to various code words, each with a different purpose. They are seldom-used words, such as "otsukaresama", which is an untranslatable Japanese word that is used to tell someone that you recognize their work and are thankful for it. This word acts as a sleeping switch, and he will pass out and remain still and malleable for a period of 24 hours and 15 minutes, exactly. Previously, it was used to transport him. Recently, as he gains more self awareness, he has been revolting against these words. He will dream during this period of rest, and sometimes cries out. The word "demesne" can be used in times of great distress, to force him to calm down for a short period of time. He is rumored to have a kill switch, but whatever that may have been, only he knows it now.

Desmond dresses for comfort, partly because he was never permitted to in his old world. He was used to restrains and straps, and now that he's been offered something soft, he takes every chance he has to wear hoodies or sweatpants or soft fabrics in general. He is almost always warm to the touch, but he sometimes still feels cold, so he will often be found wearing long sleeves. His weight is mostly muscle and metal, and so he is immensely hard to actually pick up. He has very nice arms, and sometimes distractedly will pinch himself to leave bruises on his flesh, hoping to remind himself of reality or to punish himself in cases where he believes he has done wrong. He has thick thighs and broad shoulders, paired with a small waist.
---
---
Abilities & Mutations

Description: Subject #66666 is the result of experiment in creating the perfect soldier. It has strength and speed greater than peak human performance, emphasized and added to by the metal implants and parts that it has. It can crack concrete with only its fingers, and pass cars on a highway with ease. It heals at a rate much faster than a regular human. It can observe reality through a computer interface connected to its eyes, and normally, it is able to extend its consciousness and explore other computers, gathering data and probably occasionally implanting viruses. However, there is currently a block on that ability. Subject #66666 has lasers as well as powerful electromagnets in its metal hand, enabling it to defend itself outside of hand-to-hand combat. It has incredible combat skills, and has dozens of recorded kills to its name.

Potential Uses for Mutation: Combat, for the most part. Death, potentially, through its codewords.


Flaws or Defects in Subject: Subject is meant to respond to a series of codewords, but as it gains agency, it rebels against them further. Subject #66666 must always follow direct orders, though. Subject #66666 glitches on occasion and catches viruses. There have been two incidents in the past month where its internal functions caught fire from overheating. Subject overworks itself and will not answer when asked about its physical state. Hypothesis states that it does not wish to worry subject #31235. When apart from #31235, it grows increasingly angry and agitated.
*Note: Do NOT Separate

Codewords:

Otsukaresama: Used to make the subject "sleep" for a period of 24 hours and 15 minutes exactly. It will not respond during this time, making transport convenient and easy. This word can be used consecutively, but only once the subject regains consciousness will it have any effect.

Demesne: Used in cases of great distress to force the subject to calm down immediately; slows breathing and reduced heart rate.

Aubergine: Used to restrict breathing; acts as a punishment. Ends with repetition of the word.

The Sound of Silence: The actual song has been programmed into the subject's mind. When hummed or sung for upwards of four seconds, it will cause the subject to lose its voice for two hours and three minutes, exactly.

Kuebiko: This word, when used, disables the use of all functioning metal limbs and parts visible on the surface of the subject for a period of 15 hours and 7 minutes, with a leeway of 10 seconds. Bones and organs will still work, as well as the extremities still constructed of flesh.

Noctivagus: In Latin, literally, wandering in the night. This inspires in the subject a need to return to the base, to return home, so to speak.
*Notes: This was the most commonly known and used codeword, as it caused little harm. However, as the base no longer exists, this codeword now will inspire a deep and instinctive nostalgia in him that he cannot ignore nor rid himself of, and he will wander, searching for the home that he destroyed himself and knowing all the while that he will never find it.

Inretio: In Latin, this word means trap. When used, this word restricts the subject's ability to access other computers or technology using his mind.
*Currently in use, unsure of how to remove this block.

Symperiféromai: Used when the subject is being particularly rebellious. This will force it to respond to and obey any order given, without any resistance whatsoever.
*Known only to Desmond and Meadow.

Mnemosyne: Used in cases of extreme need only. Wipes the subject of all of its memories, causing it to become a clean slate once more. It will recall its utilities and function, as well as skills learned, but personhood and any affections gained will be forgotten.
*Known only to Desmond and Meadow.

Hygge: Ironically used to describe peace and enjoying life's simple pleasures in Denmark, this codeword will cause the subject immense pain. It can be ended by a repetition of this word. Otherwise, it can go on for an unlimited amount of time. The longest recorded test of this was exactly 48 hours, 51 minutes, and 34.2 seconds.
*Known only to Desmond and Meadow.

Psūkhē: Perhaps the most dangerous of these codewords. This is the subject's kill switch. The utterance of this word will release chemicals hidden in compartments inside of the subject's metal parts, as well as cause its internal functions to glitch and destroy themselves from the inside out. Death will be swift and painful.
*Known only to Desmond and Meadow.
---
---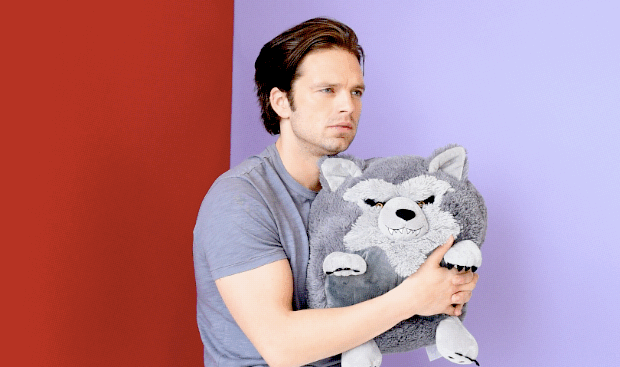 Psyche
Desmond is constantly being torn between two different sides of himself. The first is instinctively violent, a little animalistic, accustomed to killing. The second is one of the kindest people you will ever meet, and that is who he truly is. Years of conditioning has gotten to him, and he reacts very badly to being scared or being pushed into doing anything he doesn't want to. It takes a gentle, familiar hand to get him to calm down, but it does take a little while.

Desmond was the sweetest child in the world, with a head of fluffy hair and a habit of walking up to people in the supermarket and very gently stroking their hands, gazing up at them with his big blue eyes and declaring the scariest looking of people his very best friends. His mother informed him that he could only be friends with them if he knew something about them, and so he would ask for their middle name or favorite color and then give her a very smug look. He annoyed some people, endeared himself to others, and that seems to still be how it is today. He's eager to befriend people, though he is often terrified of new people. It takes him a while to get comfortable around them, to get used to them. As soon as he gets used to them, he's entirely fine. He'll dance with them, laugh with them. He knows a lot of very lame puns, and sometimes makes up new ones.

Desmond is very honest, in all of his dealings. He's the sort of person that you want to consult for fashion advice, because he will tell you if that dress actually goes with your hair. In general, though, particularly as he meets new people, he wants them to like him. When they act standoffish to him, he wants to wrap them up in his arms and get them to like him again. He's very stubborn, he's got a head like an ox. He's also a gentle giant, in all definitions of the word. He loves soft, delicate things, and he has not once broken one. He cries very easily as well, despite his harsh and hard background. If something's really happy or really sad, he will cry. He cannot physically make it through half of the Disney movies that people watch.

Everything that Desmond feels, he feels poignantly. The serum did something to him, increasing how sensitive he is to literally everything. He feels pain at a greater scale, he feels emotion at an immense rate. He's immensely empathetic, and he wants to comfort everyone he possibly can. Despite being made partly of metal, he gives excellent hugs. Desmond notices things and he feels things, and that is part of what makes him unique. When he loves, he loves with his whole being. Despite and perhaps because he is so sensitive, though, he is selfish. He is terribly bad at giving things up, at losing things. He's kind of a hoarder, too. Whenever someone gives him something at all, whether it's a pretty marble or a piece of paper, he will keep it forever and ever. Desmond treasures everything that he is given, from food to trinkets. He loves food, also. He savors everything he is given, because someone put work into it.

Desmond loves cuddles, and he's kind of immensely sassy. He's got a way with words, and occasionally he writes poetry or random snippets. He loves words, and he doesn't know it, but his mother was a writer. He's most like his mother, in appearance and mannerisms, and if they ever meet, they will recognize that. Particularly when he's mad, though, he'll take his way with words and twist it, his usually helpful honesty turning angry and frustrated. When he's mad, often, he will isolate himself, drawing away from everyone. When he gets attached to people, he will rarely become angry with them.

Desmond, though, for all of his kindness and love and sensitivity, is a human weapon. Death is something normal to him, having his hands stained with blood is something that he has grown up with. He's used to being given a mission, a target, and then going and killing whoever he is told to kill. He's used to following orders, and without a mission, he's often a little lost. Desmond is creative, both with his hands and in general, but sometimes that creativity is put to use in killing someone in an immensely painful way. He's got an ability to shut out screaming or loud noises in general, just because he's so used to them. Sometimes, he'll sink into his programming again, and he'll be a threat to most, if not all, around him. It's hard for him not to think of himself as a monster, and he'll beg people not to touch him sometimes. For all of his good, Desmond sees himself as a murderer, and cannot think well of himself. He relies on others for any form of self esteem, because if he's left to his own devices, he will sink into self hate. He's killed so many and done so much bad, and even if it was because he was forced to, his agency removed, it was still his hands. His palms are still stained with blood.

Desmond is not easily angered, but he sometimes reacts instinctively violently in general. If someone tries to take something from or hurt someone that he loves, he will push them away or pick them up and move them away. Often, people are a little like spiders to him. He doesn't really want to kill them, but he will pick them up and set them outside the door and hope that they don't come back. He also often doesn't mean to hurt people, but sometimes he does on accident. He'll apologize a thousand times over for that. However, when he's sunk into his programming, he'll prowl around like a wolf, he'll snap at everything he sees. He's a weapon, he's a hunter, and he certainly acts the part.

When it comes down to it, Desmond is a wonderful person. He's often content to watch the sunrise or lay with his head in Meadow's lap and watch her play video games. He loves having his hair played with, and he's kind of a flirt. He loves to dance, and he hates his voice because of the metallic scraping that accompanies it. He's not used to having a lot or being shown affection or gratitude, so when someone compliments him or says he did a good job, he will actually preen. He's a full body blusher as well, and he's very bashful. He loves being called pet names, though he rarely calls others by them. He's partial towards calling others sweetheart or sweetie, but other than that, he does use their names. He's more used to the world than some of the inmates, but even so, he's still separated from it. He loves sweets, he loves sugar of any and all kinds, and he is very good at fixing things. He's kind of the mom friend as well, he's very bad at not worrying. He's very physically affectionate to those he's close to, and he likes to always be touching them in some way, if it's hand holding or hugging or even just comforting touches on the shoulder. He loves being touched, and he loves to sing, though he will never, ever do it when others are around. He only sings to Meadow when he thinks that she's asleep.

Notable Skills: Subject has great physical strength, while retaining an almost predator-like grace. It was created to be a hunter, and can move silently and fight with nearly perfect form. It is also excellent at knitting, singing, anything involving heavy lifting, and ballet. It enjoys dancing. It keeps trying to persuade Dr. Reid to dance with it.
*Note: Get him to make Dr. Neill a scarf, the AC's been freezing lately

Notable Disadvantages: It responds to a series of codewords that can be utilized in various ways, and are listed below. It has various glitches in its machinery that range from amusing to dangerous, such as its occasional catching of viruses (amusing) and its occasional overheating (dangerous). It is also unable to access other technology using its mind, as one of the aforementioned codewords is currently in effect.
---
---
Record
Subject #66666 is the lone survivor of an experiment in creating the perfect soldier. He was born to a normal family, with parents and an older sister. However, a terrible drunk driving accident caused him to be taken from his family. They were all safe, for the most part, but they were told that he was dead. The paramedics were bribed into taking him, as the program needed subjects. Tiny and broken, they brought the child back to their labs to study him. He would be trained, assuming that this actually worked. Those in charge of this project were praying for a miracle, and this fluffy-haired child was exactly what they were looking for.

The child responded well to each of the treatments. That is, save for one. It would become absolute perfection, it would respond to programming and to instructions, and they hoped to keep him human as long as they could and push the limits. They only got half of a chance to do so, though, because the serum they injected into him caused an adverse effect. Burn marks and terrible scarring appeared on his left arm, the product beginning to eat and burn away at him from the inside out, just as it had for every other subject. This time was different, though, it didn't instantly blow through him and leave him a charred piece of dust on a lab table. It was slow-working, and its hunger seemed sated after it took his arm and leg and chunks out of him. It wasn't enough to kill him like it had all the others.

The child sobbed and screamed for its mother all throughout, and they put it into a medically induced coma to get it to be quiet. While it was asleep, they replaced its limbs and parts of its body and mind with metal. The serum worked, besides those stupid side effects, and the child would be able to lift things more than five times his weight even at such a young age. So, they fixed what they could, and knew that as he grew older, they would have to replace and better his metal parts.

When the child awoke from his coma, he panicked, and destroyed half of the lab. So, of course, the solution was to gather a series of other great minds and begin to turn this child into an avenging angel that would obey their every word. It was a chance at playing god, and they leapt at it. The parts that the serum had not eaten were strengthened, far beyond normal human capacity, and his mind was malleable, now. They were able to program him through trial and error, using a mix of punishments and the computer in his mind to slowly change his nature. They took his memories of his family and of all that he had used to be. His home consisted of a base with shiny walls and technology that they often hooked him up to.

They named him Cobalt, and he was their favorite tool. He made his first kill when he was eight, and only stopped six months ago. When he wasn't in use, they'd put him to sleep. He was subhuman, he was more machine than person, and they felt little guilt over abandoning him for a couple months and then coming back. He felt little attachment to them, but he had little choice but to obey. Over time, they broke every bone in his body, injected him with who knows what, testing him and trying him. He was the only survivor, and they had to test his limits.

Their breaking of his skin and bone didn't affect him much. He cried and screamed and then healed quickly. It was when they started to tinker with his metal parts, trying to improve them, that they actually began to destroy him. He began to overheat. They replaced his vocal chords and they hurt. Everything that they tried to fix, they only made worse. And still, they sent him on missions. They had the perfect soldier, why not use it? But in seeking perfection, they broke him.

Finally, they realized that as useful as he had been, that he was no longer the perfect weapon they wanted him to be. He was no longer a gun, to be pointed and used. Cobalt became aggressive towards them as well, trying to assert himself. He made multiple escape attempts. So, of course, they decided that the best course of action was to decommission him. They were going to wipe his memories and take his abilities and turn him into a husk. He knew this. He heard them. Maybe they'd take him apart slowly, while he was still alive. He was a thing to them, nothing mortal or human any longer. Maybe they'd use parts of him to create other soldiers. Maybe they'd unwind him slowly, take his skin and his blood and his metal limbs... He was particularly attached to his metal limbs. They were the only things he could call his.

And when they came for him, he was ready. He killed all of them before they could take him apart. All of them save for one, who knocked him out, who knew that he would have no chance at containing this force of nature on his own.

Six months ago, he was brought to the facility, covered in blood and guts. When he woke up, he successfully killed something like a dozen guards in under three minutes with his bare hands. It was then that he met a tiny, tiny woman with feathers and huge eyes that took his too-big hand and promised him that he'd be okay. There was no fear in her eyes, and that was initially what drew him to her. He was so, so used to fear or fascination. She just looked... excited to meet him. And even though he left a trail of blood and red was still drying all across him, she introduced herself as Meadow and squeezed his hand and then led him off. He tried to hide it, but he was terrified of this place. She promised him that he didn't need to be scared, and it only took another day for him to start associating her with safety and home. She was delicate and small, but she was... Goodness. She became his whole world. They were put in separate rooms at first, but every night and most of the day, she'd come to him. He wasn't allowed to leave his room just yet, and he missed sunlight and music so, so badly. But her eyes were just like the sun and her voice was better than his favorite song. So he was okay.

Cobalt became Desmond about a month after he was introduced to the facility. His hair was braided, and he had his head resting in Meadow's lap as he watched her play a game involving assassins. He chose his name because Altair felt a little too fancy, and Desmond Miles had a fabulous hoodie. Later, he chose Shepard for a last name, as a result of the Mass Effect games. He liked those names far better than the codename he had been given, and he permanently abandoned it as soon as he had a name of his own. He and Meadow share a room now, which is both absolutely wonderful, because he can't imagine being away from her, and absolutely terrible, because he has somehow managed to fall head over heels in love with her. And he can't tell her, and he knows she doesn't feel the same way. So he's doing his very best to be content with just being her friend. He's dependent on her almost to a dangerous level, and the doctors fear separating them. All in all, though, he's got more agency than he did. He has people who love him. He's happy. And that's more than he had ever hoped for.

Actions of Note within Facility: There are rumors of him, Caspian, Guinevere, and Dr. Reid forming a quartet. When he first arrived, he was a great danger, and now is placid as can be.