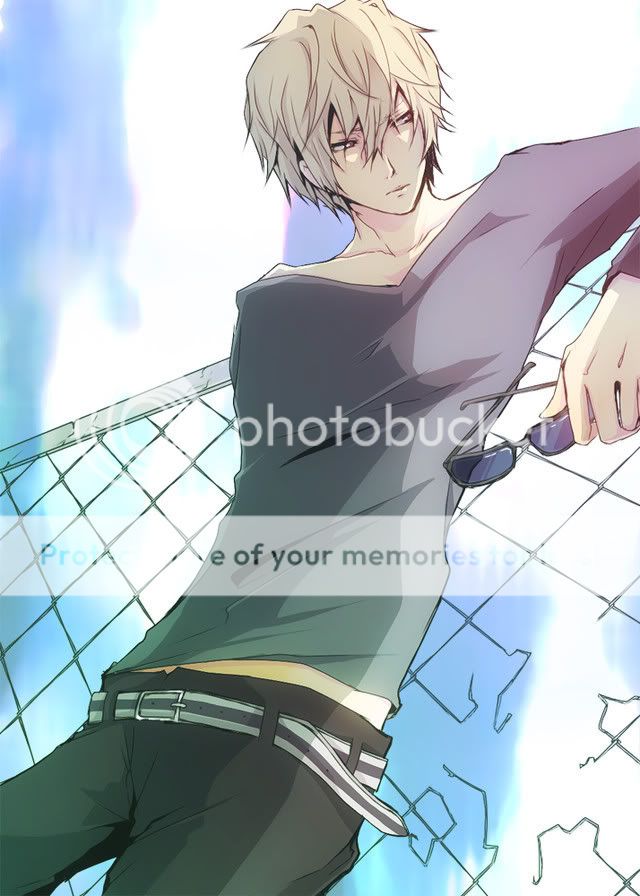 Name:
Leon Radke ("Just call me Leo~")
Age:
18
Sexuality:
Bisexual
Role:
Singing Doll- Drummer
Description:
Leon is just about 5'9, weighing close to 126 pounds. He has light blonde hair, which is often mistaken to be white. His eyes are a strange mix of silver and blue, but unless you look at it really closely, you'll simply assume it's a dull shade of grey. Surprisingly, Leon has a well built body, but it's usually hidden underneath his loose clothing. Although he has a few muscles here and there, Leon isnt buff. In fact, he doesnt find that attractive at all. His nails are painted black most of the time, and it's only when he's performing that he would actually put on any accessories. However, he does have a few piercings on his ears (and ears only), and always wears around a
ring.
Personality:
Despite his looks, Leon is very childish. Looking at the way he acts, nobody would ever guess he's 18. He likes to fool around, and often clings onto his members a lot; including the poetaster. He loves sweets, which is one of the best ways to shut him up. Then again, giving him extra sugar really might not help. Leon doesnt find the poetaster scary at all... unless he gets mad. He likes to tease him, either for his own amusement, or just to see how the poetaster would act. Leon is a rather friendly guy when you get to know him. Creepy and weird in some ways, but never a bad guy. Although he acts like a fool most of the time, he could get serious. He's someone that wont get angered easily and usually laughs everything up. But once the 'serious' Leon shows up, he seems like a totally different person. Because of that, many people believed he had a split personality or something... And yes, he smokes. He tries not to... but sometimes, it's hard.
Girl Kidnapped:
TBA
Likes:
-Sweets
-Music
-Messing around with the Poetaster
-Sleeping
-Drums
-Loud noises
Dislikes:
-Smoking (even though he does...)
-Silence
-Being woken up
-Insects, bugs, any creepy crawlers
-Swimming
Fears:
-Deep water
-Spiders
Power:
Telepathy
Crush:
For now, it's unknown. Who knows, it might be the poetaster~~
History:
Leon pretty much lived his life on the streets. He had a natural talent when it came to playing the drums, but his parents never acknowledged that. Annoyed with his parents, Leon left the house and lived with a group of runaway teens. This is probably how he picked up his bad habit of smoking. Other than that, there's nothing special about his life... at least until he met the poetaster. Leon was actually willing to join the band, even when the poetaster didnt use his powers. To tell the truth, he found this man rather... interesting. Although he was the last one to join, Leon is rather close with all the members... or at least
he
feels that way.