Appearance- (Anime preferred)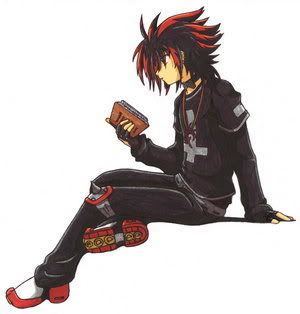 Name-
Kurai Kagari
Nickname-
Kuru would work but he prefers his actual name over anything.
Gender-
Male
Familiar (Pokemon) -
Houndour
Age-
18
Class-
2nd Year
Power Area-
Shadow Fire
Personality-
True to his powers he has a dark and fiery personality. Usually preferring to remain alone he has never really found a reason to seek human companions. Why would he need the when he has Houndour. When provoked he is fast to anger though he will never attack someone unless he knows they will be able to withstand his attacks. Reading is his favorite past time. He's not a cruel person he's always found that being alone is better than being abandoned. If any one were to be able to put up with his dismissive attitude and gain his trust he would be a loyal and powerful friend though few have ever been able to get through his shell.
Description of Appearance-
He wears primarily black clothing with red accents. A pendant hangs around his neck in the shape of a black flame. His hair is shaggy and unkempt. It's a black with natural red highlights.
Height:
6'1
Weight:
180lbs
History-
There isn't really much to tell. I mean if you really wanted to get into it I was born an only child in a small village. There weren't many people there or much to do so I started reading a lot. In the books I found tales of Magic users that were able to do great things to help people. I began working to learn more about this Magic and how I could become one of the Mages I'd read so much about... While I was studying my closest friend Mio moved away. My family told me that it was normal for people to move, but it didn't curve the pain I felt from her moving. I started to shut myself off from the rest of the village spending all of my time reading and studying. My parents eventually discovered what I'd been practicing and though there were confused they encouraged me. After a few more years of withdrawn study my parents found an academy that would help me develop my abilities and allow me to help others in the process. During dinner they told me about the school and where it could be found. I stood up and went to my room gathering the things I would need for my journey. I walked out the door without a backwards glance at my family. After a month's travel I reached the academy and enrolled in the first year class. I don't remember exactly how long I was there before I awoke my familar Houndour, but I will never forget the joy he brought me. He has become my closest friend. I'm currently a second year at the academy and I spend most of my time with Houndour reading and studying. I have a plan. I will be the best mage that has ever graduated this academy, and I'm going to do it without anyone's help. I'm better off alone any way. No one to get in my way. No one to hurt me. Well that's the end of my story. I hope your satisfied now please leave me alone. I have books to read.