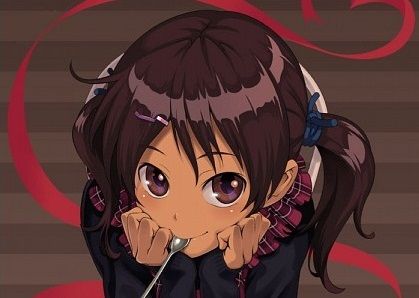 "Others see dead people; as for me, I see cute pokémon!"
---
❝ More Than Just A Name ❞
---
Full Name
Edehvé Mirym Petora
Nicknames
Most commonly referred to as "Evee", though she will also respond to "Petals" or "Miri".
Age
Seventeen (a few months shy of eighteen)
Gender
Female
Sexuality;
Heterosexual (so long as you're cute!)
Hometown
Fuchsia City
Residence
Pallet Town
Classes
She possesses the flair to potentially become either a collector or a hatcher--though as per which, that is something her journey will decide.
Occupation(s)
She is a student who has been home-schooled most of her life--she is not quite experienced enough to know where her profession falls.
---
---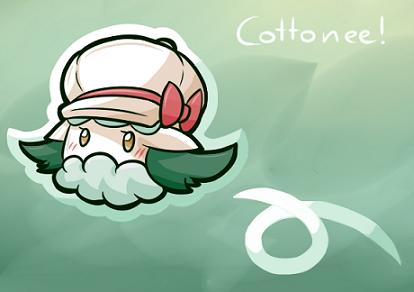 APPEARANCE
"Oh, this? I'm actually just wearing this band-aid because I thought it made me look cooler. Neat, huh?"
Basic Appearance


Standing at around five feet seven inches, she is a tad above average height but none too imposing in figure. Her skin is a creamy caramel hue, tints of a rosy blush spreading faintly across her cheeks. Overall, her skin is unblemished, save for a few markings she has here and there. She has an almost childish complexion, a fitting combination to her youthful face. She has large brown eyes that may have a hazel tinge to them if the sunlight hits them at just the right angle. Her hair is a dark brown, bangs partially pulled a bit to the side by a small hair clip to keep them from falling into her line of vision. When she allows her hair to flow freely, it falls several inches past her shoulders in length. Her body is of slender build (around one hundred and thirteen pounds) and she possesses a feminine form, modest in curves and none too showy.



Distinct Markings
She has a birth mark on her tummy and a small scar underneath her chin. The scar is only visible if she tilts her head up but is relatively small in size and barely noticeable.
Style
She prefers to wear long sleeves above all, whether it be in the form of shirts, sweaters, or jackets. If she opts for longer sleeve shirts, she will typically wear a three-quarter poncho effect over it. All of her outfits incorporate lace in some fashion, be it embedded into the fabric of her clothes or in the form of hair ribbons. Depending on the weather, she will wear skirts that are a few inches above her knees, jeans, or leggings. She prefers casual footwear and will wear sneakers or slip-ons that are easy to get in and out of quickly. She always has a messenger bag slung over her shoulder and, at rare intervals, may also carry around her guitar.
---
---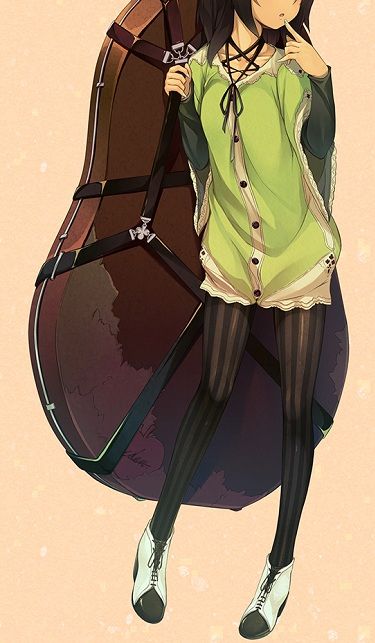 MENTALITY
"Heh, fuddy duddy!"
Likes
She adores any and all things that are cute, making a checklist of each and every thing she may come across. She enjoys her sucker candies and lollipops. She also has great love for sewing and stuffed animals. She also entertains the interest of drawing people that she accepts or creatures that she spots. She likes to play music--and surprisingly has a fascination with fashion, especially if it is for pokémon.
Dislikes
She can't tolerate anything that is offensive to the eyes and does not particularly care for air travel as it makes her queasy. She is not fond of cheese and will cringe if something is too bitter. She does not like caves or areas that will often succumb to pitch-black darkness. She prefers not to be told large amounts of information at once since she has problems remembering things in bulk.
Habits
-She plays with the ends of her hair when she speaks to someone as she finds it difficult to keep her fingers stationary.
-She hums softly under her breath when she doodles.
-She adds new entries every day into both of her logs, regardless of how menial the events might've seemed.
Weaknesses
-Her love of cute things can cause her to be a tad distasteful towards things that fall on the other end of the spectrum--at times, she may even flat out disregard them.
-She is also rather gullible--she will believe in someone's words unless they give her strong reason not to--so it can be easier to take advantage of this belief system if one doesn't have the best intentions.
-She listens to her heart over her mind when it comes to her personal passions and may not always be the most rational when in this state.
Personality
Playfully inquisitive, she is a girl who is best versed in asking many questions but never seems to touch upon the right
one
directly off the bat. While she adores the thrill of learning something new, the questions may not even seem relevant until the very end of her interrogation. In some ways, she is discreetly smart and can throw another off-balance, at times even out-smarting them if given the chance. While she is versatile to some extents, her naivete and lack of exposure create a certain air of innocence about her. To the trained eye, it is very apparent that she is still fresh to the world and it does not take much to cause her to pause in wonder. There are often so many things that catch her eye that she can stand still for a period of time, merely staring in awe at all there is to see. However, her amazement is not to be confused for profuse amounts of courage. It will take an incitement of some kind or prodding to get her to move forwards as she will rarely do so by her own free volition. Though once she gets going, it is hard to stop her. She has an odd contrast of determination, which makes up for her lack of bravery, and can act as the backing that she needs to continue in her course of action.
At times, she will come off as a dreamer, as her vision of the world has not yet been crippled with experience. Her ideals and views on matters are limited and sheltered, though she will try to use this to her advantage. She does not shun her homeliness and will actually embrace it, since she feels that this is an element that is unique to her. This makes her easily susceptible to stories--even if lavishly told and exaggerated, she will believe them. She will claim she has a "nose" for lies but in reality, she won't have the faintest clue if she is being misled. Even if she finds out after the fact, she tries her best to be easy-going about it. She believes that everyone will tell a lie or five in their life so why should she be upset if it happens to her? Of course, if it keeps happening, then she will have something to say about it. She is mellowed out when it comes to confrontation though and tries to keep it as brief as she possibly can without upsetting any of the parties involved. In the event she feels she is in the
right
, however, and that her point is being disregarded or ignored, then she will firmly plant her feet in the ground and refuse to budge until she is heard.
This reflects her stubbornness, which can be suffocating at certain moments. She rarely backs down from her point of view as she believes she can sway mostly anyone to see her side of things. She can be persuasive if the matter calls for it and her arguments are usually logic-based. Usually. She is tenacious and doesn't really know how to "give up" once she has set her mind on something. This can border on obsession at moments as she will not relent until she has completed her goals. It may take her awhile to get there but she always does in the end. She is, however, a charmingly adorable girl if given the chance to make her mark. She is talkative and sociable and enjoys the company of others. She finds conversation refreshing and does have a talent for making others feel at ease around her. Her overall manner is non-threatening and it is easy to approach her on most matters. Her strong adoration of cute things can lead her to become attached to others that share her opinions or things that resemble her visions of cuteness.
She has the heart of an adventurer and really wishes to make a difference in the world. She aspires to
be
someone someday, though she has no idea when that day is going to come. She tries her best to be upbeat about events that may occur and be the "chipper optimist". She will even crack jokes about this when she thinks that the optimism is coming on too heavy. She has a great sense of humor and it is hard not to laugh around her once she is comfortable enough to start sharing jokes. While she is a good conversationalist, her tones carry with them a sense of loose distance. It takes her awhile to warm up to someone since she likes to observe them and take note of their mannerisms. This may cause her to stare for extended periods of time at someone else and may make them uncomfortable. She is oblivious to this, however, and will continue to do so until she is satisfied. She can be a bit clumsy at times and trip if she does not watch her footing. She may not always sense when she is in danger, which can cause her to be a bit blind-sighted--though she doesn't seem too bothered by this as she also has "copious amounts of luck". So somehow she's always going to make it out okay.
Theme Song
Brilliant Life, Rising Light - Motoi Sakuraba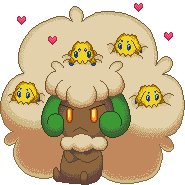 ---
---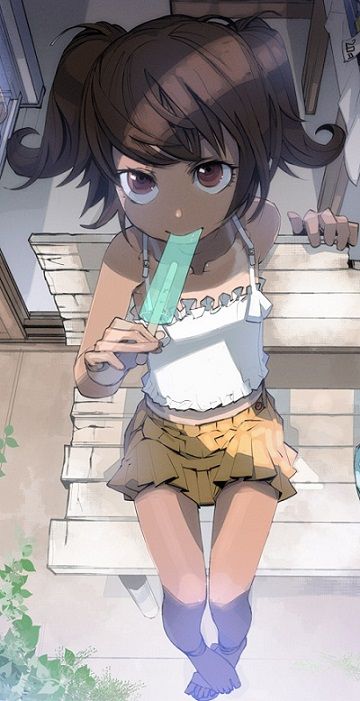 Special
"I am most definitely old enough to be adventuring!"
Strengths and Special Attributes
She is a quick thinker even when out of her elements and often times, her introverted perspective works to her advantage since it allows her to think outside of the box. She's good at working around rules and makes sure that while she does everything just within the limits of acceptable, she can add in a few twists and turns of her own. Though perhaps not overly conscious of it, her skills with music can actually work to lull pokémon. She has a knack for getting them to trust her quickly and easily. She also has insane luck and seems to always wind up in a situation that is beneficial to her. Whether this is by force of will, for always hoping for her success and victory, or just the sheer designs of fate, she accepts it either way.
Equipment and Personal Artifacts
She keeps her messenger bag with her at almost all times, where many of her precious belongings are stored. It is half-filled with a variety of stuffed animals that she actually hand-crafted herself. She also has her "travel log" on her, which is different than her "diary log"--the "travel log" will only contain facts or important details that she will need to recall upon later. Or doodles of cute pokémon that she has seen or acquired. Stowed away in a side-compartment of her messenger bag are sewing materials
Other
-How she wears her hair will actually dictate her current thought process. When she deigns to tie it into ponytails, that will indicate that she is more focused on the task at hand.
-Eating sucker candies or lollipops can calm her down when she is feeling stressed.
☠ She can play the guitar quite well, but she is shy in social situations and has not let anyone else hear her preform.
☠ Her messenger bag has a secret compartment where she keeps her personal diary log of her adventures.
---
❝Replaying The Past And Present ❞
---
History
Though she was born in Fuchsia City, she does not remember any point in her life before Pallet Town. Based off of what her parents have told her (who came from the Unova region), she resided in Fuchsia City until around the age of two. She is unsure precisely what caused it and her parents do not share many details regarding the matter. However, she believes the reason she moved was due to a disturbance within the Safari Zone involving some hostile groups of pokémon. Whatever the case, her parents moved to Pallet Town where they have resided since. She has not wandered much beyond the borders of the town as her family is "traditionally valued" and it is not believed that she will be ready for exploring until she is at least eighteen. Though this causes her a bit of restlessness, she commits herself to the day-to-day tasks. She was not exposed to many pokémon over her years and really started first discovering them when catching snippets of the matches by the Elite Four in the Sinnoh region. This intrigued her to start devoting herself to finding out more about the world outside of her town and worked to further increase her restlessness and desire to leave. Though she still remains in her hometown, discontentment grows by the day--as does her need to go out and discover her own self.
Preferred Type
So long as it's cute, she doesn't really seem to mind. But those grass types seem to have a lot of adorable pokémon, don't you think?
Starter Pokémon
Cottonee
Current Pokémon Team
Name
Shuuva (Mr. Cotton Huggles McFluffenpuff)
Species and Type
Cottonee (Grass)
Gender
Male
Ability
Prankster
Personality
It should be stressed that this cottonee is a child whole-heartedly. He is a prankster and likes to leave fluff balls of cotton lying around on clothes or nestled within hair. However, the instant that someone becomes even remotely upset with him or, (heavens forbid) angry, he turns very nervous over this. He instantly tries to make amends by presenting little bouquets of cotton flowers and will nuzzle the cheek of the other with his fluffiness. He likes to snuggle but only when he is sleepy or feeling lonely--which is moderately often one way or another. He is clingy and will burst into tears if left unsupervised and alone. Though he tries to play it "cool" with his pranks, he doesn't seem to mean any harm. There are small intervals of times that he tries to prove that he's "much more than a ball of fluff" but this ends up failing spectacularly as he only ends up more cute than before. (Literally, he sparkles when he tries) His attempts at cool and aloof fail always because in the end, he really likes his owner and friends and likes to be coddled. He will have panic attacks if separated from his owner too long as he views her as a mother, though like a pouty son, he won't admit his adoration overly willingly. It just takes a bit of prodding, petting, and nose rubbings into his cotton fluff.
History
He had been an egg bred in the Unova region, exchanged and transferred to the lab in Pallet Town for research purposes. The goal was to be able to have "raw pokémon essence" that hadn't been tainted yet by wildlife or outside influences. He was near to hatching when his to-be owner came into the lab. The brush of her fingers upon the outside of his egg caused a few cracks to appear and it wasn't long after that he officially hatched. He imprinted on her immediately and came to look at her as a mother. He then refused to leave her side and displayed large fits when some of the lab assistants tried to remove him from her. He is quite literally a newborn and possesses no fighting prowess whatsoever, besides very base skills.
Moves
-Absorb
-Tickle
---
PC Pokémon
None
---