---
---

---
---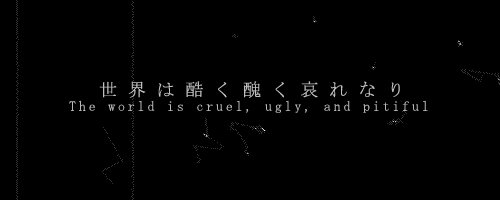 ---
---
"Every man is more than just himself; he also represents the unique, the very special and always significant and remarkable point at which the world's phenomena intersect, only once in this way, and never again. That is why every man's story is important, eternal, sacred; that is why every man, as long as he lives and fulfills the will of nature, is wondrous, and worthy of consideration. In each individual the spirit has become flesh, in each man the creation suffers, within each one a redeemer is nailed to the cross."
---
---
█
║
█
║
█
║
█
║
█
║
█
║
█
║
█
║
█
║
█
║
█
║
█
║
█
║
█
║
█
║
█
║
█
║
█
║
█
║
█
║
█
║
█
║
█
║
║
█
║
█
║
█
║
█
║
█
║
█
║
█
║
█
║
█
║
█
║
█
║
█
║
█
║
█
║
█
║
█
║
█
║
█
║
█
║
█
║
█
║
█
║
█
When a trainer receives his or her first Pokédex, their first reaction is not sadness nor is it sorrow. They feel joy, happiness that radiates to all those that surround them. It is a blessing to them, one that marks them as finally old enough to travel the world with a Pokémon at his or her side. There was no greater feeling than journeying across the regions, challenging Gym Leaders or simply filling the Pokédex. No one trainer was the same, and each had their own goals, their own dreams. Some dreams were achieved while others never became more than a mere whisper. There was one dream, perhaps, that shone the brightest. It was a dream of a world where Pokémon and humans could live together in peace, and in harmony. But as with most pure intentions, they did not remain as so.

Team Rocket was an organization that most knew to be vile. They stole trainers' Pokémon, tried to capture legendary Pokémon to do their bidding, however; they were always thwarted. Team Rocket never fulfilled their ambitions to take over the world and create a world where only they held Pokémon. Each time they resurfaced to try again, there was a trainer always waiting for them. Perhaps not always intentionally so, but they were always defeated. Thirty years ago saw the last of Team Rocket's activities. There was no sign of them and people began to forget. Who was this Team Rocket? What did they do, and why were they so important? Eventually, even the other organizations forgot. Why should they remember the group who disbanded after their leader left?

Perhaps, everyone should have remembered?

It happened so fast, their resurgence. Team Rocket was back, however; there was something different about them. They were not the same, simple-minded grunts or executives. Their leader—someone never seen before—held to something precious. Tired of seeing Pokémon mistreated by their trainers, watching as the trainers gave no sympathy to their partners, Team Rocket resurfaced with a new purpose, one that contradicted their previous ploys. They wanted to liberate Pokémon, free them from their trainers, however; one thing remained the same. Team Rocket would oversee the distribution of Pokéballs and Pokémon to qualified trainers.

Many people believed Team Rocket would be stopped, that their plans would never reach fruition, however; their leader proved to be cunning, strong-willed, and without equal when it came to challenges. Their determination—the belief that Pokémon were better off without trainers—flowed so fiercely that even the members of Rocket would not dare challenge their leader. In the span of ten years, Team Rocket achieved what no one thought possible. They achieved their dreams. Pokémon were no longer given as starter Pokémon to just any child. There were a series of tests, ones that tested the will of trainers and the strength of their hearts. If trainers were found unworthy, they would never be able to travel the world with their first Pokémon, nor would they ever be given the chance to dream. But with all ambitions, they must crumble.

There are those who still move to overthrow Team Rocket, to bring the world back to the way it was. They seek to bring hope back to the hopeless, to give dreams a fighting chance. But what do three members of the organization have to do with this usurp of the throne? What does one, innocent woman, have to do with these members? One thing is certain, fate does not intend to be kind to them, nor does she expect to go easy on them. Hearts grow weary, after all, when they are not properly nourished.
---
---

---
---
---
---