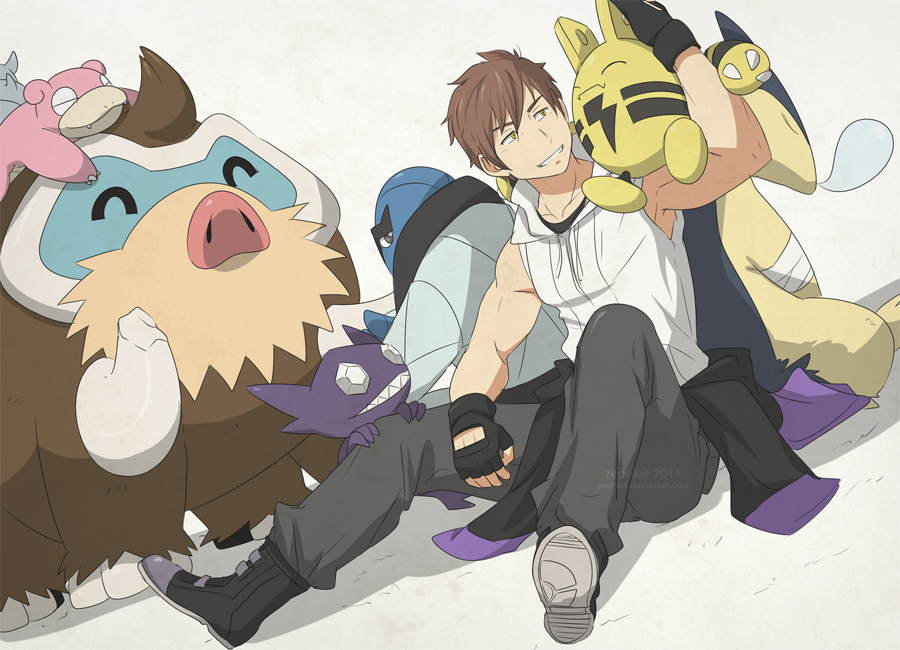 Name:
Jared Stenson
Nickname:
Plateau Master Jay
Gender:
Male
Age:
26
Personality:
Jared is simply minded and straight forward. He'll say anything and everything that comes to mind without much forethought. Oftentimes, Jared's abrasive attitude catches people off guard and will usually spark some egos. A unique trait of Jared's is to accept any and all Pokemon equally without bias. He's also known to always have his arms open for cooperation with anyone. Although Jared enjoys his fair share of solo work, he'd almost always prefer to work in a team. He values teamwork and cooperation so much that his Frontier Symbol is that of Unity. Jared represents the Sinnoh Battle Frontier through his true grit determination to pull any strategy out and win a battle. He's the Plateau Master for his innovative methodology to using every aspect of an arena to his benefit.
Description of Appearance:
Jared has a rather large build with well-defined features. His short hair is light brown and his eyes gold. Jared typically wears a sleeveless white hoodie-jacket, black loose pants and black commando style boots. His outfit is completed with black fingerless gloves and an undershirt tied around his waist.
Region of Origin:
Johto, Ecruteak City
Current Location:
Sinnoh, Battle Zone; Battle Frontier, Battle Plateau
History:
The Stenson household was a well traversed family. Although born in Mahogany Town and raised throughout the Johto Region, Jared finds his true home in Ecruteak City. Through his entire life, Jared has lived in more than 3 regions and 15 cities. While living his early years in Mahogany Town, Jared befriended many wild Pokemon, namely a little Swinub aptly named Simon. As his family traveled, Jared wandered out into the nearby forests, caves and mountain sides looking for new Pokemon to befriend. It wasn't until his family stopped in New Bark Town, before heading over to the Kanto Region, that Jared met Professor Elm. The Generous Professor gave Jared a Cyndaquil, who then became another member of Jared's ever-growing Pokemon family.
Jared's family traversed Kanto and quickly moved on to Hoenn and Sinnoh. When Jared had first set eyes on Sinnoh, he had just turned 16 and was working hard at training. He had obtained various badges from various gyms, but hadn't the time, nor the appropriate requirements, to attend a Regional Championship. It was another two years before Jared finally attended his first Pokemon Championship; which to his dismay, he placed sixteenth out of eighteen. It was after the slight travesty that Jared changed his ways.
On his nineteenth birthday, Jared set off on his own journey. He lost many gym battles but won many frontier matches. It was then, that Jared realized his talents; the limitless parameters of frontier battles enabled Jared to prove his tactical prowess. From here Jared devoted himself to conquering all of the Battle Frontiers, and so he set off. As time went by, a Battle Frontier opened in the Unova and Hoenn regions, and so Jared challenged them. He found his calling and returned to Ecruteak City to his old friends Morty and Eusine. Jared was 25 now and was looking to make himself a name. With the aid of his two friends, Jared successfully captured the Aurora Pokemon, Suicune. With this legend in tow, Jared trekked back to Sinnoh, the starting point of his Frontier Journey, and applied to become the lead Frontier Brain. Jared succeeded and made his own Frontier; the Battle Plateau, the home of limitless battles.

Male ♂ Mamoswine (Simon)

Male ♂ Typhlosion (Ty)
Nature:
Jolly
Nature:
Modest
Ability:
Thick Fat
Ability:
Blaze
Moveset (1):
Ancient Power, Ice Shard
Moveset (1):

Lava Plume, Flare Blitz
Moveset (2):
Earthquake, Blizzard
Moveset (2):

Solar Beam, Wild Charge
Moveset (3):
Endeavor, Iron Head, Focus Blast
Moveset (3):

Dig, Rest, Sleep Talk
Held Item:
Black Belt
Held Item:
Focus Band
Female ♀ Slowbro (Laz)

Male ♂ Sawk (Judo)
Nature:
Lax
Nature:
Adamant
Ability:
Regenerator
Ability:
Mold Breaker
Moveset (1):
Belly Drum, Aqua Tail
Moveset (1):

Brick Break, Close Combat
Moveset (2):
Slack Off, Psychic
Moveset (2):

Focus Blast, Fire Punch
Moveset (3):
Ice Punch, Scald, Signal Beam
Moveset (3):

Bulk Up, Payback, Stone Edge
Held Item:
Life Orb
Held Item:
Muscle Band

Female ♀ Sableye (Bell)
Male ♂ Elekid (Zip)
Nature:
Naughty
Nature:
Naive
Ability:
Prankster
Ability:
Static
Moveset (1):
Sucker Punch, Punishment
Moveset (1):

ThunderPunch
Moveset (2):
Zen Headbutt, Shadow Ball
Moveset (2):

Earthquake, Low Sweep
Moveset (3):
Taunt, Swagger, Will-O-Wisp
Moveset (3):

Volt Switch, Swift, Light Screen
Held Item:
Shell Bell
Held Item:
Focus Sash
Male ♂ Mamoswine (Simon)
~ Simon is the big furry apple of my eye. He was the first Pokemon I befriended and has never left my side. He's honestly just a giant fluffball of fun. The story behind his hair flick dates back to the olden days, when Simon was still a Swinub. Up in the high mountains of Mahogany Town, we had to help find hot springs so the town had hot water during blizzards. Well, after days of searching for a hot spring, Simon had finally struck gold. Upon digging up the spring, a large gust of steam rushed up and spiked the fur between Simon's eyes. Now, as for Simon's broken tusk. He's been in many, many battles. Nothing had prepared us for the trials leading up to becoming a Frontier Brain. Simon had to battle against a Poliwrath who was particularly aggressive and even stronger than imaginable. We did our best and arose victorious, but at a cost, Simon suffered a shattered right tusk from the heated battle. At least Simon's strong enough to handle any injury and come out strong. Becoming a Frontier Brain was well worth the toll, I'm just glad Simon's still as cheerful as ever.
Male ♂ Typhlosion (Ty)
~ This guy is one heck of a fighter. Ty was originally a gift from Professor Elm back in New Bark Town. We bonded almost immediately and ever since, we've created one crafty battling style. One quality that really shines with Ty is his spirit to win. He'll often throw himself into ridiculous situations to ensure an ally's safety and has given himself so grave injuries in return. Ty really doesn't boast about his strength though, he just does what he can and does it well. If it wasn't for Ty, I don't think I would've been nearly as inspired to do half of the crazy stunts I pull for victory. I'll gladly admit that Ty is an invaluable asset to my team and is my inspiration to trudge on.
Female ♀ Slowbro (Laz)
~ Around the time I was heading out of Kanto I stumbled this poor girl lying by a river, moping. I just happened to stop my playtime and visit this lonely Slowpoke, fishing with her tail. I quickly befriended her and we almost immediately bonded, funny thing, I didn't realize she was a she until much later. Even so, I like to think I rescued her from the typical life of a Slowpoke, only problem is that old habits die hard. Although Laz is a great partner, she can get a little... sluggish from time to time. It isn't the ideal attitude when I'm pressed against a wall, but Laz hasn't ever let me down. I've actually adapted to her lazy style, she really changes the pace of battles and it typically throws off my opponents. I'm just glad that Laz was chill with my rigorous training, it really payed off. Laz is arguably the biggest game changer in my current roster.
Male ♂ Sawk (Judo)
~ During my short vacation to Unova, I stumbled upon Judo, training in the Reversal Mountain. At first I was awestruck, a Pokemon, training on its own without a trainer. Judo wasn't just any fighting Pokemon; he was searching for a suitable trainer on his own. So as I stumbled upon his training, we fought. Quite honestly the hardest fight that a single wild Pokemon had ever given me, but the victory was so worth it. After Ty dealt a crushing blow, Judo submitted. I captured the incredible Judo and man has he earned his place. I wasn't expecting to find much in Unova, but I'm glad that I stumbled upon Judo out of every other Pokemon. He's become the brick to my team, never losing sight of the goal always pushing himself to the max. I'm lucky that he joined my team, I'd hate to fight him on anyone else's team.
Female ♀ Sableye (Bell)
~ I stumbled upon this little trickster on my old visits back home to Ecruteak City. The town was being plagued by some rogue ghost Pokemon and Morty asked for my help in subduing the vandals. The Pokemon lead us to Mt. Mortar and it took an entire day to hunt them all down, but it was well worth it. Their group leader was Bell; one hell of a feisty Sableye. Morty took a group of Haunter, Dusclops and Misdreavus while I was left with Bell. It wasn't by any means easy, but Laz has some good fun in their bout. I guess you could call it fortune that Bell submitted to me and requested to join my roster. She's definitely a character I couldn't imagine missing, although she does get a little out of hand from time to time. I do what I can with this feisty girl.
Male ♂ Elekid (Zip)
~ Just when I thought I could relax a little after capturing Suicune, my father decides to give me a fresh egg to nurture. To my surprise it wasn't just any Pokemon in an egg, it was Zip. This little fella brings the spark to my team, literally. He might not fully understand the world around him, but he isn't afraid to dive head first into anything... and I mean that literally. He's pretty reckless and doesn't understand much, but he's definitely improving. I guess I could say I'm thankful for this little shock to my system, he's kept me on my toes and has given me some genius ideas for battles. He's quite the inspiration, even if he doesn't realize exactly what he's doing.
:Pokemon stashed in my PC:
Male ♂
Male ♂
Hitmonlee (Chaz)
Cloyster (Kenny)
Nature: Hasty
Nature: Relaxed
Ability:
Reckless
Ability: Skill Link
Female ♀
Female ♀
Bellossom (Rose)
Espeon (Violet)
Nature: Timid
Nature: Quiet
Ability:
Healer
Ability: Magic Bounce
Female ♀
Genderless
Kingdra (Angel)
Magnezone (Surge)
Nature: Sassy
Nature: Calm
Ability:
Sniper
Ability: Analytic
Male ♂
Female ♀
Gliscor (Clyde)
Weavile (Shay)
Nature: Impish
Nature: Lonely
Ability:
Poison Heal
Ability: Pressure
Male ♂
Male ♂
Honchkrow (Felix)
Heracross (Herc)
Nature: Careful
Nature: Brave
Ability:
Super Luck
Ability: Moxie
Female ♀
Male ♂
Vibrava (Val)
Yanmega (Spaz)
Nature: Bold
Nature: Rash
Ability:
Levitate
Ability: Tinted Lens
Female ♀
Genderless
Pupitar (Lizzy)
Suicune
Nature: Mild
Nature: Gentle
Ability:
Shed Skin
Ability: Water Absorb