Name:
Lychka
Gender:
Female
Type:
Grass/poison
Pokémon appearance: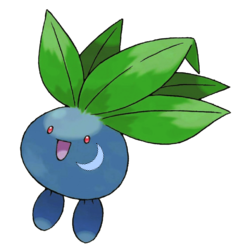 Slight description of appearance:
A healthy blue oddish with extending leaves from out of it's head. This oddish is just a bit smaller than the average height of an oddish. She has bright orange eyes. She has a bright blue birthmark on one side of her cheek.
Personality description:
Lychka likes to see the good side of people and is always wanting to make lots of friends.However at a young age she has always been shy and quiet. No matter how hard she tries she just can't seem to speak up thus she has little to no friends. She stutters a lot and can be indecisive.Constantly she unintentionally shrinks away from others and is really self conscious at being not good enough.
Main positive personality traits:
A good listener and attentive to details.
Main negative personality traits:
Easily ignored and outspoken.
Likes:
Oran berries,flowers,making friends and bright colors
Dislikes:
The cold,being ignored(but can't help it),bitter foods
Fears:
Snow,ice, how people see her
Talents:
Observant and can easily find food in the middle of nowhere
Move 1:
Absorb
Move 2:
Sleep Powder
Move 3:
Stun Spore
Move 4:
Venoshock
Move 5:
Razor Leaf
Side:
Good
Role:
Traveler