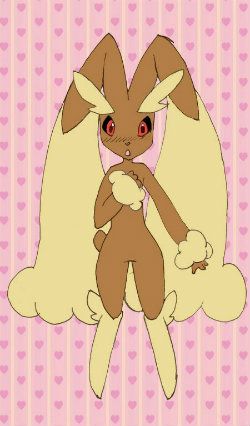 * Region:
BORN: Sinnoh LIVES: Unova
* Lives at:
Blaze & Strike Ranch, situated on the outskirts of Castelia

* Name:
Bloom

* Pokemon:
Lopunny

* Pokemon type:
Normal

* Age:
26 in Poké-years

* Level:
52

* Bio/Pokédex entry:
"An extremely cautious Pokémon. It cloaks its body with its fluffy ear fur when it senses danger. "

"It is very conscious of its looks and never fails to groom its ears. It runs with sprightly jumps. "

"The ears appear to be delicate. If they are touched roughly, it kicks with its graceful legs. "

As a 'rabbit' should be, Bloom is very cautious of every and any environment she is around, and gives off a protective and motherly nature to her friends and family although toward humans she seems moreso like a child than a mother. That being said, Bloom is a very affectious pokemon, who loves to look good and groom herself often and she allows Megan to groom her also, this is a sign of upmost trust especially since Lopunny likes to keep a good appearance.

Bloom, as a Normal type, doesn't fit in much with the Blaze & Strike team - as the name suggests, it is mostly Fire and Electric type Pokémon - but Bloom managed to find her way amongst the team when she met Buddy, her sweetheart from a young age. Bloom and Buddy spent most of their free-time together, and didn't seem to mind when their trainer, Megan, left them behind at the ranch when she went on long journeys with the others. Buddy and Bloom where happy together, and enjoyed each and every moment they were together. Soon, the two breeded and hatched a male Buneary - their son - and named him Bobby. Since then the three have lived happily as a close-nit and affectionate family amongst the team.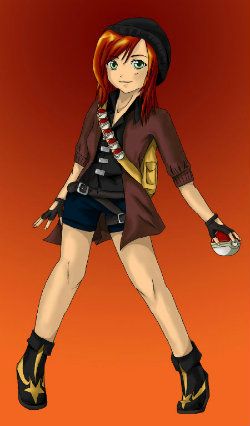 Megan
* Trainer Name:
Megan

* Trainer Bio:
Megan is a spunky, excitable and all-round optomistic bundle of a person who loves to love others and gains to upmost amount of joy from making her Pokémon as happy as she is.

Despite her passion for Fire and Electric types - suggested by many traits and features - Megan loves each and every of her Pokémon equally, and she does not catch/breed or train any Pokémon which she thinks she will not be able too love as much as the others. Generally, Megan looks for such qualities as cuteness, fluffy-ness, and badass-ness in her Pokémon, so her team can prove quite an interesting mix. Megan owns a ranch, one which she decided to open once moving from Sinnoh to Unova and deciding to settle down with her Pokémon and their families. In total, Megan's main team (not including numerical restrictions) contains Charlie the Infernape and her electrifying partner in crime, lover and best friend Simon the Luxray. The next is Peter, the Rapidash who is tough and strong-hearted but prefers the solitary life, and so does not have a mate. The last (Excluding Buddy, Bloom and Bobby) is Megan's two twin Pachirisu; Pippy and Percy.

Megan's goal is just to have fun and enjoy the company of her Pokémon, while taking them on an adventure that she nor they will forget. However, Megan likes to treat her Pokémon as if they were humans, and so gives them freedom to make choices, and would never force or inflict opinions upon them.

*Other: The rest of her team, excluding Buddy and Bobby went on a journey with Megan before the trainers started disappearing.