---
---
---
---
---
---
"

Yeah? So what if I'm smaller than you? My Pokemon and I can still defeat you!

"
[url=Link]
Artist |:
Song :|
[/url]
[url=Link]
Artist |:
Song :|
[/url]
---
---
---
---
|:

N I C K N A M E

:| Airy/Airhead/Kultz
|:

A G E

:| 16
|:

G E N D E R

:| Female
|:F A C E

x

C L A I M:| Aisaka Taiga; Toradora

--» |:

H A I R

:|
Aria has long honey-blonde hair that reaches down past her hips with bangs cut across her forehead. Due to its length and Aria's constant activity, her hair is often left messy and poofy. On the rare occasion she has it up, the hairstyle still seems riddled with flyways from the unruly texture.

--» |:

E Y E S

:|
Aria's eyes are big, innocent and energetic; the windows into her soul. The colour itself is hard to determine, always shifting from red to brown or a mixture in between the two.

--» |:

H E I G H T t

:|
5'0/152 cm

--» |:

W E I G H T

:|
80 lbs.

--» |:

B U I L D

:|
Aria had always been short and thin growing up, saying she had yet to hit her "growth spurt". When it looked like she wasn't getting any bigger, she began to work out as best she could to at least gain some muscle on her tiny form. Now, she has lithe muscle in her tiny body, though not many could tell.

--» |:

M A R K I N G S

:|
She always has some kind of cut or bruise on her, due to her clumsiness.
---
---
---
---
|:

P O T E N T I A L

x

I N T E R E S T

:|
Aria isn't so concerned over relationships at this point, focusing rather on Pokemon training and becoming a master. She does understand that love does happen though, and if she falls in love on her journeys like her parents did, she wouldn't mind too much.

|:

S K I L L S

:|
--»

Pokemon Training/Battling

|| As though it had been a natural gift since birth, Aria is skilled in Pokemon Training and Battling. Though she may not be very experienced yet, her natural talent gives expectations that she could one day be one of the best.
--»

Beginner at Pokemon Contests

|| Since her Mother had given birth to her, she had been dragged around to pageants to watch Coordinators and Pokemon come together to show off their skill. She had picked up some of the ideas behind it, and even tried her hand at it once and did fairly okay.
--»

Stamina

|| Though she is small, she is mighty. Aria has an energy far beyond that of most normal people, and due to this she can easily keep up to others older or bigger than her. This comes in handy when Pokemon Training or Battling, as she never seems to waiver.

|:

Q U I R K S
:|
--»
Clumsy
|| Despite the appearance of her being quite graceful, Aria is actually a huge klutz. She doesn't know why, and can't control it, but its still evident. Due to this she is always tripping, falling and flailing about even if the situation is dire.
--»
Partial Insomniac
|| Because of all her energy, Aria sometimes forgets that sleep is a requirement to sustain human life. She would rather be awake training than be off in dreamland. Once she does sleep though, she tends to be like a snorlax that is hard to get awake again.
--»
Easily Cut/Bruised
|| Her small body, though healthy, seemingly attracts injuries like bruising and cuts. If you were to see her without any, it would be a worrisome affair.
|:
P E R S O N A L I T Y
:|
Vivacious
;
(especially of a woman) attractively lively, bubbly and animated.
Stubborn
;
having or showing dogged determination not to change one's attitude or position on something, especially in spite of good arguments or reasons to do so.
Friendly
;
Kind, pleasant, admirable to others
Aria had always shown an exuberant personality since she was little. She is kind to most and easily makes friends with others, as she is easy to get along with. She seems to bring out other peoples personalities, and can get along with any kind of person just fine. When it comes to her Pokemon or height though, she can be quite passionate and even a little stubborn.
---
---
---
---
|:

F A M I L Y

:|
Mia Bell; Mother; Alive; Retired Pokemon Co-Ordinator | Stay-At-Home Mother
Oliver Bell; Father; Alive; Retired Pokemon Trainer

|:

H I S T O R Y
:|
Aria's mother, Mia West, grew up in New Bark Town, learning how to be a good Pokemon co-ordinator. When she was fourteen she left on her journey with her best friend to win contest ribbons. Along the way, she met Oliver Bell, an enthusiastic Pokemon Trainer only a year older than her. He made her laugh and smile and soon enough the two fell in love. They travelled across Johto together until they were twenty two and twenty three. Oliver, tired of big cities, decided to pack up and move to New Bark with his soon to be wife. A year later they were married and living together happily. Only another year after that, they were blessed with their first and only child; Aria.
Aria grew up surrounded by both her Mother's and Father's Pokemon. She loved learning about them, playing with them and pretending to be one of them, so when she turned ten, it was already obvious to her that she wanted to be a Master. She got her licence to catch Pokemon, but had decided to just train with her Parent's rather than get her own. It wasn't until she turned sixteen that she finally set out for her journey, armed with her best friend and her first Pokemon; Vulpix.
---
---
---
---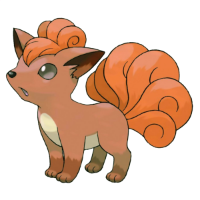 【S P E C I E S】 Vulpix
【N I C K N A M E】 N/A
【N A T U R E】 Modest

【A T T A C K S】
- Ember
- Baby-Doll Eyes
- Tail Whip
- Roar
- Quick Attack
【S P E C I E S】 Species
【N I C K N A M E】 If Applicable
【N A T U R E】 Nature

【A T T A C K S
-
-
-
-
-
---
---
【S P E C I E S】 Species
【N I C K N A M E】 If Applicable
【N A T U R E】 Nature

【A T T A C K S】
-
-
-
-
-
【S P E C I E S】 Species
【N I C K N A M E】 If Applicable
【N A T U R E】 Nature

【A T T A C K S
-
-
-
-
-
---
---
【S P E C I E S】 Species
【N I C K N A M E】 If Applicable
【N A T U R E】 Nature

【A T T A C K S】
-
-
-
-
-
【S P E C I E S】 Species
【N I C K N A M E】 If Applicable
【N A T U R E】 Nature

【A T T A C K S
-
-
-
-
-
---
---