---
---
---
---
---
---
"

I think you are mistaken, I'm just a traveller and nothing more.

"
[url=Link]
Artist |:
Song :|
[/url]
[url=Link]
Artist |:
Song :|
[/url]
---
---
---
---
|:

N I C K N A M E

:|
|:

A G E

:| 18
|:

G E N D E R

:| Male
|:F A C E

x

C L A I M:| Jinguji Ren; Uta no Prince-sama

--» |:

H A I R

:|
Ezra's hair is a duplicate of his father's before him. Sunny blonde locks that grow past his shoulders and touch his collar bones and shoulder blades bless his head, though it tends to keep itself rather messy and swooping to one side. One thick piece of hair never knows where to reside, usually taking its place tucked behind an ear, but blocking his eyes. He tries to keep it tame when possible, but he doesn't mind all too much.

--» |:

E Y E S

:|
Ezra's eyes are a vibrant blue, some say is like the sea or the sky or maybe a mixture of both. They are narrow, though not enough to look like he is squinting, enough to make him look a tad mysterious. To the more perceptive, his eyes gleam with a subtle curiosity of the world.

--» |:

H E I G H T t

:|
Ezra is rather tall, standing at 5'12" feet, just bordering the 6 foot range.

--» |:

W E I G H T

:|
A rough estimate would be around 160-180lbs.

--» |:

B U I L D

:|
Ezra is what people call lanky; tall and thin. To make up for this though, he does have more masculine features like broad shoulders. As a movie star, he had to keep up a tough fitness regimen that allowed for his body to build up more muscle. Overall he is of a healthy body for a man and fit as well.

--» |:

M A R K I N G S

:|
He has a small tattoo of a crown on his collarbone, a replica of his father's.
---
---
---
---
|:

P O T E N T I A L

x

I N T E R E S T

:|
Relationships? Ezra doesn't think about it often. Of course, he's dated women before, but that was mostly for publicity and to gain closer connections. To have a real relationship with a girl is something Ezra hopes he will have in the future, he just hopes she doesn't come from the high society life that he lives in... You can never truly know those women.

|:

S K I L L S
:|
--»
Acting
|| Whether it's feigning happiness or anger Ezra is a master due to the many lessons he had and the movies and plays he was rolled in.
--»
Playing Instruments
|| Since the ripe age of five, both his parents decided it would be a good idea to learn an instrument. When he began picking up piano quickly, they moved him on to violin and then flute after that. He can still play each one well and enjoys to do so in his free time.
--»
Languages
|| When he was alone with his brother out acting and his mother managing him, Ezra took to reading and learning languages. He can call himself somewhat of a linguist now, even being able to decipher ancient hieroglyphs with a certain amount of time.
|:
Q U I R K S
:|
--»
Supreme Curiosity
|| The world of middle and lower class in Johto is much different than that of the Upper class society. It is amazing just how many things the Upper class was missing out on, and because he was raised in this class, Ezra has seen none of them. Due to this, he likes to look and touch every new object he comes face-to-face with.
--»
Whistling
|| In the wilderness there isn't much music than the nature's noises itself, so he likes to whistle every so often. It calms both him and his pokemon down with its soft melody.
--»
Perfect Posture
|| As an upper-classmen Ezra was taught posture from a young age, and it seemed to stick. As much as he would like to slouch or walk with scuffed feet, he is naturally inclined to keep his back straight and walk with poise.
|:
P E R S O N A L I T Y
:|
Tranquil
;
(of a person, action, or manner) not showing or feeling nervousness, anger, or other emotions.
Eccentric
;
(of a person or their behavior) unconventional and slightly strange.
Due to growing up in the world of show biz, Ezra's personality is far from what people call 'normal'. He was raised to be kind, gentle and polite to the public, even if he was just acting rather than truly being this way. He tends to be a rather serene person, and takes life slowly, as it comes his way. He isn't much for the leadership roll either, preferring to be side-by-side with friends and family, instead of in front of them. If situations call for it, he cane flirty and persuasive with his acting skill, but prefers not to.
Ezra was also raised to enjoy the finer aspects of Pokemon culture and human society. Up until leaving he had a very cushy life, but due to this, he doesn't much understand middle and low class society normalities. This is what causes his curiosity. New things he has never seen in his life fascinate him to no end, and he can be caught ogling them, thus causing others to find him rather unusual.
---
---
---
---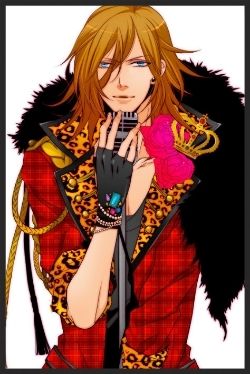 |:

F A M I L Y

:|
Natalia Grey; Mother; Alive; Manager
Kaius Grey; Father; Deceased; Ex-Photographer
Zeke Grey ; Older Brother; Alive; Model/Movie Star

|:

H I S T O R Y
:|
Ezra was the second born of Natalia and Kaius Grey. He was the spitting image of his father, whereas his older brother resembled his black-haired mother more. Due to this, Ezra felt like he was closer to his father, always wanting to impress him with his musical talents. His father was proud of his family until he passed away ten years after Ezra's birth. As he was the bread-winner in the family, their mother struggled to support Ezra and his elder brother. While his mother was too busy thinking about money than to grieve, the death hit him in a devastating way. His role model was gone and there wasn't much excitement to life. This is when he turned to music. After both he and his brother showed proficient artistic talents, Natalia took her boys to an agency and had them enrolled, hoping it would bring in more cash flow.
Ezra grew up singing in Pokemon Musicals, acting in movies, playing on television shows and traveling to other regions to be a model. He, along with his brother, supported their mother well. When Zeke got a big enough contract to pay off the rest of their debts and support their mother, he finally decided to put his career aside for a while to take a quasi "vacation". He wanted to travel the world on foot, with his own Pokemon and experience a true adventure, not like the ones he played in movies or TV. He wanted to experience the feelings his fathers photographs portrayed and see the wold like he had.
---
---
---
---
---
---
【S P E C I E S】 Shinx
【N I C K N A M E】 N/A
【N A T U R E】 Timid

【A T T A C K S】
- Quick Attack
- Thunder Fang
- Leer
- Double Kick
- Howl
【S P E C I E S】 Snivy
【N I C K N A M E】 N/A
【N A T U R E】 Quiet

【A T T A C K S】
- Vine Whip
- Protect
- Magical Leaf
- Toxic
- Cut
---
---
【S P E C I E S】 Feebas
【N I C K N A M E】 N/A
【N A T U R E】 Gentle

【A T T A C K S】
- Brine
- Splash
- Tackle
- Surf
- Protect
【S P E C I E S】 Species
【N I C K N A M E】 If Applicable
【N A T U R E】 Nature

【A T T A C K S】
-
-
-
-
-
---
---
【S P E C I E S】 Species
【N I C K N A M E】 If Applicable
【N A T U R E】 Nature

【A T T A C K S】
-
-
-
-
-
【S P E C I E S】 Species
【N I C K N A M E】 If Applicable
【N A T U R E】 Nature

【A T T A C K S】
-
-
-
-
-
---
---