---
---
---
---
---
---
"Books are not something you just read words in."
[url=Link]
Artist |:
Song :|
[/url]
[url=Link]
Artist |:
Song :|
[/url]
---
---
---
---
|:

N I C K N A M E

:| Master, Boss
|:

A G E

:| 25
|:

G E N D E R

:| Male
|:F A C E

x

C L A I M:| Shogo Makishima; Psycho Pass

--» |:

H A I R

:|
Unlike most average humans, Scias was born without pigment in his hair, causing his locks to be very pale. Some may say the strands were even translucent at times. The style of his hair, though shaggy looking, is kept well groomed and smooth. It would bother him too much if it were to knot or become too well unkept.

--» |:

E Y E S

:|
Though some may say his eyes are that of an amber colour, the true pigment is like liquid gold and venomous poison combined. Scias has been told that the colour, paired with the narrowing shape of his eyes created quite a vicious appeal.

--» |:

H E I G H T

:|
As a rather tall man, he stands at approximately 6", give or take a few inches.

--» |:

W E I G H T

:|
Even with his height, he is quite thin, ranging around 150 lbs.

--» |:

B U I L D

:|
Born more frail than others as a child, Scias had tried desperately to gain weight and put on muscle, but to no avail. His body stayed frail and thin with only a fair amount of muscle. Despite this, Scias is still a masterpiece to gaze upon. His body is made of pointy looking bones and pale skin that would make the average person look gangly. Instead, Scias pulls it off in an exotic way.

--» |:

M A R K I N G S

:|
Scias began getting tattoos when he was a teenager onwards, and his back and chest have almost become a mural of foreign symbols and graphics of mysterious figures. Many who ask him what they are aren't given an answer. The true meaning of the pieces are something only he and those closest to him understand.
---
---
---
---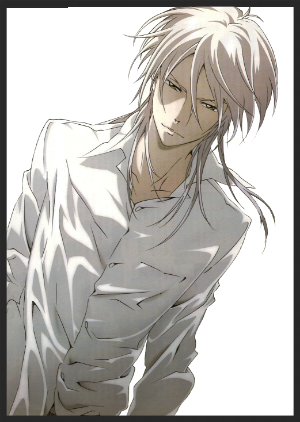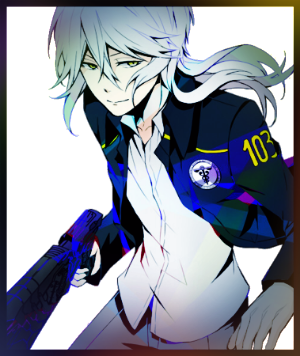 |:

P O T E N T I A L

x

I N T E R E S T

:|
Since he was young, Scias had never been one for relationships with common women, he much preferred his books and solitude rather than socializing with those not worth his time. As he grew older though, past the childish school crush age, he became interested in one woman in particular that seemed much out of his reach. As of late, he begins getting closer and closer to finally grasping onto the woman he is obsessed with.

|:

S K I L L S
:|
--»
Speed Reading
|| Left to his own devices as a child, reading became a sanctuary for Scias, and over the years of advanced literature, he can read at speeds beyond the average human. He has been known to finish multiple books in one day.
--»
Scheming
|| Scias's mind is a scary thing with how brilliant it is. He grew up planning and scheming in his own way and even has back strategies, knows all loopholes and can keep them all straight within his mind and not need to write them down. In a tough situation, Scias is easy to come wiup with a solution... Even if the solution is not morally correct.
--»
Persuasion
|| With his surplus of money, handsome appearance and perfect bloodlines, Scias holds good standing in society. When these alone cannot persuade a person, he can easily spin them along with his smooth words.
|:
Q U I R K S
:|
--»
Crooked Smile
|| Not knowing much about emotions, Scias was never one to smile as a kid... There wasn't much to smile at where he came from. Now though, after studying people and how they acted, he can feign human emotion. His smile though, was never perfect, always curled upwards a bit more on one side. Some say it looks sinister, others say it looks attractive... Scias doesn't mind, but its not very often he does smile.
--»
Albinism
|| Born an unhealthy and early birth, and growing up in a inside environment without much sunlight, Scias is now a very pale man with pale hair, though this actually adds to his unusual appeal.
--»
Money Doesn't Matter
|| While most people spend money consciously, Scias doesn't busy himself with that. He has secretaries and accountant who handle his money, but with the large amount he has, he doesn't really worry about how much he spends. His bank is a deep, deep well that won't be drying up until well after his life ended.
|:
P E R S O N A L I T Y
:|
Meticulous
;
Showing great attention to detail; very careful and precise.
Stoic
;
A person who can endure pain or hardship without showing their feelings or complaining.
Personality.
---
---
---
---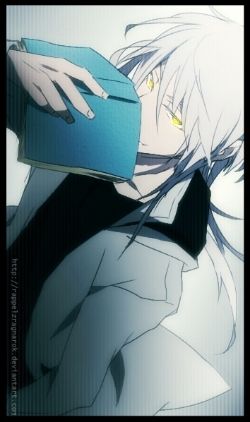 |:

F A M I L Y

:|
Name; Melanie Blair; Unknown; Unknown
Name; Edward Blair; Deceased; Ex-CEO of a large Business

|:

H I S T O R Y
:|
Scias had, what some may call, a tragic up bringing. Since the day he was born, he had been seen as different. Doctors told his parents he was much too weak to walk the outside world on his own, as he had been born too early for the world and needed to be under the care of nurses. As he grew up, his parents sheltered him from anything beyond the many walls of their lavish home. His father, a business man, had made the home for his family when he found out his wife was pregnant. The home was Scias' classroom and playground, but least of all it was where he slept.
As he grew, the mansion became less and less of a home for him. It was clear his parents did not care much for him, and he figured out, at the ripe age of five, they were not sheltering him from the world… Rather, they were keeping everyone else away from him. Scias decided long ago to not care for his parents then either, so when the news of their divorce came to him, he wasn't shifted.
His mother had decided to run away to the much more foreign country of Kalos with another man, and his Father kept out of the mansion with other women as often as he could. Besides the one day a month visits his father kept up, Scias was completely alone.
Scias stayed in the mansion his entire early life, feeling that the world was not yet ready for him. Instead, accompanied by nurses and teachers, he grew strong in mind instead of body. It was at the age of eight when he first began his obsession with pokemon and the lore that accompanied it. Of the books he read, one was most interesting. It read of a beautiful goddess who was the bridge between pokemon and humans, someone who had brought them together for the greater good of the world. That same goddess soon met her untimely demise. Though it was only through old artwork and literature, he fell in love with this woman. She was everything he wanted… Someone who could even care for him.
As he continued researching into his teenage years, he found more tales in the mansion library that told of the Goddess' sister who had survived the warring years and had settled down to continue their family lines. It was said that once in a while, the spirit of the Goddess Gaia would bless a soul and become the reincarnation of the woman. He also learned of the Goddess' lover, a man named Caelus who also had the same reincarnations. Soon enough, he got the idea in his head that it was he that was such incarnation and it was his duty to find the reincarnation of his lover. But a reincarnation was not enough, no… He wanted the true Gaia, the original, and with his brilliant mind and excess of time, he soon found out how to achieve this goal.
By the age of twenty, Scias had flourished into a young man, a rather handsome one at that, despite his pale demeanour. Growing on his own with little social interaction had left him a bit cold, and oblivious to others emotions, but this he did not mind. He had strengthened his mind until he could gain the title as a prodigy of many things, and a genius. He learned of Pokemon and battle strategies, and even had his maids and butlers obtain some for him. He became obsessed with the lore he had read as but a child, and took the knowledge to a new level. He created a plan, a devious one some may say, to bring back the goddess of Pokemon, his one true love. He would stop at nothing to do this either.
His plan was started at the age of twenty-five when his elder father passed away, leaving him a large sum of inheritance, the type of money men only dreamed of having. He used this to gain allies in his cause and decided to call them Team ______. Finally, with the power of his mind, and the strength of all his men and women, he could finally attain his dream.
---
---
---
---
---
---
|:S P E C I E S:| Larvitar
|:N I C K N A M E:| N/A
|:N A T U R E:| Naughty

|:A T T A C K S:|
- Bite
- Sandstorm
- Outrage
- Stomp
- Screech
|:S P E C I E S:| Murkrow
|:N I C K N A M E:| None
|:N A T U R E:| Bold

|:A T T A C K S:|
- Peck
- Roost
- Confuse Ray
- Brave Bird
- Fly
---
---
|:S P E C I E S:| Kadabra
|:N I C K N A M E:| N/A
|:N A T U R E:| Quiet

|:A T T A C K S:|
- Confusion
- Disable
- Barrier
- Fire Punch
- Psybeam
|:S P E C I E S:| Species
|:N I C K N A M E:| If Applicable
|:N A T U R E:| Nature

|:A T T A C K S:|
-
-
-
-
-
---
---
|:S P E C I E S:| Species
|:N I C K N A M E:| If Applicable
|:N A T U R E:| Nature

|:A T T A C K S:|
-
-
-
-
-
|:S P E C I E S:| Species
|:N I C K N A M E:| If Applicable
|:N A T U R E:| Nature

|:A T T A C K S:|
-
-
-
-
-
---
---