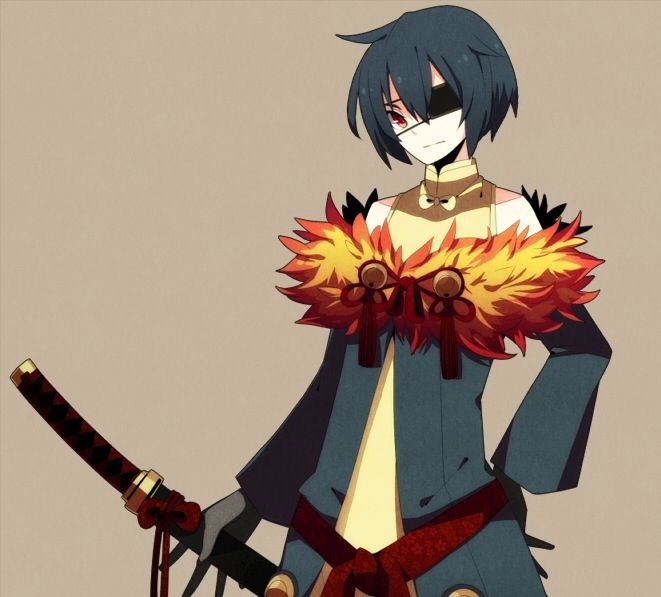 Name:
Lon'shin
Age:
18
Gender:
Male
Species:
Thyphlosion
Kingdom and Rank:
Royal guard of the Hi kingdom
Personality:
Shin at first glance seems delicate and gentle, if slightly neurotic, keeping his cool in diplomatic situations, and even assisting the king with military matters, but all that goes out the window when Shin draws his blade. He becomes a blood-thirsty dog of war, who's swordsmanship and endurance are unparalleled all through the kingdom of Hi. That being said, Shin always possesses a strong and unwavering sense of honor, and will not fight women, children, or unarmed opponents, and loyalty, as he would easily go through hell and back for the king or the princess. 
He wears his eyepatch not because he is missing an eye, but out of respect to his father, and to provide an extra challenge in battle. His favorite foods are rice, oranges and venison, and his favorite pastime is sharpening his blades or playing the violin.
History:
Shin was born to the previous head of the king's guard, the legendary one-eyed Swordsman Lao'gong who was renowned throughout the land for his devotion to the king, incredible strength, and unparalleled skill with a blade. His mother is a noblewoman from the south, and the two met when she came to the palace to present a gift to the king. Shortly after the two met, they married, and soon after, Lao'gong's wife gave birth to their son, Lon'shin. 
Lon'shin was trained from infant-hood to be a swordsman, and when he showed great promise in the art of the blade, his training intensified. When he was twelve, he was practicing in the woods near the palace, and was attacked by a group of bandits.
Luckily, Lao'gong came to the boy's rescue, but was mortally wounded after he was ambushed by a bandit hiding in one of the trees. In his dying words, he requested that his only son, Lon'shin take his place as royal guard when he became of age, so Shin trained until he mastered the blade, and at the young age of sixteen, became a full-fledged member of the elite Royal guard, vowing to give his life for the king and his daughter.
Move Set:
-Cut
-Aerial Ace 
-Flame Charge 
-Double Team
-Protect