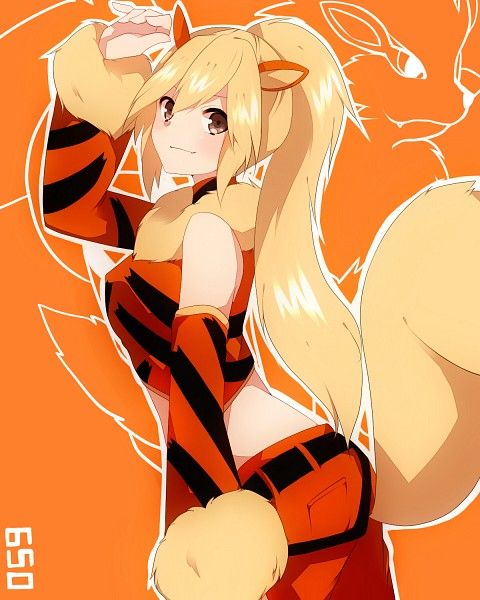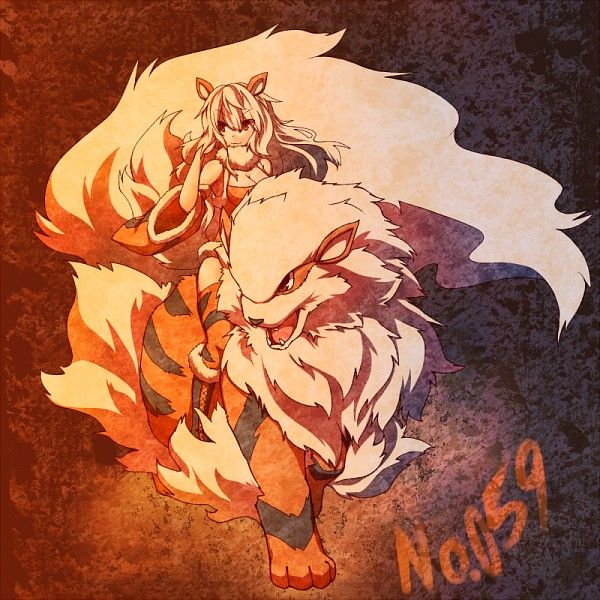 Formal Dress, usual attire[1]
[2]
Anger[3]
Name: Suzaku Blaze
Age: 17
Gender: Female
Species: Moltres
Kingdom: The kingdom of Hi

Appearance: Suzaku looks like her species. The Arcanine. Her long hair is has a mix of both orange and red, reminding people of a flame. [Ways that are seen, are tied up in a high pony tail :D] Her eye color is a light orange that shines with determination [dispite the pictures] and are round and bright, a trait she got from her father. Her body though, is considered small and child-like which gets her in a pissy mood, well except for some parts of the body which matured greatly. Though she is always looking towards the future when her body will grow bigger, like adult arcanine supposed to.
Anyways, her only change is when she gets in her blazing phase. In other words, really mad. Her features sharpen, resulting from the anger,and her movements begin to grow more rash. She goes all out when she is in battle at this point, and it can be very hard to calm down. So at this point, her eyes remain angered, and seem to flicker like a wild fire.

Personality: Comparing Suzaku to fire can be easy. She is a little hot-head with a burning personality. Her emotions are always so full, her anger, sadness, happiness, etc. She is normally full of unbound energy, and is known to zip around the place just for fun. But despite this, Suzuku can be seen with a different air. One so serious, angry, and reserved that people wonder if thats even her. Its like she's a whole different person, or so people say about her change. Her appearance seems to change as well. Her features sharpen and her eyes glare hotly. Its hard to distinguish her at this point, and usually her father is the only one who can do so. But this rarely happens unless something horrible happens to her loved ones. Like her father for instance. She loves her father with all her heart, and will never think of him as a bad man. She will do whatever best for him, and will follow him always. Well not always, actually she is quiet the rebel. When her father tell her to stay put, she will move to her own willing. But she knows when to really follow orders, so she has some restraint. Although most of her rebellious acts were an act of selflessness, her going out to protect her fathers reputation when her father told her to stay put is one. Though she does this to many people that she loves, but not as equally. Another thing about her, is that she is very loyal, and honorable. This trait comes from the fact on how much time she spends with her father. Seeing how much he despises betrayal, she earned that little pet peeve herself. But her loyalty isnt one of a slave, following every order mindless and without a thought, no she does whatever is best for the person. A loving and selfless act. Something that she lives by, and will do it for everyone she loves.
Any who, this side is never shown to a stranger. Like in an interrogation of a spy, to them She is serious, and- well something like her father. Direct and blunt.. Her eyes shine with pride, and the air around her one of sophistication. It is a natural side of her that grew within her, by watching Garuda work. She slowly learned on when to be serious and when it was okay not to be. Other words, Sazuku is wise, but a a closet wise, and an unknown one. But there is no motive in hiding her intelligence, no she just doesnt know it.

History: Suzaku was born under the watch of her father, the king of Hi, Garuda. Her Mother passed on when she was a child, a new born in fact, though she is unsure and she doesnt remember. Her father doesnt really mention her mother alot, so her deceased mother was just a image to get her going. Only small images of her mother come to her, but because of her death, she relied mostly on her father. Leaving no real want for her back. Though as she grew up, she learned the responsibilities of power and sometimes earned for a mothers touch. How could others betray, and how the world isnt as perfect as it seems. HEr father knew that, and now so does she, dispite her young age of 11.

However, dispite that fact, Sazaku still remains positive and holds that big smile on her face. But honestly at times when she grew up, she had her dark moments on thinking how the world works. How her father had to deal with this. And because of that, her maturity grew within her, and sometimes emerges at times of seriousness. And when people found it fit for her to train, she began but at a earlier time. She trained under her father's watch, and under the other royal knights. Her skill was ready for battle, but nothing really happened at the time, so she just continued to train. But any who, Sazaku was always taken care of and was always the one to run around the kingdom, having some adventure. But as time passed, she noticed the difference in the air, and how her father was so serious. Something was happening and she knew it for a fact. Learning about the conflict, she started to sturdy down. Her actions were more thought out, and she frequently observed the crowd, behind a mask of naiveness.

Move Set:
- Wild Charge
Suzaku's body will charge with a yellow glow and eyes will glow which is actually electricity. She will then charge with her natural speed, and use whatever techinique comes to her at the time.
- Morning Sun
Depending on the weather, Suzaku will regain a varied health back.
- Solar Beam
She will use her open palm, and small orbs of light will slowly gather to one of a solar beam. Shooting out her hands, a ray of light will head towards whoever the target is.
- Flare Blitz
Like Wild charge, her body will be covered in some sort of substance, instead of electricity, it is fire.
- Extreme Speed
Suzaku runs so fast that its legs become a blur, or her person, becomes surrounded by white and clear aura as it charges into its opponent at a fast speed.

Ability
Because of her Arcanine blood, she has the ability flash fire which is when she is immune to fire. Which is something not that rare in the Hi kingdom.