Mariko Watanabe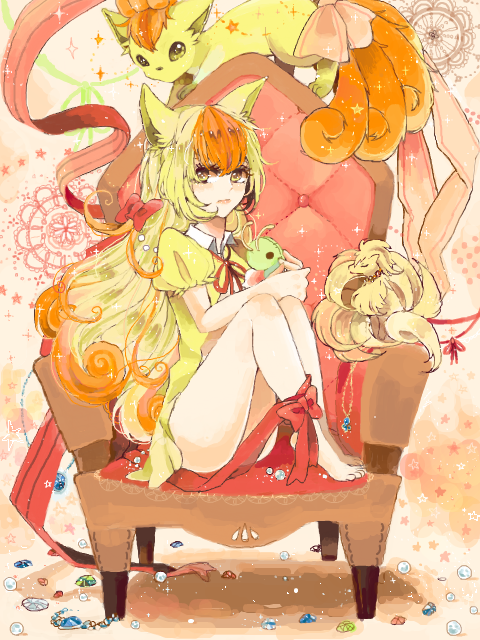 "I deserve nothing but to be alone."



Pokemon:

Vulpix

and

Ninetales


Age: Just turned 19
Gender: Female
Orientation: Unsure
Personality: Mariko used to be a very energetic person. She was always running around, playing with her Pokémon, and traveling. Those who knew her would always say they never saw her rest. She was always happy, carefree, and was never afraid to greet another person and make new friends. However, this is no longer true. After her capture, Mari became distant and quiet. She barely ever moves unless it is required. Most of the other former Trainers don't even know her name, and so they call her "Shiny V" among themselves. Mariko has ended up blaming herself for losing her Pokémon and her freedom, so she is always feeling guilty as well. Her personality is overall broken, and it will take a very long time to put herself back together again.

History: Before being nabbed, Mariko's history is average at best. She had a loving family who only wished the best for her, a place to call home no matter what, and never really had any bad experiences. She would play in a nearby forest with wild Pokémon, run around the ponds, and simply just be a kid. Sure, she made mistakes as any other human would, but she wouldn't consider those "bad" per say. Mari always traveled with her best friend from her hometown, but at this point Mari has no idea what happened to them. All she has to look forward to now is the dank cell she's locked in.

Abilities: As Mariko was mixed with a Vulpix, she has the ability to create Fire-type moves that a Vulpix can know. Her ability is Flash Fire, so she gets stronger when in fire/hit with another Fire-type move. Her only known moves are Flame Burst, Will-o-Wisp, Hex, and Payback. Her physical capabilities are low, as Mariko is small and very weak from experiments. Her mental state is also very weak, so as of this point she will not be very helpful for leaning on emotionally. The only thing really going for her is her ability to recognize problems and solutions quickly and is able to act fast if in the right mindset.

Other relevant information: She prefers Mari over Mariko.