Ree Belacarus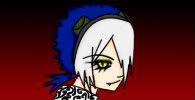 In Rocket uniform: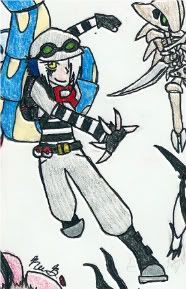 Starter Pokemon: N/A
Role: Team Victory Leader 2
Age: 23
Appearance: At 5'6" and 125 lbs, Ree's figure is lithe and slender, not built with the sort of muscle for great strength but for agility. Her features are certainly not ugly, but not stunningly gorgeous either. Her eyes are a very light amber brown, usually described as golden. She's a natural brunette, but has dyed the front portion of her hair pure white and the back navy. The front is straight and a little more than chin-length, while the back is short, spiked, and in small pigtails.
Theme Song:
Team Rocket Remix - Baron Mobius