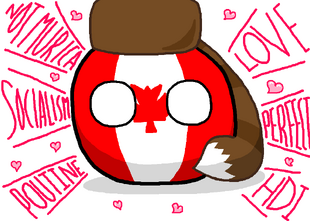 Canadaball
is the child of UK ball and France ball, and the brother of US ball.
You know what you need? Gay Marrige!
- Canadaball
Personality:
Canadaball is usually kind and friendly. But if you happen to anger him, he'll be a bit brutal, and by brutal he means "cry for UK to help". He's described as the straight arrow to US ball. He occasionally wears a coonskin cap or hockey helmet. He is usually teased for his limited independence from UKball, but he gets protected by USball and NATOball.
Subballs:
Provinces:
British Coloumbia
Alberta
Saskatchewan
Manitoba
Ontario
Quebec
Newfoundland and Labrador
Prince Edward Island
Nova Scotia
New Brunswick
Territories:
Northwest Territories
Yukon
Nunavut
Traits:
Can into space?:
Yes. He even has his own space agency!
Delicacies:
Poutine and Maple Syrup.
Items:
Coonskin Cap:
"Fancy, eh?"
Hockey Helmet:
Canada woudn't be Canada without Hockey!
Maple Syrup:
He can't help it. He just loves it.
Dialogue Colour:
#ff4c4c