The Movie's Plot
Wilee (Joseph Gordon-Levitt) is a New York City bicycle messenger alongside his ex-girlfriend, Vanessa (Dania Ramirez). Her roommate, Nima (Jamie Chung), delivers $50,000 that she has saved for two years to Mr. Leung (Henry O), a Chinese money launderer, in exchange for a ticket that she must deliver to Sister Chen, buying a place for Nima's son and mother in one of Sister Chen's ships that smuggle people from China to America.

Mr. Lin, a local loan shark, learns of the ticket and how whoever returns it to Mr. Leung can collect Nima's money. He then approaches Bobby Monday (Michael Shannon), a NYPD officer who owes him money, offering to clear Monday's debt if Monday gets him the ticket. Monday begins searching for Nima, who decides to hire Wilee to deliver the envelope with the ticket to Sister Chen at 7 P.M. After Wilee leaves, Nima is confronted by Monday, who coerces her into revealing that Wilee has the ticket and takes the delivery receipt. After Monday leaves, Vanessa finds Nima, and learns the contents of the envelope.

Monday catches up with Wilee before he leaves the campus where Nima lives and threatens him for the ticket. Wilee escapes and heads to the police station to report Monday, only to find out he's a police officer, and hides in the bathroom, where he opens the envelope and, finding the ticket.

After he escapes the station, Wilee angrily tells his dispatcher, Raj (Aasif Mandvi) that he is returning the package so that someone else can drop it off. Returning to Nima's college, Wilee leaves the envelope, which is picked up by his rival, Manny (Wolé Parks). Before the pick-up by Manny, however, Monday calls the dispatch and uses the delivery receipt to redirect the delivery to a different address.

As he is about to leave the college after returning the envelope, Wilee runs into Nima. He confronts her about the ticket, and she reveals the truth. Guilt-ridden, Wilee tries to catch up to Manny, who refuses to give Wilee his drop. They race each other and in the process, are chased by a bike cop who had earlier tried to arrest Wilee. As they approach Monday's location, the bike cop tackles Manny out of his bike and arrests him. Vanessa, who learns of Monday's trickery and races over to warn Manny, appears, grabs Manny's bag and gives it to Wilee.

As they were about to escape, however, Wilee is run over by an incoming taxi. He is put in an ambulance with Monday, while his damaged bike is taken to an impound lot, with the envelope hidden in one of the handle bars. Monday beats Wilee into revealing the envelope's location, and Wilee agrees to give it to Monday in exchange for his bike.

Wilee tells Monday that the envelope is in Manny's bag, and Monday leaves to search it, while Wilee meets with Vanessa in the impound lot. She gives him the envelope, which she had retrieved, and he escapes on a stolen bike. Monday, realizing Wilee has tricked him, pursues Wilee to Sister Chen's place. Meanwhile, Nima calls Mr. Leung for help. He deploys his enforcer, the Sudoku Man, to help her.

As Wilee reaches Chinatown, he is confronted by Monday, who is preparing to kill him when Vanessa arrives with other messengers, dispatched by Raj, and delays Monday, giving Wilee time to deliver the ticket to Sister Chen, who calls the Captain of her ship and tells him to allow Nima's family inside. Outside, Monday is confronted by the Sudoku Man, who shoots him in the head and leaves. Nima arrives and meets with Wilee and Vanessa, and they leave together to wait for Nima's family to arrive.

Characters
FC: Joesph Gordon-Levitt l Age: 25 l Name: Wilee (Riley) "John" Blake l Taken by TeenTitans l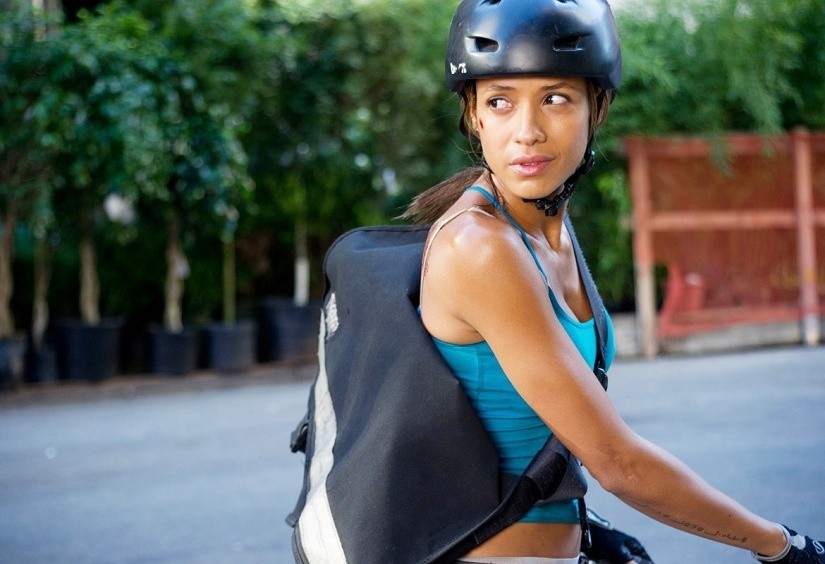 FC: Dania Ramirez L Age: 23 l Name: Vanessa l Open l
~MORE CHARACTERS TO COME~
Character Sheet
Name:
Age:
Gender:
Job: (Reciever, Biker, Cop)
Likes:
Dislikes:
Appearance: (must include a picture)
Personality:
Rpedby: (your username)
Taking place in...
0 posts here • Page 1 of 1
0 posts here • Page 1 of 1
Arcs are bundles of posts that you can organize on your own. They're useful for telling a story that might span long periods of time or space.
There are no arcs in this roleplay.
There are no quests in this roleplay.
Here's the current leaderboard.
There are no groups in this roleplay!
Welcome home, Promethean. Here, you can manage your universe.
Arcs are bundles of posts from any location, allowing you to easily capture sub-plots which might be spread out across multiple locations.
You can create Quests with various rewards, encouraging your players to engage with specific plot lines.
Settings are the backdrop for the characters in your universe, giving meaning and context to their existence. By creating a number of well-written locations, you can organize your universe into areas and regions.
Navigation
While not required, locations can be organized onto a map. More information soon!
There are no groups in this roleplay!
By creating Collectibles, you can reward your players with unique items that accentuate their character sheets.
Once an Item has been created, it can be spawned in the IC using /spawn Item Name (case-sensitive, as usual) — this can be followed with /take Item Name to retrieve the item into the current character's inventory.
Give your Universe life by adding a Mob, which are auto-replenishing NPCs your players can interact with. Useful for some quick hack-and-slash fun!
Mobs can be automated spawns, like rats and bats, or full-on NPCs complete with conversation menus. Use them to enhance your player experience!
Current Mobs
No mobs have been created yet.
Locations where Mobs and Items might appear.
You can schedule events for your players to create notifications and schedule times for everyone to plan around.
Add and remove other people from your Universe.
The Forge
Use your INK to craft new artifacts in Premium Rush. Once created, Items cannot be changed, but they can be bought and sold in the marketplace.
Notable Items
No items have been created yet!
The Market
Buy, sell, and even craft your own items in this universe.
Market Data

Market conditions are unknown. Use caution when trading.

Quick Buy (Items Most Recently Listed for Sale)
Newest
Trending
Most Followed
None
Discussions
Topics

Replies
Views

Last post
Most recent OOC posts in Premium Rush
There have been no posts in the OOC topic for this roleplay!