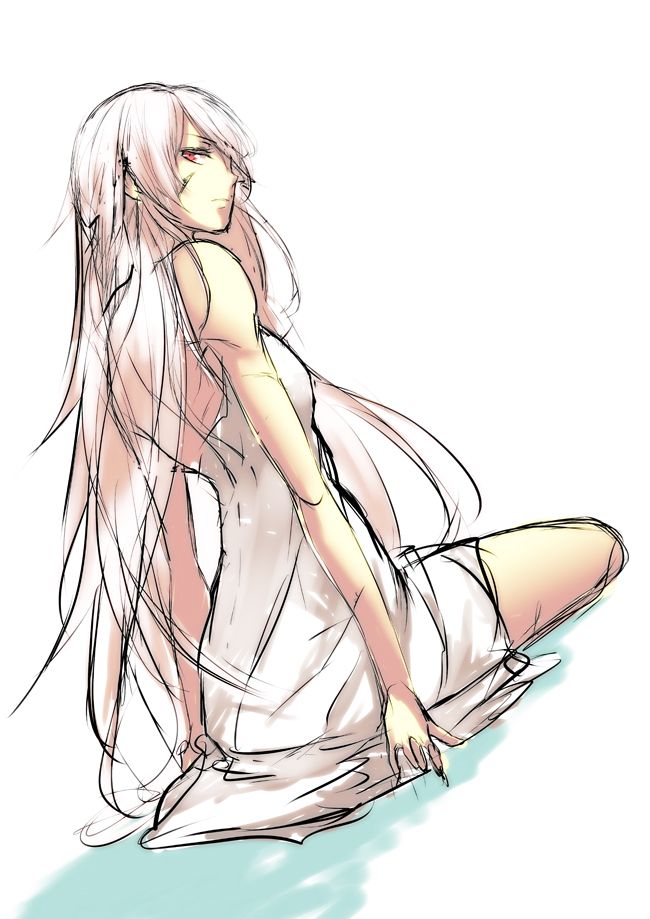 [ Name ]
Adrienne M. Adamantis

[ Nicknames/Aliases ]
-Princess of Massacre|| Self-explanatory
-Demon/Killer|| A trail of dead bodies and a sadistic personality. What else should we call her?
- Nyla|| Adrienne was never the name she was known as. It was always Nyla, a name given by her father. It is also the name of her deceased mother.
-Shiro-chi|| A pet name from her dear friend and guardian.
-Onee-san|| The Black Empress used this name with a sickly sweet, yet loathing voice.

[ Age ]
25

[ Gender ]
Female

[ Race ]
Human||

[ Role/Occupation ]
Princess of Massacre/Unlikely Hero/Killer/Leader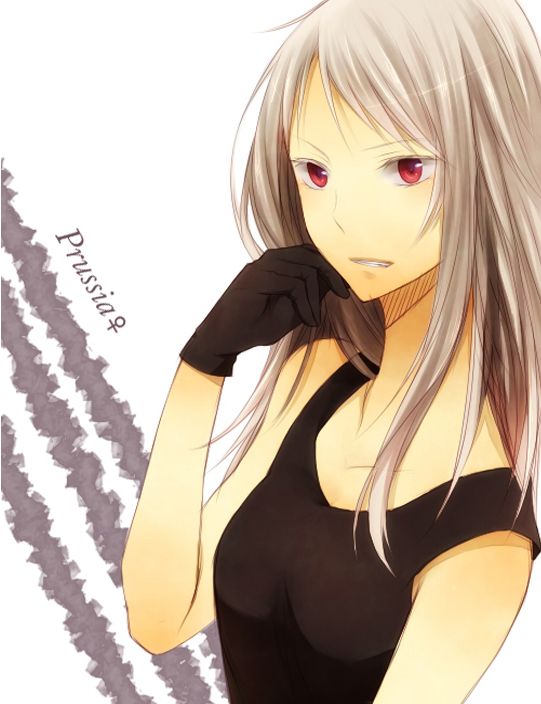 [ Hair Color ]
Black (Before contract) || She is 1/2 Jin and recieved the common trait of silky black hair.
White (After contract) || White as snow and highlighted by shades of pale lavender give it an inhuman shimmer.

[ Eye Color ]
Pale Lavender || Lighting and emotions twinge her pale eyes to three main shades, a soft blue, vibrant red, and pale lavender. At times, all three colors are present in her eyes in varying amounts. A saying goes that the females in her family have eyes of crystal.

[ Skin Tone ]
Slightly tanned || Long hours under the hot sun training, fighting, and massacring has ruined her once milky white skin.

[ Height ]
5'5"

[ Weight ]
138lbs || 70% muscle mass.

[ General Description ]
Without the wild insanity tugging on her features, Adrienne's features are revealed to be refine and almost intimidating. Long, veiling eyelashes, high cheekbones, and cat-like eyes comprise her heart-shaped face. Her most notable features are the pale lavender eyes clear as crystal. Peer into them, you would find an unsettling calm and indifference. It just the way she looks, but since her awakening, emotions have appeared across her face in subtle forms that would have you wondering if she were truly the Princess of Massacre. One should not push their luck though. If she were to snap those eyes would turn cold with sadistic glee. Nyla also owns a set of snow white hair that trails down to her waist like a silken waterfall with unruly bangs lying across her face. It is usually never taken care of and left to it's own devices but she would not mind chopping it off or tying it back if the situation called for it. Before the initiation of the contract, feathery strands of black hair lay messily in a short ragged cut often matted with blood.

Then there is fact her once milky skin is now colored with a slight tan. Her body is littered with scars of all forms. Many have faded over the years, but a few have never healed and stick out like sore thumb on her even skin. Her body is lithe and cat-like in grace and actions. However, unhidden to public eye is the girl's well toned lean muscle from years of training and fighting. As for her height she's the average height for most women, maybe even a bit taller, at the standard of 5'5". She also does possess an aura of mystery and dark secrets hanging over her like a cloud.

As for the young woman's wardrobe, she can be seen wearing a navy blue trench coat, white blouse, black form fitting shorts, and knee high white boots. Much of her clothing adheres to form fitting standards so as to make her more streamline and agile. Before her awakening, the girl could be found 24/7 in a filthy armor of some sort. She has no problems wearing skirts or pants, or dresses. All seem to fit her perfectly. All in all this is what form the Princess of Massacre has taken over the years.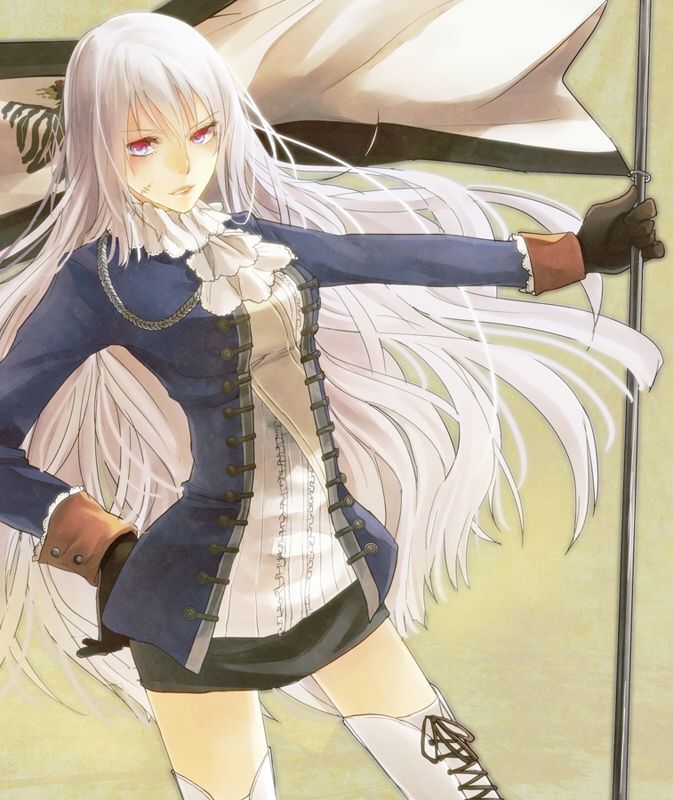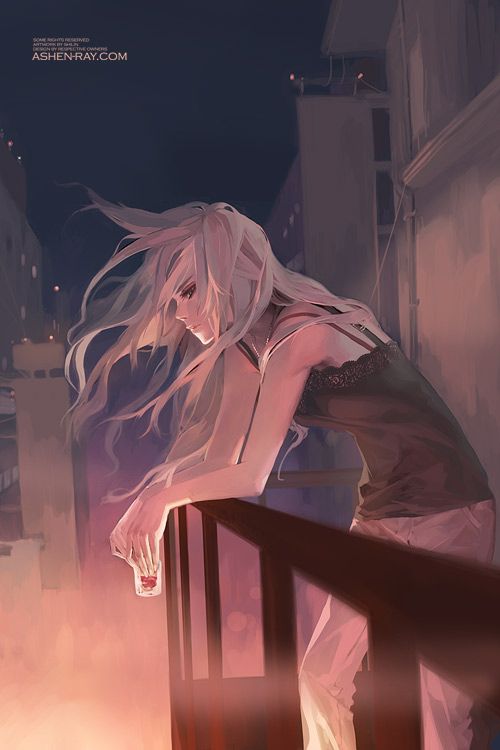 [ Likes ]
✔Methods of Torture and Killing
✔Cute Objects
✔Training || With all her skills of combat scattered across the land all she can do is train to avoid being the weak link in the chain.
✔Freedom
✔New Things
✔The Devil and Spirit
✔Chocolate
✔Personal space
✔Danger and High Adventure
✔Weapons
✔Night and Dark places
✔Horseback riding

[ Dislikes ]
x Being the Leader
xFighting
xHer Family
xHer past
xVegetables
xArrogance
xAuthority, government, hierarchies
xAttention

[ Strengths ]
☯ Combat || As soon as she showed an affinity for the blade her parents trained her as the finest killer in the land. She has had multiple masters of a multitude of disciplines and also is gifted with being a natural at all forms of combat. Her weapon of choice is one of Irelian tech, known as Variants. Her's is a V-Ballistic Chain Scythe. It may shift between the forms of an oversized cleaver to katana to pistol.
☯
Physical Stamina || The girl seems to contain a limitless supply of stamina in her body. Rigorous fights or athletic activities are nothing to her.
☯
Reflexes || Speed and a facile mind allow her to dodge with relative ease. This aids in her primary tactics to take down foes.
☯
Resolute || There is no hesitation or doubt in her actions no matter how cruel or terrible they are as long as the desired result is achieved.
☯
Perception || She is adept at sensing emotions, intentions, and most of the time she is on the dot.
☯
Optimist || She does her best to remain positive, even in the most desolate of situations.
☯
Extensive Knowledge of the Land || Whether is be geography, locations of towns, elf clans, or the amount of debt the land has she knows it all.
☯ Impassive /Tolerant || Nothing really bothers her. It doesn't matter if the situation gets too loud, quiet, calm, dark, etc. she could care less.


[ Weaknesses ]
☠Diminished Skills || With all her powers and memories spread across the land there is a severe limit to her prowess in battle.
☠ Mask || All of her true emotions are hidden by a calm and collected disposition, such as sadness or fear. It creates misunderstanding between herself and others.
☠ Extremely Dense || On emotional topics, such as love, Adrienne is extremely lacking in her understanding.
☠ Regrets and Guilt that plague her mind.
☠ Missing memories of herself
☠Possessiveness || Her stuff is her stuff. Don't touch if it's not yours.

[ Abilities/Skills ]
✶ Combat || She excels in all kinds and can hold her own in a fight.
✶ Singing || Something she has discovered recently she can do. Her voice is light and melodic, perfect for ballads and lullabies.
✶ Aura of Darkness || A dark aura seems to emit from her when she's angry and often cause people to cower in fear.
✶Stealth/Elusiveness || She's particularly good at avoid attention and sneaking away.
✶ Overall Skills with Hands || She's extremely good at activities that require using her hands such as sewing, lock picking, drawing, juggling daggers, etc.
✶ Magic Immunity || A bonus of being half Jin. Magic is unable to be used upon her. It's a double edged sword though and she is unable to use relics.




[ Personality ]
One if the most important things you should know about Adrienne is that she is not the person she once was. In the place of a murdering, sadistic beast is an apathetic woman who seems to not give a damn to anything or anyone, save for a select few, and even then there isn't much if an improvement. She is stubborn and rather prideful, never bending to anyone's whims. Her one goal is to hold on the most precious thing in the world and that is her freedom. If you try and take that away, well it was nice knowing you. We can also say that being with a devil and an embodiment of pride has shaped her into to what she is.

She's indifferent and distant, shut off from everyone and the world. All for the reason of protecting those around herself from getting hurt. She can not give them what they want. Friendship, compassion, happiness. She considers herself a monster that does not deserve to be happy. Adrienne truly years for love at heart, in fact she is caring and will do anything to help her friends, if not subtly.

Moving on, she is mischievous and has no qualms against using deceit and deception to reach her goals. For example, pretending to be innocent and cute. It almost always works. Afterwards, the casual bored look will return to her face. It is something you may blame on the Devil and Agrona, whom she holds in high regards and respect. She is very different from the two creatures though. Much more down to earth and simple, wealth or nice things don't matter to her. It can cause a bit of friendly tension between her and Agrona.

Adrienne is also wracked and consumed by an extreme sense of guilt and regret for her crimes of the past. Despair claws at her mind each day as she is plagued by the screams and looks of fear of her victims. In response, she has assumed the responsibility to bring the land what it longs for, peace.

Though with every feather her personality becomes much darker and sadistic. Even with the new found influence of her companions it is inevitable the Princess of Massacre will return to her former bloodstained glory.
[ History ]
Adrienne Mika Adamantis was born on the 7th day of the 7th month, to an unknown mother and the Irelian monarch Sethon Adamantis. Her birth sent a ripple of fear through out the nation. Not only was she illegitimate, but an old crone from Jin predicted years before that a daughter with hair black as night would be born by the King and a woman of Jin. Adrienne was born with hair black as night and she was destined to drag the land into a time of darkness.

As she grew to the age of 6, Adrienne gained a new play mate, she hadn't been allowed to play with her half-sister Valerie. The playmate was a young boy and he was an Airenian Assassin-in-Training. At first they had their differences, she was headstrong and rash, while he was quiet and soft-spoken. One day he challenged the young princess to try and catch him after he stole her favorite toy. They dashed through the palace halls, through armories and libraries, and eventually out the huge mechanized gates and into the bustling Capitol. For the first time, she was exposed to the world outside the heavily guarded home she lived in. It was intriguing to the young girl but her mind didn't have time for that and she ran off to catch up to her 'enemy'. As she searched and searched, Adrienne barely managed to hear the boy's muffled cries of pain coming from the darkness of an alleyway. Brazenly, she marched in before doubling over at the foul stench of blood. The boy's arms lay torn open at the wrists and he hissed at her to run away. The warning earned him a sharp blow to the head and from the shadows a masked man emerged.

Something seemed to snap in the girl's mind that day. Many speculate that it was the immense fear, the gruesome sight she beheld, or just her survival instincts. However one thing was certain, the girl was a natural killer. With a piece of glass, young Adrienne stabbed the man repeatedly in his crotch. He would have died eventually from blood loss, but that wasn't fast enough for her. So with the man's own knife she slit his throat. Soon after the young princess was brought before her father and a dark plan formed in Sethon's mind. At such a young age with a natural instinct why not training her into a fearsome fighter?

From across the continent, Masters of all Styles and forms of combat were brought to Irelia. There they trained what many would describe as the perfect pupil, but something about Adrienne struck fear into their hearts. The way she practiced...thought...it was all to dark. She was dangerous and many tried to curb her murderous intent. One unlucky master had tried physical submission. This didn't bode well for the girl and angered her immensely after being punished by a sharp blow to the head. The punishments increased in severity until Adrienne had had enough. Lashing out suddenly the girl caught the man off guard, breaking all of his limbs, and tossing him aside. The man began cursing her existence, calling her a monster, a beast, and a disgrace. It took all of her will to just walk away....until her father appeared in the doorway. He urged her to continue, to get revenge, as it didn't seem right to let such Airenian filth be allowed to teach. And, with her father's approval Adrienne began an extensive period of torture on the man. At the end of it the beautiful feeling of inflicting pain of others was engraved in her mind. Who knew how much fun it was pushing the limits of the human body?

New spread of the girl's skills, as well as her bloody nature. It caused many to fear Irelia lest the girl grace the battlefield with her presence. War was inevitable though. Jin and Irelia's opposing beliefs had reached it's limit. Armies were formed and the war began. Leading the Irelian army was eighteen year old Adrienne, a twisted grin spread across her face. Both armies clashed for a span of two years before a truce was called. The death toll had reached unimaginable heights and it all seemed pointless if both nations wiped each other out.

It was then when Adrienne returned home at the age of twenty, people began to speak ill of her. During the war she had committed many atrocities against prisoners of war or innocents that got caught in the mix. Panic was spreading throughout the continent. Old man Sethon had died during the war from a heart condition and now the throne was open to the two heirs. They knew that Valerie would never oppose her sister. She was a monster and anyone who crossed that monster would die. Everyone to blinded by fear to see that Adrienne didn't give a crap about the throne. She just wanted to continue with how her life was going, one where she hunted down high profile criminals and ended their miserable lives. It was a twisted sense of justice and the land saw her efforts to make the land safer as her way of satisfying her need to kill.

New Years was coming up and so was Valerie's royal wedding to a noble she selected would make a fine king. Adrienne supported her as always and assured her she would kill anyone that ruined her perfect day, including the groom. As the festivities went on something seemed off to the Princess of Massacre and she sent her loyal friend, the assassin from long ago, to fetch her weapon. The moment her left the room it would all go downhill for her. Adrienne made her way over to her sister as the cake was being cut. Suddenly, she found the ceremonial knife stabbed through her right hand and pinned to the table. Guests, Soldiers, and Servants all descended upon her with blades of all kinds. In the distance she could hear her friend yelling her name in desperation before she was hacked to pieces. She lay there in disbelief and then she let the darkness take her.

(WIP)




[ Others ]