Kachinonai Aku. His name is literally 'Worthless Scum'. He was never graced with a middle name and now sees no point in it. This is a name that few people know or remember as Kachinonai Aku was a no one living in the slums of Airen. He rarely, if ever, calls himself this and prefers to make use of made up names and alias when introducing himself.
We all don masks, I am simply a more literal example.
[ Name ]
Kachinonai Aku

[ Nicknames/Aliases ]
The Mangled Lord
The Crippled Spider
Shadow of Airen
The Whisperer


[ Age ]
27

[ Gender ]
Male

[ Race ]
Human

[ Role/Occupation ]
Companion/Spy Master/Information Broker/Crime Lord/Possible Traitor



[ Hair Color ]
His hair, which is almost never see, is an almost obsidian black with an odd sheen to it.

[ Eye Color ]
Emerald Green

[ Skin Tone ]
Pale, he does not get much sun.

[ Height ]
6'3

[ Weight ]
193 lbs.

[ General Description ]

The first thing someone notices when looking upon Aku is the iconic mask that he always wears. He never takes it off in front of others and will sleep in it before removing it in the presence of others. His mask has spawned a large series of rumors of what his face must look like. Some believe he is hideous, others that he is a woman, and many believe that he is divinely beautiful behind his mask, but the first is correct. Aku is not a handsome man, his face is disfigured and has been since birth. There is a massive discoloration running down the right side of his face, marring it a deep red as if his face had been burned. His nose looks as if it has been broken over and over again as it leans towards the left. His cheeks are gaunt and lopsided with the left rising a little above the right causing his mouth to be angled which do not justice to his lips which are far too thin for his already sickly thin face. He is not a handsome man behind his mask.

His long obsidian hair comes down to his shoulders and is usually held back by his hood and runs down between his head and the clothe of the hood. He will sometimes lower the hood and allow people to see the shiny black hair and pale skin, but it is not often. His entire body is covered in a large coat that he does not take off no matter the weather, this would normally make him smell rather badly, but the coat is enchanted to be far lighter then it appears and allows air to flow in to keep him cool, should his body temperature lower, the coat will thicken and keep air out making it an invaluable traveling tool. Besides this, his other most noticeable feature is his left leg. It is badly mangled making it shorter then his right leg and bending at an odd angle. Aku must use a cane to walk. Perhaps, fortunately, he is a gifted rider.

His deep emerald eyes stare out from his mask and seem to capture every action and motion in the world around him. Constantly shifting and searching, looking through people as if they were glass. Due to his mask, his voice bounces off of it giving it a unique tone.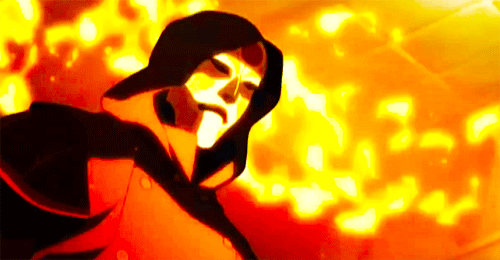 [ Likes ]
✔ Information|| Information is Power. Only a fool shares power.
✔ Tea|| A man, no matter how busy, always has time to enjoy a nice cup of tea.
✔ Intelligence/Cunning|| I do so love a sharp and beautiful mind.
✔ birds|| I must admit to some level of jealousy at their freedom, but I do like to hear them sing.
✔ Wit|| There is nothing like finding someone with a sharp tongue and even sharper wit.
✔ Gold|| Gold will never lie to you. Never betray you. It is a man's truest friend.
✔ Art/Love|| While I am not one to admit it, I do enjoy the arts from paintings to sculptures to works of literacy. Love will forever be beyond my grasp, I know this, but I suffer from a childish desire to see love in others flourish. A most unbecoming trait for one such as I.

[ Dislikes ]
x His body|| My body is a cage that holds me back. Makes me weak. Vulnerable. I disgust myself and others.
x Snow|| It mocks me in its perfection. I cannot help but want to tarnish it.
x Weakness/Pity|| I have no time for either in this world. Stand tall or be trodden on, I care not which you choose.
x Fire|| All Fire can do is spread and destroy all in its path. Its favor is fleeting and comes at a price.
x Handsome Men|| 'Beauty is skin deep' 'Beauty is in the eye of the beholder' Odd, yet I still feel the desire to mar their pretty little faces. Perhaps then such naive quotes will leave this world once and for all.
x Naivety|| The world is a dark and cruel place. I have no time or patience for those who live in ignorance.
x Brutes|| Mindless brutes are nothing but marginally smarter dogs. They serve their purpose and are disposable. They should be changed regularly least they forget their purpose.

[ Strengths ]
☯ Intelligent|| Aku is an extremely intelligent and shrewd man. His mind is his greatest weapon and tool. He remembers the smallest of details with perfect clarity, is incredibly observant able to see things most people would miss and is very astute.
☯ Perfectionist|| He does not stop until he believes whatever he has been doing is perfect. This makes him very meticulous and slower at jobs and actions then most people, but his finished product or result is always superb.
☯ Liar|| A master of deceit and deception, Aku can tell a man the sky was green, and they would look to be sure before doubting his words. The fact he wears a mask helps conceal his thoughts and helps hide any reaction that would give him away. His natural eloquence helps greatly in this as he is a wonderful persuasive speaker.
☯ Pain Tolerance|| To this day, his leg causes him extreme physical anguish that his mind blocks out instinctively making him numb to most physical sensation. Born and raised in a world of physical and mental anguish has made Aku an extraordinarily tough man with torture being a very length choice when used against him.
☯ Tolerant|| He is willing and able to put up with a lot of annoyances and even people he despises if he believes it necessary, but he has a long memory, and he does not forget slights even if he chooses to overlook them for the time being.
☯ Determination|| His determination and iron will is almost supernatural. A man who would drag himself through miles of shattered glass and rusty nails if it was required, someone who would limp to the edge of the world if he had to. If he is 'heroic' in any way, it is his determination.

[ Weaknesses ]
☠Vengeful|| Aku never forgets or forgives a slight or disrespect towards him. While he may overlook something and not bring it up or allow something to go by unanswered, it does not mean it goes unnoticed. He will harbor his anger and hatred over the smallest of insults for months upon a time, and one way or another, he will have his vengeance.
☠ Distant|| A distant man both emotionally and physically. He does not allow himself to become attached to people and rarely, if ever, engages in personal contact.
☠ Distrust|| Simply put Aku does not trust others. He is constantly looking for signs of treachery or deceit, and if someone looks for something long enough, they will find it even if it is imagined.
☠ Condescending|| When speaking, he will often sound like he is talking down to others as if they are mere children who need to be educated which can, and does, get on peoples nerves.
☠ 'Pacifist'|| No, he has nothing against murder or killing or even underhanded tactics, he just prefers to not get his own hands dirty.


[ Abilities/Skills ]
✶ Information|| Aku is a master at gathering information be it indirectly or directly. He will remember the smallest things people say or do and file it away, he is adept at employing spies, street urchins, prostitutes, stable hands, and other eyes and ears that people do not notice to do his bidding, and he is very adept at torture.
✶Lightning|| Aku's cane allows him to use it as a 'lightning rod' of sorts able to produce lightning magic from it, a very expensive and rare artifact he acquired as his main method of fighting as, being a cripple, he would be of little to no use in direct combat or hand to hand fighting.
✶Wealthy|| While not a true ability or talent, gold has a way of making life easier. What better way to 'put in his part' for the group then taking care of the finances? Do they honestly think the Inn Keepers allow them to stay and feed them for free?
✶Tactician|| A master planner and tactician, Aku generally thinks four or five steps ahead of a foe and is very much a 'general' and not a front line fighter.

[ Personality ]

Aku is a calculating man. Constantly weighing decisions in his mind as he watches the world with his hard emerald eyes. He is very meticulous and thoughtful thinking out every action he and others do, analyzing it, turning it over in his mind, looking at it from different views in an effort to better understand them and the options that lay before him. This distant, cold exterior is a man willing to throw away anyone and everyone for his own ambitions and goals. For the most part people are merely tools and currency in his eyes, if they cannot be used then they have no value or purpose.

Within this cold exterior lies a burning sun of ambition and desires that he dare not think upon too long. Aku is a man who has crawled through the dirt and filth for most of his life, and he has always looked to the stars and always will. There is always a way to fly higher, to extend his reach just a few more inches, to stretch his influence another street. This does make him rather ruthless in his pursuit of his ambitions which are often known only to himself, and many would call it an obsession of greed and perhaps they are right. Aku knows what it is like to go hungry, to have nothing, to be nothing. He will never be nothing again and this does make him have a compulsive need to acquire wealth in any way possible no matter how underhanded the activity may be for gold, even if earned through the blood and misery of others, buys just as much as any other gold.

Desires and determination run his very core of his being. Aku chases what he wants and does not let it go for he pushes himself farther then any other and believes that all he has gone through in his life is all the right he needs to do what he wills. His desires are many and numerous the most reoccurring being for power and knowledge, but there is one deeper inside of him that he does not speak or think of, his desire to be accepted for what lies behind his mask. He is not naive enough to hope that he will ever be loved by any being as people like him can be loved, but not those who are like him and look like him. Life was not a fairy tail where the beauty falls in love with the beast, no, she falls in love with the other beauty and the beast is left to rot in the darkness of the cellar, but acceptance... trust... yes, this he can hope for. Even without it, even with nothing, Aku will continue to fight, crawl, and pull his shattered and broken body along because he will not give up. He will never allow himself to fall or lean on others.

Despite this, despite all of this, Aku does enjoy simple things. He enjoys drinking a nice cup of tea, a simple hot meal, listening to the birds, watching a creek flow, reading a nice poem or examining a humble painting. It is... an odd mixture of things but despite him hating and envying beauty, he loves of it none the less and is easily captured and enthralled by beauty that nature and humanity can inspire. All in all, Aku is a shattered and broken man, held together by ambition and an iron will that hides behind the comfort and safety of an unreadable mask.
[ History ]

The man who would become known and spoken about in hushed whispers by those few graced enough to know of his existence was born to a prostitute on the lower docks in a warehouse in Vastiral, a city within Airen. The nation of Airen is a hard place, a strong place that has no room for the feeble or weak, like Aku who was born manged and deformed, the prostitute incapable and unwilling to take care of such a child, or any child, left him at the door of an orphanage located in the center of the industrial quarter wrapped up in old linen clothes and without a name. The Brierheart Ophanarium was an orphanage in only name as it truly served as a front and 'recruiting' spot for a large band of thieves, cutthroats, and mercenaries who stylishly named themselves the 'Black Water Regiment' as if adding regiment made them superior or gave them a semblance of discipline.

It was odd that they would take in someone like him, a deformed little freak who would never grow to be of any really use, but they did. They named him Kachinonai Aku. Worthless Scum, it seemed they were not quite as clever with his name as they were with the name for their little group. Life in such a place was hard, food was scarce and he was always malnourished and starving having to search for scraps as many of the other children would constantly beat him and steal his food. They called him 'freak' at the time, he did not understand why he was hated so. But overtime, he too started to believe he was a freak. A monster. An animal, but now he knows that he was... good for them. Every time they looked at him, the other children knew they were not as bad off. They may be starving, they may get beaten, but at least they weren't the freak who had to crawl on the ground like a dog because he couldn't stand up. Who had to lap at puddles formed from the rain dripping through the roof, who spoke in broken syllables and stutters. At least, they weren't him.

But Aku was smarter then he appeared, he taught himself how to read and write with old waterlogged books, taught himself basic mathematics, fashioned a cane out of old rotting wood so that he could try and walk, try and fit in with the others, but to no avail. Everything he did only set him apart further. Now he was a freak who wanted to be a human, there was almost something poetic about that a freak wanting to be a human among a group of people who barely qualified as such. When he was twelve, it was time to 'work' for the cutthroats did not 'raise' them for free, they were like animals being raised for a purpose. The girls, at eighteen, were sent to work the corners making money by working on their backs and 'entertaining' men. So used to the sad state of life, they simply accepted it as their fate, those who were especially pretty were often forced to have drugs until they became addicted to the high, addicted to the pleasure and would do anything for anyone to get that feeling back.

The boys... they were a bit luckier. They were sent into the streets to gather money as pickpockets. Those that did not return with something did not eat and were beaten. Those that were discovered hiding money or purchasing something with money that was no theirs were beaten till they were an inch till death... a few times... the men did not stop in time and the child died anyways. Aku used his appearance to his advantage, hobbling and crawling on the ground like an animal, begging for coins from passing men and women. Their looks of pity... scorn... disgust... revolution... how some spit on him as they past... the muttering of freak... how it burned into his mind.. Searing into his memory, but it worked. They would rather toss coins at him then have to bear the sight of him a moment longer. He did this for years until he was sixteen when the 'Black Water Regiment' discovered his talents of the mind. They put him to work balancing the books, and from there, Aku learned one important fact. The one who controlled the gold, controlled the world.

It was a simple task to see a bag of gold disappear here and there. A coin 'slipped' here and sometimes there until he had enough money to buy clothes and a carriage out of the city and into a 'new life', but he was foolish to believe anywhere else would be different. He left Vastiral and arrived in Toshiro. He left a freak and arrived a freak. He was still an outcast, but this time, he was a smart outcast. Using what little gold he had, he invested in various merchant groups and stores, always staying in the shadows when making the offers, a common occurrence in a land like Airen, and amassed a small fortune. At nineteen, he was a wealthy, if not unknown man.

It was then that he fell in love with a young woman who worked as a bartender in an inn he had 'acquired'. Akira. She was no great beauty, in fact, she was rather plain with bright blue eyes that sparkled with hidden intelligence and passion for life. Her smile had a way of lighting up the small room, even reaching to the dark corner that he would huddle in with his hood obscuring his face. He loved her from a distance, and one day, he got the crazy idea to approach her. Why not? He was wealthy, he could provide for her. He was intelligent and he longed for true companionship in every sense of the word, after closing, he approached her and introduced himself, pushing down his hood and smiling at her with a cracked, broken face. She screamed. If he closes his eyes, he can still see her face and hear that heart wrenching scream. He could still hear the sound of running feat as men walking along the street came to see what the commotion was. One look at her then Aku told them all they needed to know. He was a monster who was in the midst of trying to rape a poor girl, not a shy man trying to open his heart. He was beaten to the point of death in the middle of the street and left to rot. For hours he lay there, his face broken more then it already was, his blood long since dried on his face when he saw it. A mask, a simple thing of metal painted by some small child as a toy, left in the corner of the alleyway. Crawling over to it, as the men had been kind enough to break his cane, he reached out and took hold of it, took hold of His future. In that instant, Kachinonai Aku died and the Shadow of Airen was born.

Over the next couple of years he built up his shadow empire, taking over various stores, gangs, mercenary companies and shadow organizations until he had a web of power that spread through the nation. Of course he heard of the Princess of Massacres, and he kept tabs on her and her exploits as well as her sister, but stayed out of their affair as he thought it had little to do with him. He sold information on them both as well as purchased them as they were a hot commodity, but he had no desire to meet either... that was... until he aided in the Princess of Massacre's murder. Why? Very simple. Aku did not believe she was good for the nations. She was dangerous, seemed unbalanced, insane, and had far too much influence and power. For the good of the nations, for the good of the world, for the good of himself, she had to be removed, so he aided in the plot to have her removed, but he was not the mastermind. Far from it. Merely a supporter.

When she returned, it was Aku who found out about it and informed the others, but... as the weeks went on, he pondered on the situation. Her Sister, the Black Empress was growing far too powerful for his liking. While Aku is a man who controls corruption it was becoming too rampant. Even he knew that a building cannot stand if all its pillars and foundations are withered and decayed. Perhaps, just perhaps, he had bet on the wrong sister. He monitored and watched for information on them, gathering what Intel he could, selling it to the various nations at times and hiding some at others as he thought of what to do, until he came to a conclusion. He needed a hands on approach. Last time, he had stayed out of it for too long and merely picked the side that already had plans in motion, this time, he would see the so called Princess of Massacre himself and judge.

It was not too hard to find them with his connections, he looked for a pattern and waited for them to come to him, and he offered his services. While he could not fight, he was very wealthy and well connected and could aid them in accomplishing their goals and help them hide their location and goals from the other nations, bounty hunters, and powers that be. Not a man to leave much to chance, Aku offered much in return for very little. He would be allowed to travel with them and observe their rise and struggle in return he would aid them. It has been two years, and Aku is still not sure what to make of them, and if they are smart, they do not know what to make of him either nor should they trust him as he never told them he aided in her murder and that, should he find her lacking, he will do so again.

[ Others ]