Her name literally means, "Ice Crystal". A fitting name for her as she is the embodiment of the "reserved" side of the people of Jin. She is relatively quiet unless the person she communicates with is the Princess. For the Princess, she has nothing but loyalty.
The path to peace is riddled with sacrifices. Despite already knowing such information, I'm willing to traverse that path knowing that the possibility of me returning in full health is slim.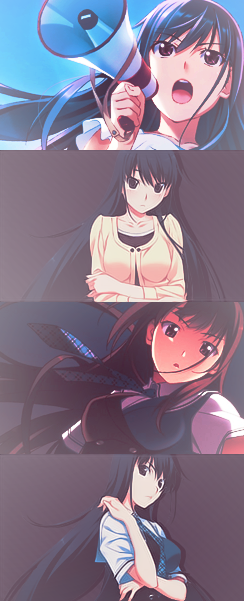 [ Name ]
Kouri Suishou

[ Nicknames/Aliases ]
Ice Queen

Koushou

Kou

[ Age ]

19

[ Gender ]

Female

[ Race ]

Human

[ Role/Occupation ]

Violinist

Mage

Support



[ Hair Color ]
A deep, dark purple-ish blue.

[ Eye Color ]
A slightly lighter shade of purple in comparison to her hair

[ Skin Tone ]
Somewhat Pale, fair

[ Height ]
5'3"

[ Weight ]
108 lbs.

[ General Description ]
Kouri's characteristics are more or less matching of the description of a Yamato Nadeshiko, that is to say, a perfect wife. A rather pale skin tone, medium height, long dark hair and straight bangs. Being raised in Jin, a nation that emphasizes tradition and honor, she has well-practiced posture and has the appearance of a mature adult figure. She carries herself highly, as to show her pride as a person from Jin. Her smaller features, such as her hands, are fairly petit and smooth despite her years of practicing the violin. As a citizen from Jin, Kouri has learned that traditional appearances can affect how people perceive you. As such, she commonly wears clothing with feelings of uniformity and respect tied to them. That being said, she will also occasionally wear more casual clothing, though they don't differ greatly to her formal ones.

Kouri's hair varies upon the onlooker's perception of color as well as the current lighting. It can be perceived as a dark purple or a dark blue.

[font=Brush Script MT]
Inner Soul
[size=][color=][url]
Theme Song and a Quote
[/url][/color][/size]
[img]Character[/img][color=][ Likes ][/color]
✔
✔
✔ Add as you need it...

[color=][ Dislikes ][/color]
x
x
x Add as you need it...

[color=][ Strengths ][/color]
☯
☯
☯ Add as you need it...

[color=][ Weaknesses ][/color]
☠
☠
☠ Add as you need it...

[color=][ Abilities/Skills ][/color]
✶
✶
✶ Add as you need it...

[color=][ Personality ][/color]
{2-4 Paragraphs}
Memoirs
[size=][color=][url]
Theme Song and a Quote
[/url][/color][/size]
[img]Character[/img][color=][ History ][/color]
{2-4 Paragraphs}

[color=][ Others ][/color]
[img]CHARACTER%20IMAGE[/img]
[size=][color=][url]
Theme Song and a Quote
[/url][/color][/size]