Shinku translates to a deep red, which depicts his crimson red hair. The Crimson Blade is formed from the colors of red that both Lyon and his weapon has. Lyon is the nickname or official alias usually called by his companions.
There are not a lot of these moments, so I should treasure it.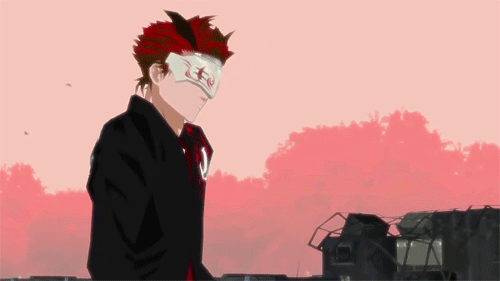 [ Name ]
Lyon Kazuto

[ Nicknames/Aliases ]
The Crimson Blade/Kazu/Lyon

[ Age ]
24

[ Gender ]
Male

[ Race ]
Human

[ Role/Occupation ]
Companion/Lightning Flash/Night Watcher



[ Hair Color ]
Crimson Red

[ Eye Color ]
Red with the hint of black. But because he's blind, the eyes are always closed and hid behind the mask

[ Skin Tone ]
Slightly tanned

[ Height ]
5"10'

[ Weight ]
173lbs

[ General Description ]
With a long and slender body, Lyon has skinny but firm muscles. He has broad shoulders, along with long limbs. His red hair is spiked backwards because of his mask, but if the mask were to be unequipped, his hair will drop down and reveal rather long fringes. One of his most noticeable features is the mask with weird drawings on it. On his mask, there is two vertical lines on both sides of the mask, where his eyes are. Red markings can be seen on the mask as well. Lyon has a small nose structure, together with a sharp chin and a skinny neck.

His garments consists of an extremely long black coat that reaches to his heels, with the outside black and the inside red. Complicated markings are printed onto the back and front of the coat, making a dull red on the black cloth. He also wears a long black pants along with a black belt to compliment his attire. Under the long sleeves and black gloves, Lyon has a long scar running up his left arm. Whenever he enters the Moon Judgement style, the markings on his shirt, mask and even the scar on his arm starts to glow a bright red, then his blade roars a bloody red color when he draws it.

The blade he carries, Mark III Xernier was created and named by his father, a well-known blacksmith. Its blade is colored with crimson and has no hilt and the sheath has a trigger at the end of it. The concept of the weapon is a multipurpose weapon, where there is the blade and the rifle. When sheathed, pulling the trigger will fire the blade forward. When unsheathed, a small metal ball hidden inside the sheath will be pushed out along with the blade, locking itself in a similar fashion to a crossbow. When the trigger is pulled, it propels the ball outward and creates an instant crossbow weapon. However, only 3 balls can be loaded and has to be reloaded each three shots.

However, beneath it all, should he recover his sights and become once again a 'normal' human, he is rather normal. Ignoring the fact that he has crimson red hair and eyes, while he may stand tall his presence should be just as average as the normal person. His features are his obtrusive mask and his blade. Without them, there really is nothing else of notice.
[ Likes ]
✔Reading. This is basically what Lyon does whenever he is 'off duty'. He'll either be visiting the library or by himself somewhere reading a book.
✔Library. A sort of sanctuary for him, where books and knowledge of all manner can be discovered. He couldn't read back when he was young due to the blindness.
✔Calm and peaceful. Because he's always running with the Princess of Massacre, trying to search for her black feathers, there's rarely a time where he can fully relax and enjoy the surroundings.
✔Animals. They're mostly pets because most animals are violent in the wild. He always tries his best to rescue a cat or feed a stray dogs. He will spend some of his time taking care of animals.

[ Dislikes ]
xFighting. As much as he needs to, Lyon often dislikes fighting. If he fights, it's to protect the Princess of Massacre or his fellow companions, otherwise he will not even draw his blade at all.
xCivilization. Or just technology in general. There were no explanations as to why he dislikes it. Perhaps it was due to the supernatural being that granted him his powers.
xStopping while doing something. Lyon often wants to finish whatever he started. It even applies when it comes to fighting. When he is forced into a fight, he will finish it until he determines enough.
xChildren. Lyon doesn't like the way how they make so much goddamn noise at one point, always annoying him and distracting him whenever he is out spying for guards or trying to blend in. They would stand there and point out why does he has a mask on and will not stop asking until he leaves.
xHis mask. The source of all his powers. The piece of artifact that granted him his ability to see. But while it allows for him to see like a normal human again, it also came with the price of losing his family.

[ Strengths ]
☯Pain Tolerant - Lyon's numerous hard training gained him the endurance needed to take on large amount of pain.
☯Agile - Lyon's light on his feet, which compliments his style of fighting, providing him countless of chances to create an opening or escape depending on the situation.
☯Presence - At any given moment, Lyon is able to kill his presence. This doesn't mean that he'll be invisible. He'll only be more difficult to notice, thus enabling him to blend in crowds or hide himself while sneaking past guards and such.
☯Patience - Lyon believes that being patient will reward him with what he desires. For example, if he waited long enough, he would eventually find the next calm tide, where the Princess and his companions wouldn't have to stay on guard at every moment. It has happened a few times, and it's bound to happen again.

[ Weaknesses ]
☠Children - For some reason, his is not able to lower his presence children as they somehow always find him. Up till now he still have no idea as to why they are able to do that and still ponders about it.
☠His blind eyes - It's not some kind of decoration or a way to hide his identity. Without his mask, Lyon would stay blind. He had tried searching for a solution to it, but to no avail. He is still searching to this day.
☠Killing - Lyon can't kill, no matter the situation. The most he does is knocking someone out with his weapon and leaving him alone. Even his strongest strike, the Moon Judgement style, only strips his opponents of their weapons and armors.

[ Abilities/Skills ]
✶Moon Judgement style - A self taught style that Lyon had trained for over the years. It was created in the image that it will not kill, but leaves his opponent without the ability to fight, forcing them to forfeit. Up till now, he has only mastered the Severing Wind technique.
✶Reading speed - Another skill he attained over the years. After constant reading and his urge to find a cure to his illness, he had developed a reading speed faster than any average human.
✶Flash Strikes - To stand side by side with the Moon Judgement style, Lyon excelled in the draw-hit-sheath form.

[ Personality ]
To best describe Lyon's personality, it would be that he is an extremely loyal individual. If there's anything he learnt from his journeys, it's that he needs to place trust above all, respect having the same rank. While he sometimes may come out as rude to strangers and perhaps some offenders, he can be truly kind and is willing to put himself on the lines for a friend. In a sense, he's like a dog. Except that he's armed with a deadly weapon and is extremely agile.

Lyon's also pretty stubborn. Aside from not wanting to fight, he's determined to finish something he started. Should he decide to do something or is presented with a task, he will finish it, no questions asked. In these cases, it's best to leave him alone because if anyone decides to help him out, be it secretly or just a kind gesture, he won't let you do it. But then again, if you're close enough to him, he might just be trying to be a 'tsundere'.

But despite all that, Lyon cares deeply for his friends and companions. There is not a time where he even thinks of abandoning a friend or fighting against one. If you pit him in a cage to fight with his friend, he would rather be killed than kill. Complimenting his stubborn side to not fight for reasons other than protecting, this got him into trouble more than he could count. But you can always count on him to guard your back.
[ History ]
{2-4 Paragraphs}

[ Others ]