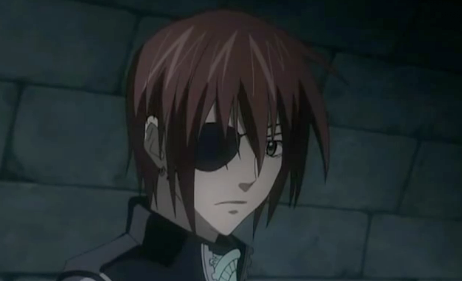 [ Name ]
Vern Baralli



[ Nicknames/Aliases ]
Verny
Hardhead
Iron Arm

[ Age ]
26

[ Gender ]
Male

[ Race ]
Human

[ Role/Occupation ]
Companion/Fighter/Ex-Mercenary


[font=THYROMANUS]
[ Hair Color ]
Red

[ Eye Color ]
Dark Green

[ Skin Tone ]
Fair Skinned

[ Height ]
5' 8"

[ Weight ]
156lbs

[ General Description ] This fair skinned fella is best described well-built and athletic. He has something of a runner's body, with lean muscles with a fair number of scars here and there. Some jagged, some clean, some long and thin, some from burns. He has himself the body of a person who finds himself in a bunch of scraps. His choice of clothing always changes, simply depending on the situation he is in and what it may require of him to wear.

His short red hair hangs where ever gravity pulls it, as he does not brush or comb it all that much unless it is sticking up after sleeping. He tends to keep the bangs cut back from his good eye, to keep it from getting into his working eye. His right eye is covered by an eye patch to hide the milky white remains of his injured eye.
[ Likes ]
✔ Fighting: "It's just so exhilarating and fun! I'm not saying I'm out to kill or really hurt people, it is just a bi-product of the act. I simply enjoy fighting because it's both simple and complex. Simple in philosophy simply because their is none. In a fight it is only winning and losing, nothing else. Complex though, as it's like a chess match; you must be able to think several moves ahead of your opponent if you have any hopes of beating them."
✔ The Cold: "Heat bothers me because it makes me feel lethargic and worn out, I don't want to do anything and honestly you can only cool yourself down so much. The cold however will wake me right up and have me moving!"
✔ Rocks: "An odd thing to like, yes, but it is because I feel like I can relate to them as well as emulate them. I respect their resilience and durability, and I seek to emulate that trait in body and mind. They can remain for millions of years, resisting whatever is thrown at them and finally giving only after such a long time."


[ Dislikes ]
x The Heat/Humidity: "As I said, it makes me feel tired, lethargic, and also all sweaty. I hate feeling sweaty honestly, or rather when it won't evaporate cause it's too damn humid out!"
x Puzzles/Strategy Games: "I will be the first to admit that I'm not very clever or tactical. Sure small, easy puzzles are fine, but if it requires some intense and patient thinking, then I'm gonna call it quits. My brain just doesn't turn like that very well. Ok, well except when fighting; during a fight is the only time that it seems to be able to think of anything clever. It's just weird like that…or I guess I am…whatever, shut up!"
x People on his Blindside: "Look, it just bugs me when people are where I can't see them, especially when they are on the side of my bad eye. Just ones of those quirks of mine!"

[ Strengths ]
☯ Reliable: Vern can always be relied upon to do what he is asked to do, or at the very least try to do it. If it is for a friend, he'll do everything he can to make them happy and accomplish what they asked, even if it's something he is not very good at.
☯ Resilient: Vern is resilient in both body and mind. His body is because he conditions himself often, but mostly because he also "reinforces" his body through his manipulation of Earth magic. He is also well known for his willpower, or as some would call it his stubbornness. He doesn't really call himself stubborn, as he likes to think of it as simply not being a quitter.

[ Weaknesses ]
☠ Poor Planner: He is not the thinking type, and he prefers just getting straight into the exchanging of blows rather than try to outwit his opponents. It is only in a fight that he can get creative, but outside of that he's very straightforward.
☠ Stubborn: He's very confident in his fighting ability, and more so loves to prove his capabilities against other opponents. He's not afraid to challenge anybody in hopes he can prove himself a better fighter than they are. Not to mention, even when facing a losing battle he will continue to fight on.
☠ Oblivious to Others: He has a hard time reading and understanding a person's feelings, beyond them being angry or wanting to hurt him. Unless told straight up what is wrong, he will often struggle to figure out just why a person might be feeling the way they are.

[ Abilities/Skills ]
✶ Earth Magic: He is adept at utilizing the element of Earth, from generating small barriers to block attacks, throw small stones as ranged attacks, or his preferred use, to form gauntlets and greaves to augment his strikes; in some cases he'll form shields to provide more coverage when blocking strikes as well. He has a relic that he stole that he wears around his neck to grant him access to this power.
✶ ] Hand-to-Hand Combat: He is a skilled fighter with his body, capable in a grapple, defending against weapons, and especially in a straight up slugfest. This is where he shines. He focuses primarily on striking, utilizing a mixture of punches, but also switching to elbows and knees if clinched up with an opponent.
✶ Strength: Despite his rather small appearance, he is a fairly strong individual, and he is often able to augment this through the utilization of his Earth Magic.

[ Personality ]
He is best described as being very indifferent to most things, very relaxed and non-reactive for the most part. He isn't easy to upset, but it's just as difficult to have him squealing in excitement. He's simply just enjoying himself and smiling most of the time. He's anything but ambitious, with the only thing he actively seeks out is improving his capabilities as a fighter.
Most noticeable is that he would fall under the category of a follower. He may not bend and bow to every idea thrown his way by somebody else, but when it comes to the big picture and the group, he prefers to let the others think and decide on the next course of action. He's simply there to help them in whatever endeavor they may find themselves facing.
His other defining characteristic, besides his refusal to give in to most anything, is also his loyalty and desire to help those he travels with. He'd give just about anything to see the others satisfied and happy, assuming whatever it is that they so desire does not happen to harm the group as a whole.
[ History ]
Despite his heavy use of magic and his ownership of a magical relic, Vern is an Airenian born fighter. Growing up was as hard as it was for many other within the strict society of Airen and the difficult upbringing that comes of it. His father was a mercenary, and was the primary source of his training and where he learned much of his skills in hand-to-hand combat. His mother on the other hand was a skilled assassin, who attempted to train the boy in her more subtle arts of death dealing. They learned quick though that the boy was far more adept at facing his opponents head on, rather than through subtlety.

Vern never really had much clue as to what it was they were fighting for, course his father often taught him that it was usually easier to never worry about the "why", and rather to focus on what was happening. In fact both his parents taught him that lesson, teaching the young man that in their line of work, as hired killers and fighters, life was only made easier if you only worried about what was happening. Considering that most of the people they found themselves fighting against were enemies only because they stood on the other-side of the battlefield, and that most of the fighting and killing that they were doing were over ideologies and reasons that had nothing to do with them, it meant that the Baralli's were not really a part of the conflict on a spiritual level. Through the years, Vern simply learned to go with the flow, and to worry about only about the violence in front of him and see to it that he survived that conflict.

Vern's acquisition of his magical relic came during an engagement against Jin forces. It was during his late adolescence, serving alongside his parents in the Irelian army, over some dispute. It mattered not to the Baralli's, and so they simply did what they did best, Father and son moving to the frontlines to face the magic wielding forces of the Jin while the mother went about and attacked whomever was deemed important. The men eventually found themselves engaging a skilled user of the relic, easily contending with the Baralli's despite their own personal skill. The battle eventually saw Vern taking a grievous wound to his right eye, a rock fired with frightening accuracy by the magic wielder. The pain of the injury crippled Vern, and death would have surely taken him had his father not been there to aid him. Vern watched as his father continued the fight against the Jin soldier, it slowly turning against the veteran Airenian mercenary. Inevitably, the magic wielder proved too much for the mercenary, and Vern watched his father's life end as the man was impaled on a spike of earth. At that, all Vern recalls is an intense anger, driving him past the pain his body was in and back onto his feet to continue fighting with the Jin. By the end, when he felt the fire of the searing rage slowly fade away, all he really remembers is that he stood above the dead Jin soldier, impaled on his own earth spike while the relic was gripped tightly in Vern's hand.

Vern never saw his mother again after that fight either, not sure if she had perished in the battle or not. to this day, he sometimes wonder if she had simply abandoned him after his father had died giving his life for the the young Baralli. Afterwards, the years went by without much serious incident; Vern began training himself in the use of the relic he had stolen and threw himself further into the field of battle. He trained his body and mind daily to be as resilient as the stones he uses, so that he would never again have to watch someone he cared for have to sacrifice their lives to protect him.

Today, he finds himself aiding the one known as the Princess of Massacre, having grown tired of fighting in battles that meant little to nothing to him and has been travelling alongside her for about a year and seven months by now. To him, this group is now a chance for him to have something to fight for; it is a chance for him to have a group of people to know and fight for beyond them just being the other warm bodies running alongside him into battle. They are people he can risk his life for, and be proud that he had done so.

[ Others ]
None