---
ROHAN WAYNE CROSS.
---
"Go ahead, test me."
---
[♛NICKNAMES||]
Cross.
[♛AGE||]
Nineteen.
[♛GENDER||]
Male.
[♛SEXUALITY||]
Bisexual.
[♛YEAR||]
College Freshman.
[♛MAJOR/MINOR||]
Music.
[♛ROOM||]
TBA.
---
[♛DESCRIPTION||]
Rohan is a feminine young man, not in his personality qualities so much as his appearance. He has a full head of long, blonde hair, reaching down to his neck and falling down over his forehead; it is brushed to one side, and it has been that way for such a long time that it was taught to fall like that naturally. Often times he will pull it all down over one eye, but that really depends on the event of which he is attending. He has the typical look of pale skin, blonde hair and dazzlingly light blue eyes, which go well with his colour scheme of blue and white - in terms of clothing. He is unnaturally tall for a male of his age, standing at 6'2", with a slim body but muscular arms and a strong jaw. He is quite commonly seen wearing a large number of accessories, which vary from piercings, collars and necklaces to bags, headbands and glasses/goggles (worn as a necklace-type accessory).
[♛PERSONALITY||]
Rohan is certainly a boy who has his good moments and his bad; varying depending on the situation at hand, of course. While he does appear quite feminine, he has an unbelievable temper. As of late, he has done well to control his outbursts but not his emotions; his control lies with masking the anger as opposed to stopping himself from becoming angry, if that makes sense. Occasionally, if the situation is severe enough, he will lose control of his mask and will lash out, both physically and verbally. He is not the sort to back off because of his ever-increasing stubbornness, even if he knows no good will come of it. It's not that he doesn't feel fear, but his image means a lot to him and he'd sooner go to Hell and back than to let himself seem weak, and so he'll very rarely just let someone win an argument or fight. He does not take abuse, does not tolerate lies and absolutely hates cheaters.

On the other hand, when he is not fighting or being a complete ass, he can be quite a nice guy, providing that he actually likes you; his trust is not easy to earn, as hard as that is to believe. Rohan is not the sort to stick his neck out to protect people that he has only just met or doesn't like, but he'll be more likely to be protective of you and defend you if he has formed a sort of friendship bond, or possibly more than that. His mother is the most important person in his life and he would shove anyone else off a cliff if it meant she would be safe from harm. He could perhaps feel something similar towards a friend or loved one, but it is very rare that he would. He doesn't exactly like to be extremely close to people, emotionally and physically.

Despite how angry or kind he may seem, Rohan is very anti-social in some regards; not completely though, because he does enjoy the occasional conversation with someone close, but he hates to be constantly pestered to the point where he becomes angry, or touched. He holds a deep love for his personal space, and prefers that everyone keeps a distance of at least 10 inches or more. He won't exactly kick up a fuss if you get closer than that because he understands that not everyone can keep their space at all times, but if you were to ever make skin contact with him then you can bet your ass you'll have his fist on your jaw in a heartbeat.
[♛LIKES||]
★ April 18th, because it is his mother's birthday.
★ Being left alone, though not all the time.
★ Acoustic songs.
★ His own personal space.
★ Feeling powerful and intimidating.
★ Video games.
[♛DISLIKES||]
☆ Being touched, especially on the arms, neck or hair.
☆ Sticky things.
☆ The colours red, yellow and orange.
☆ Fizzy drinks and sour candy.
☆ Dogs.
☆ Strange people/things.
---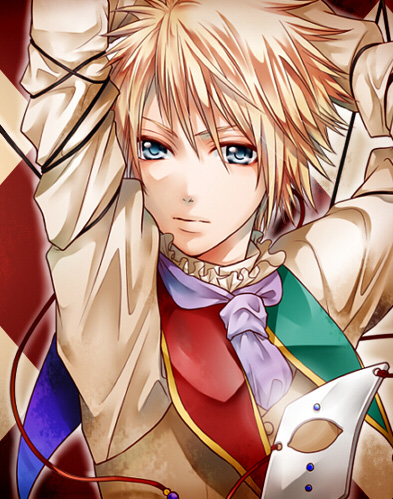 [♛WHY ARE YOU HERE?||]
Rohan was under the watchful eye of several police officers for his reckless behaviour, past alcohol and drug abuse, and his tendency to damage things that do not belong to him. Things all went wrong when he both physically and verbally insulted a handful of high-end teachers from his local high school, and after receiving confirmation from his mother, he was sent by the police to the Academy, where they hoped the teachers and strict rules would help to straighten him out.
[♛HISTORY||]
Rohan grew up in an upper class home with both his mother and father, and was what seemed to be a normal male child. He never went to one of those lower-end, crappy public schools, instead he went to a private school where only children with the richest of parents were sent. Because of this, he grew up thinking that he was better than most, although he was never really considered 'spoilt' because he respected his parents and valued the things he received from them, including his education. He was doing well in school, and things were looking good for him. His father had made plans for him to go on to be a lawyer, doctor, or something along those stereotypical jobs.

As Rohan reached the age of sixteen, his parents divorced. No one had seen it coming; not the neighbours, or the parents' co-workers, or anyone in the town, and especially not Rohan. He was led to believe that the parents were living a happy life, and were set to be a couple for as long as they both lived. Apparently not. Naturally, this had devastating effects on his education, social life and general attitude towards people. His father had moved out, and Rohan became more withdrawn. He began to let his temper control his actions, and that was that. He was hanging on thin strings in school, and there was talk of Rohan being kicked out of the school as a whole. His mother fought tooth and nail with the teachers, hoping to gain her son another chance, but her attempts were in vain, especially what happened a few days after his seventeenth birthday.

It happened during lunch at his school. He had recently lost his temper with a teacher, for a reason of which he cannot even remember to this day. Something inside of him just... snapped, so to speak, and he had lost it all. He directed his rage at the staff room, where the majority of his teachers were enjoying their lunch. Grabbing whatever he could as a weapon, he attempted an attack on them. Some teachers got punched, others had objects thrown at their faces, and some were straight-up tackled. Of course, with the amount of teachers against him, he was overpowered and escorted off of the school property immediately. That's when the decision was made; Prison Academy was his only hope.
---