James Blake(Shallow)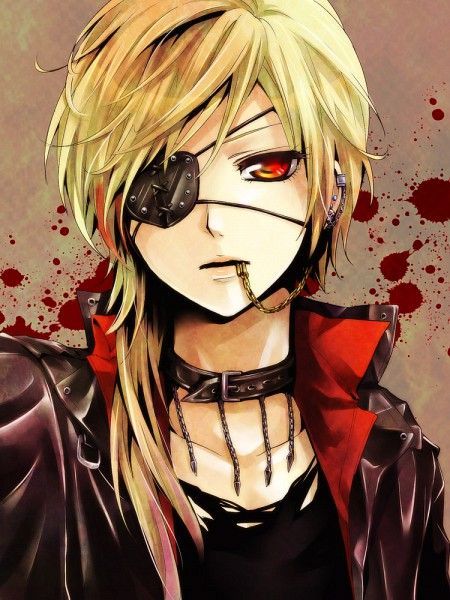 Name: James BlakeLucas HeartShallowGender: MaleAge:23Numeral/Zodiac: Capricorn
Placement of Tattoos on Body: His Capricorn Tattoo is on his chest and his roman numeral is on his forehead Weapon Specialization: Shallow uses chains as his main weapon. He has a chain whip that he always wears coiled at his hip. He also has shackles on his wrists with chains attached which he uses in close combat fighting. Personality: Shallow didn't pick his name for nothing. Everything about him is so shallow you couldn't even drown in it. He has minimal emotional attachment to anything or anyone. He doesn't have a lot to say and spends the majority if the time observing. Through his observing he knows a lot about the people around him, a lot more than he would ever let on but everything you see of him is pretty much a surface ruse. When the time comes to hurt, to kill, the madness sets in. He likes nothing better than hearing the screams of pain from his kills and the feel of their blood on his skin.Description:
Height: 5'11
Shallow has scars on his inner arms and one on his neck.
Supernatural Powers:
-Hell's Eye: An ability he uses to see into his opponents soul and pick out their worst nightmares. It brings them to the front of their minds and can cause confusion, pain and heightened fear.
-Lightning Flare: He takes electricity from the atmosphere and channels it through the metal chains he uses.
-Conduction: He shifts his make-up to turn him into a pylon to conduct electricity.
-Bolt Flash: Uses the electricity he has stored and channels it to his feet letting him move faster and jump higher.
Likes:
-Cake
-Beer
-Violent movies
-Piercings
-Thunder storms
Dislikes:
-Authority figures/Fake Idols
-Ignorance
-Being confined
-Small spaces
-Cats
Skills/Abilities:
-Stealth
-Agility
-Enhanced mental state
-Enhanced strength
History:
Shallow lived a fairly normal life for the first 10 years of his existence. He and his parents lived happily in London along with his younger sister Emily and to all the world they seemed like a happy family. Everything was fine until it turned out that their family life was funded by his father's dealings with the London underworld. Unable to pay back a severe debt hit men were sent to the house to collect. Shallow's father didn't have the money as was shot down in front of his family and the hit men took Shallow, his mother and his sister down town to meet with the boss. To pay off the family debt Shallow's mother was forced into prostitution. Shallow spent five years protecting his sister from the roving eyes and hands of the men who came to their house and received beatings in return. After five years of watching Shallow finally snapped. One night when his mother had a customer over Shallow took a length of chain and strangled the man with it. He then proceeded to kill the men guarding the house using the electricity lines until their heads exploded. Covered in blood and brains Shallow went back to his where his mother lay passed out and drugged out of her head and slit her throat. She hadn't protected them like she should have done and she had to be punished for it. The madness had set in and there was no stopping it. Emily had seen Shallow on his rampage and escaped out the house. Once he realised this Shallow set of to hunt down the one person he had protected no matter what. He caught up to Emily in a crowded area of the city and killed her with a knife through the heart. The policed sirens wailed as Emily's blood pooled around his feet and Shallow just stood there and laughed. After an evaluation Shallow was declared insane and was taken to a high security home for the mentally unstable. For the security of the people who worked there he was kept in a straight jacket and chains for the duration of his stay, never being let out of the padded room. It was there he got his invitation to hell. Willing to do anything to get away from the institution Shallow gladly accepted right away.
Other: