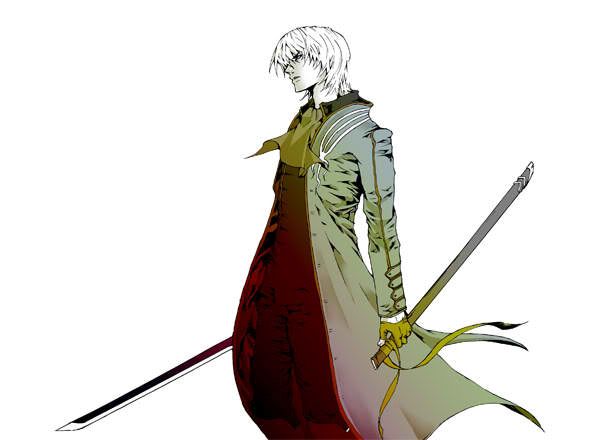 Vincent Phantasmagoria Abbatoir
Nickname(s):
Vinny, Vince, Vin.
Age:
25
Gender:
Male
Height:
6'1"
Weight:
175lbs
Appearance:
Vincent is a rather thin man - Slender and weighing in at 175lbs with a towering height of 6'1". He generally wears very regal clothing or nicer looking casual clothing, generally in the color blue - Vincent's favorite color, alongside with white. His face is gaunt, cheekbones high and shallow in depth. Vincent has silver-blue eyes and snow white hair - An albino. His complexion is pale and he doesn't enjoy being outside often because of how easily he gets sunburned and how sunlight hurts his eyes. He is very rarely seen looking less than perfectly groomed and nice. His hair is often times
swept back
, but he is sometimes seen with it down, albeit neatly combed and brushed.
Likes:
Vincent loves stormy, miserable days, as well as days when it snows. Vincent loves going out at night (Sometimes past midnight) and walking around in the night air as long as it's cold - He loves cold weather. Vincent has a secret sweet tooth and will often times go out and get loads of sweets, eating them until he gets sick - Especially cold things like Ice Cream, Snow Cones, and Popsicles. Also, he'd never admit it, but he likes it when people play with his hair - although he had to fix it immediately after. He also enjoys it when people lightly scratch at the back of his neck. Vincent enjoys having someone hold his hand(s), discovering this when he was still young, when his younger identical twin brother, Tony, would hold his hand. Vincent enjoys a good movie and good book of any genre. Vincent, despite not seeming like the type and flinching away from physical contact with others, enjoys physical contact, but tends to be self-conscious and in denial about having a simple pleasure of such a 'shameful' variety.
Dislikes:
Vincent hates hot, humid, sunny days. Vincent also dislikes crookedly hung paintings, pencils or pens set beside each other in a way that is unparallel, doors left open, people who pronouce Lychee as 'LAI-chee' instead of 'LEE-chee', people who mispronouce his last name, disorder, uncleanliness, bad personal hygiene, cutting corners, sweating, bad handwriting, people who act like they are better than him, bad grades, wrinkly clothes, the idea of anything being imperfect at all at any point in time at any degree ever in general.
Hates:
Whenever Vincent is playing one of his instruments and you interrupt him, chances are he will probably be flung into an uncontrollable rage and will scream at you until his voice is raw and he croaks, despite how horribly unhealthy it is for a singer's voice.
Personality:
Vincent is a man with a perfection psychosis, being the kind to
demand
things be done a certain way. He is quiet, keeping to himself. Vincent is incredibly intelligent, mind working in ways that reach up to 'genius' level. He is withdrawn and stubborn, coming across as cold and calculating, almost emotionless most of the time. He doesn't really mean to come across as cold and bossy, but does anyway. If something isn't done the way he likes or something bothers him greatly, depending on the degree of it, he will do anything from complain and go into a fit of rage to have a complete nervous breakdown, shut down entirely, and seem completely unable to function normally. On occasion, he will stress himself out with his perfectionism so much, he will get physically sick. However, despite this, he is actually rather insecure and is a rather lonely individual, feeling guilty after each time he yells at someone or pushes someone away for the sake of his pride. Vincent will often times spend most of him time alone, always paranoid of what and how people think of him, especially since he has developed to, outwardly, be an incredible prideful person. Vincent is also a very determined person, often pushing himself to do things, sometimes pushing himself a bit
too
hard, just to meet his ultimate life goal of becoming
the perfect human being
.
Background:
Vincent is the oldest of twin sons - both Albino. His younger brother, Tony, is a loud, abrasive, and did decently in school. Vincent was a reserved, quiet figure, always getting the perfect test scores and grades. Throughout his school career, Vincent was often picked on for being the geek or bookworm by the popular crowd. He would be verbally harassed, shoved into lockers, and ridiculed by these crowds, which slowly started to visibly affect the quiet albino. Vincent's parents realized he had a problem while he was growing up, his perfectionism reaching an all time high in the middle of high school at age seventeen. Vincent would get into arguements with people and yell at people about small things which he
had
to have be one specific way. His perfectionism started to even affect him at home, practically not able to function unless something was
exactly
the way he wanted it to the
very last detail
. Vincent's parents and brother persuaded the quiet, stubborn Vincent to see a psychologist. It was then that Vincent was diagnosed with a severe case of Obsessive Compulsive Personality Disorder, his perfectionism having also developed into a kind of severe psychosis. Vincent's treatment was ineffective because of his inability to let go of his idea of how things should be done, going as far as to even yell at his psychologist. He has graduated College with a degree in History and English as well as currently being employed at the local library while he continues to study (informally). He dislikes the fact that he's been forced into an apartment with three other people to try and 'solve his problems' - He is in intense denial of having any sort of problem whatsoever.
Others:
Vincent loves music and is a gifted and talented musician. He has a very smooth, well trained mezzo-tenor voice. He owns six instruments; A Violin named 'Maria', An Electric Violin named 'Marie', a Piano named 'Anastasia', a harp named 'Eve', a Cello named 'Helen', and a flute named 'Lilian' - All kept in perfect condition and perfectly tuned at almost all times; the state of the instruments being a very accurate way to tell how Vincent's current state of being as well as the kind of music he plays being a perfect indicator of how he feels. Vincent has little to no interest in playing any other instruments and just plain sucks at most other instruments such as Baritone, clarinet, guitar, etc. The only 'band' instrument Vincent will ever even
touch
is the bass guitar. Vincent, despite seeming rather hostile at times, is a pacifist and refuses to fight anyone at any time and wouldn't do so to save his life, probably just going on complete defensive if he was ever in a confrontation. Vincent's favorite color is blue. Vincent has a tendency to get very angry when someone criticizes him, generally followed up by him getting very depressed for an undetermined amount of time, depending on the level of criticism. Vincent's last name means 'Slaughterhouse' in french.