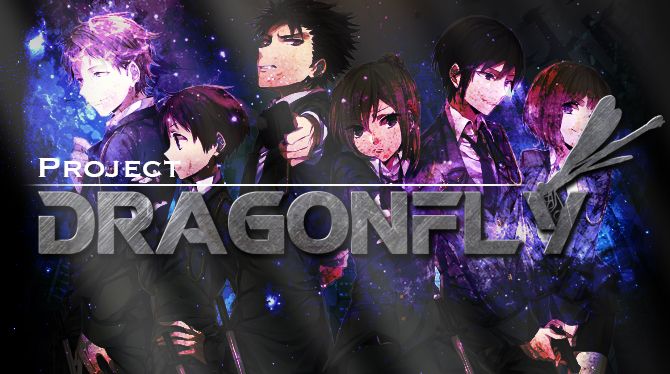 "Dragonflies are important predators that eat mosquitoes, and other small insects like flies, bees, ants, wasps, and very rarely butterflies." - Wikipedia

---
---

---
---
"Where goes the line between man and monster, you ask? Well… that is a hard question to answer. It all depends on your own thoughts and values, doesn't it? After all, what we call 'monster' could be anything, really. So how to know whom to apply this term to? I say, let me tell you a story, stranger. Oh, don't worry. It's a fun one! With tons of blood, gore and death… I can assure, you shall find it quite interesting. It is the story about you."
It all started in the year of 1993. A child with 'extraordinary' abilities was born. To be more precise, he was a pyrokenetic, which was quickly discovered as he just a few hours after his birth had set a whole hospital on fire. Although he was the first, this boy was far from the last child born with such mutations. Many, many more children with this kind of 'special condition' were to follow. In order to prevent global panic and that the children came to harm, they were taken into custody by the government. Some parents agreed to sending their children away to 'safety', but some had their children taken by force.

Everything happened behind the scenes. The general public was never informed about any of this. It was a top secret operation. Of course, this was all for the safety of humanity. Secluding the children from normal society was for the better. Not only could they pose a danger to normal individuals, but they could also possibly pose a danger to themselves.

Yet, after they were taken away by the government, what happened to these children?

At a very young age they were sent to a secret training camp of the organization Dragonfly. Some were no older than a few weeks, others had already reached the age of five. You were one of them.

Yes, for as long as you can remember Dragonfly has been your home, your everything. Not only did they teach you how to handle your abilities, not only did they train you to become an agent... but they are also your life, your family... don't you agree? You love them. Together with the other dragonflies you have had your fair share of hardships, but they have also given you love and friendship. Dragonfly is the only safe place for people like you. After all, your whole life you have been warned about the dangers of the world outside, about how the people would treat you if they ever found out. So you stayed with the organization without question, you know you are a chess piece to be moved, a pawn in their game to make the world a better place. You are the 'hunting dog' if you so like. You know that your efforts are for the best. That your sacrifice will not be in vain. Dragonfly is and has always been your world.

Depending on your special ability and natural skills, you were trained in a certain area of expertise. Someone with the camouflaging ability, for example, would most likely be trained in spying, while someone with the ability of pyrokenesis would be trained more offensively. This is with the plan in mind that you will eventually be assigned to a team where your area of expertise is required. The structure of the Dragonfly teams drives from the mechanics of the SWAT system. Naturally you were also thought in ever subject a normal child would be educated in at a normal school.

On your fourteenth birthday there was a dragonfly tattooed onto your left shoulder blade. This meant that you had officially completed your training at the camp and finally ready to face the outside world. After graduating at the end of the year, that is. During the graduation ceremony you were told which team you would be assigned to and where in the world you would be stationed... and two months after that... well... that is where we are now.

The newly 'hatched' dragonflies are sent to whatever team where they are required, usually replacing a team member which has...previously perished. Thus, the teams consist of both experienced as well as inexperienced members. The disappearance of agents is not at all unusual. Considering your line of work is espionage and assassination, it is only to be expected. Simultaneously the same time these teams pose as families and alongside their secret agent life, live as relatively normal people. Just like normal humans you attend school and/or work for a living. You seem completely normal. At first glance... no one could never guess that you are in fact a deathly weapon, a danger far beyond their imagination... and it better stay that way.
"Okay, I suppose there wasn't too much blood, gore and death... but believe me. There will be. Do not underestimate the life of a Dragonfly... yes, indeed... this is where your true story begins...




Although it might also be your end..."
---
---

---
---

M-01-1998-RU: 7125 | Vincent | 25 | Field Agent (Leader) | Male | Heine Rammsteiner | Taken by Lyysa



F-01-09-GB: 2332 | Iris | 14 | Field Agent | Female | Anna Kushina | Taken by Chikawaa!~



F-02-2004-GE: 2190 | Cadence | 19 | Infiltrator | Female | Nonon Jakuzure | Taken by Ninja Bunny



M-03-1998-SE: 0880 | Olsen | 25 | Hacker | Male | Noiz | Taken by umademeink96



F-04-1999-AU: 0-153 | Danielle | 24 | Medic | Female | Mayday | Taken by Byte



M-05-2000-US: 3542 | Edward | 23 | Strategist/Analyst | Male | Sora | Taken by Phantom's Sword



F-06-1999-GR: 0088 | Muse | 23 | Technician | Female | Touka Kirishima | Taken by Rainbow Unicorns



F-10-3180-XZ: 4275 | Persephone | 15 | Chemist/Explosive expert | Female | Anthea Kallenberg | Taken by Cheshire_Girl



M-07-2002-DE: 4061 | Aldrich | 21 | Strategist/Analyst/Interrogator sent from Dragonfly | Male | Izayoi Sakamaki | Taken by chaotix14


---
---

---
---

B A S I C S

Identity Code:
(Sex (F or M) | Position (Field Agent is 01, Infiltrator in 02, Hacker is 03, Medic is 04, Strategist is 05 and Technician is 06) | Birth year (the year is 2023) | Country of Origin | Personal Numbers (can be any number combination, but there should be four of them)
Example: F 01 97 UK 0311)
Alias(last name is Hunter):
Age:
Gender:
Role:
Face Claim:

I N S I D E

Negative Traits:
Positive Traits:
Sexual Preference:
Likes:
Dislikes:
Fears:
Strength:
Weakness:

O U T S I D E

Hair Color:
Eye Color:
Tattoos/Markings:
Weight:
Height:

L I F E

Career:
Hobbies:
Biographic History:

A B I L I T I E S

Power Description:
Power Weaknesses:
Notable Skills/Abilities:​
Goddmodding is under no circumstances allowed.
I would prefer to get by without Mary/Gary Sues/Stues.
Only I, Lyysa, may move time forward more than 24 hours. Within that time limit, you may do as you please, as long as you remain considerate of your fellow roleplayers.
Our characters have powers, but that doesn't mean that they should be overpowered. Everyone has their weaknesses, alongside their strengths. Be reasonable with your characters. Only ONE power per character.
DO NOT want to have any OOC drama. When out of character, treat each other with respect and kindness. Our characters may not like each other, but that doesn't mean that we have to dislike one another as well.
If conflicts do happen (which it sometimes does), please contact me, the GM or a Moderator immediately.
I want the people who join to be active and dedicated to this roleplay. At least be able to post once a week. If that is not possible, please notify me about it and it can perhaps be excused.
Correct grammar and spelling are a must in this RP. I do not wish to see any one liners, either. Two proper paragraphs per post is an absolute minimum.
I, as a GM of this roleplay, have the right to remove those who do not abide to the rules by this roleplay. I will also add rules, should the need arise.
I don't want this RP overrun by gender or character type, so please try and keep things relatively even. Make sure to make your character diverse and unique!
When reserving a spot in the OOC or by PM please add a picture or a gif of your face claim.
My final rule is that everyone should have fun and use their imagination!
Taking place in...
Arcs are bundles of posts that you can organize on your own. They're useful for telling a story that might span long periods of time or space.
It's a mission like any other, basic, a routine check up. What could possibly go wrong?
There are no quests in this roleplay.
Here's the current leaderboard.
There are no groups in this roleplay!
Welcome home, Promethean. Here, you can manage your universe.
Arcs are bundles of posts from any location, allowing you to easily capture sub-plots which might be spread out across multiple locations.
You can create Quests with various rewards, encouraging your players to engage with specific plot lines.
Settings are the backdrop for the characters in your universe, giving meaning and context to their existence. By creating a number of well-written locations, you can organize your universe into areas and regions.
Navigation
While not required, locations can be organized onto a map. More information soon!
There are no groups in this roleplay!
By creating Collectibles, you can reward your players with unique items that accentuate their character sheets.
Once an Item has been created, it can be spawned in the IC using /spawn Item Name (case-sensitive, as usual) — this can be followed with /take Item Name to retrieve the item into the current character's inventory.
Give your Universe life by adding a Mob, which are auto-replenishing NPCs your players can interact with. Useful for some quick hack-and-slash fun!
Mobs can be automated spawns, like rats and bats, or full-on NPCs complete with conversation menus. Use them to enhance your player experience!
Current Mobs
No mobs have been created yet.
Locations where Mobs and Items might appear.
You can schedule events for your players to create notifications and schedule times for everyone to plan around.
Add and remove other people from your Universe.
Orphanage
By marking a character as abandoned, you can offer them to your players as pre-made character sheets.
"Could I catch your interest by offering you a cup of tea?"
"Don't disappoint me."
The Forge
Use your INK to craft new artifacts in Project Dragonfly || Remaster. Once created, Items cannot be changed, but they can be bought and sold in the marketplace.
Notable Items
No items have been created yet!
The Market
Buy, sell, and even craft your own items in this universe.
Market Data

Market conditions are unknown. Use caution when trading.

Quick Buy (Items Most Recently Listed for Sale)
None
Discussions
Topics

Replies
Views

Last post
Most recent OOC posts in Project Dragonfly || Remaster
There have been no posts in the OOC topic for this roleplay!