---
---
---
█
█
█
█
█
█
█
█
█
█
█
█
█
█
█
█
█
█
█
█
█
█
█
█
█
█
█
█
█
█
█
█
█
█
█
█
█
█
█
█
█
█
█
█
↱ IDENTITY CODE ↲
F-01-09-GB-2332

↱ ALIAS ↲
Iris Hunter

↱ AGE ↲
14

↱ GENDER↲
Female

↱ ROLE ↲
Field Agent

↱ FACECLAIM↲
Anna kushina | K Project
---
---
█
█
█
█
█
█
█
█
█
█
█
█
█
█
█
█
█
█
█
█
█
█
█
█
█
█
█
█
█
█
█
█
█
█
█
█
█
█
█
█
█
█
█
█
Impressionable || Like a sponge that absorbs everything Iris tries to look up to those deemed older and wiser and learn from them, but not every adult is necessarily a good example to follow and she has yet to realize that.
Attached || In a world where everyone gets replaced, Iris is still learning to not grow too attached to those she works with, as she knows deep down she struggles to accept death and would willingly risk anything to prevent it.
Guilt || She finds it hard to get over most things, especially if she is to blame or whenever Iris feels she hasn't done enough, since the girl is often quite hard and critical of herself than she is of others and thus only burdens herself.
Innocence || Still young and full of natural curiosity and wonder for the world, Iris retains a small piece of child-like innocence that she hasn't lost completely yet and wants to cling onto, but for how long she can't say.
Helpful || Iris has always been a helpful person, preferring to be useful than a burden if nothing else and generally does whatever is needed of her; be it keeping a secret, upholding rules or simply fetching something.
Stubborn || Despite her size and youth, Iris is a little fighter on the inside and holds strong in her beliefs, showing little fear to authority, though grudgingly backs down when she is ordered to.
Stories || Iris is an avid reader and naturally has a love for stories, especially ones involving adventure and fantasy, with heroes and villains and daring twists, and love and romance weaved in-between.
Fire || Having grown up with it, Iris knows nothing more than her flames and as result has developed an odd fascination for fire and the power itself, as well as the beautiful colours and destruction that comes with it.
Sleep || To grow strong and powerful, getting enough sleep is important and Iris loves nothing more than having a long nap whenever she can.
Homework || As a student attending school, Iris often finds herself stuck with piles of homework to do and will sometimes try to ask her teammates for help, though really she'd rather not do homework at all honestly.
Baths || Knowing the effect it has on her power, Iris doesn't like the thought of being stuck in water for long periods of time and having her fire weakened, but is forced to in order to keep herself clean.
Medicine || Whenever overusing her power and straining her limits, Iris is prone to getting a fever now and again, and to fight it and get better she must take awful tasting medicine just like everyone else.
---
---
█
█
█
█
█
█
█
█
█
█
█
█
█
█
█
█
█
█
█
█
█
█
█
█
█
█
█
█
█
█
█
█
█
█
█
Deceptive || Not one to brag about her abilities or anything really, Iris is therefore deceptively strong and often surprises people by what she can actually do when given a chance to reveal the talents that she has.
Blending || She can easily get lost in a crowd and wander about unnoticed, and not drag unwanted attention onto herself either unless she desires it.
Agile ||Moving quickly and with ease Iris is a difficult girl to get hold off, and she's great at running off when she wants to and hiding out of sight.
Light || Given her size the girl is easily lifted and carried about by others, whether she actually approves of it or not. Likewise she can be easily knocked over and pushed about and is generally just a light-weight.
Strength || Though physically weak the girl does give as good as she gets, hitting and kicking out with all her might, but it's to little avail if she can't back it up with proper strength and force which she clearly lacks.
Inexperience ||She's a fresh-face to the world of an offical Dragonfly and is adapting on the go, learning from her mistakes and seeing how things should be done by the pro's that she finds herself working with.
Drowning || She couldn't swim to save herself, and with water cancelling out her fire, Iris doesn't like to imagine herself thrown into water and left to fend for herself as for sure the girl would drown.
Darkness || Sometimes the night can be a bit too dark for comfort, and therefore Iris occasionally needs someone or something to reassure her that nothing bad will happen during the night hours.
Unknown || When faced with something new or a thing that she does not know or recognise, Iris will often become anxious if unable to provide any form of usefulness against it.
Unknown || Asexual
---
---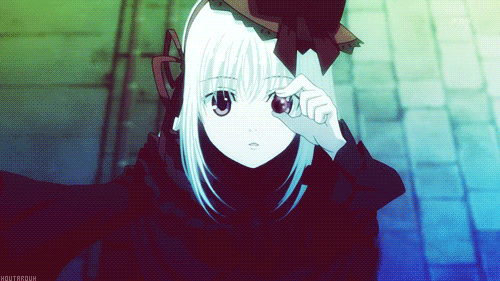 █
█
█
█
█
█
█
█
█
█
█
█
█
█
█
Pale White
Crimson Red
Dragonfly tattoo on left shoulder, small scarring on fingers.
89 lbs
4' 9"
---
---
█
█
█
█
█
█
█
█
█
█
█
█
█
█
█
█
█
█
█
█
█
█
█
█
█
█
█
█
█
█
█
█
█
█
None || Student
Reading || She enjoys adventure, fantasy and romance books.
Games || Video games or board games, she likes to distract her mind.
Iris was born in a small town somewhere to the West of Britain, though she wasn't taken by the organization until sometime shortly after her fourth birthday, when the girl accidentally set fire to a family picnic. Of course Iris doesn't really remember the incident and has only heard vague rumours along with stories of her parents, who she doesn't remember either.

Growing up within the organization wasn't easy; everything was new and foreign, and without meaning to Iris would set just about anything within reach ablaze – though of course someone was always there to control the situation and scold the girl, which Iris never appreciated. When growing a bit older she was sent to school to learn, but it never took long before incidents with her power occurred, and Iris was later removed and taught elsewhere away from the other children.

She wasn't a natural, but grew into her power over time with heavy supervision. It was later decided that she would be placed on the field and trained for that role, which Iris spent many years striving towards. Whether she wanted to or not though, she was forced into it and of course it was tough to tame her inner fire, but Iris did manage to, for the most part. It was a destructive power however, so she had to be careful with it.

On her fourteenth birthday Iris received her dragonfly tattoo, and by the end of the year was sent off to join a team picked for her, which is where the girl finds herself, taking the guise of a student attending the local school.
---
---
█
█
█
█
█
█
█
█
█
█
█
█
█
█
█
█
█
█
█
█
█
█
█
█
█
█
█
█
█
█
█
█
█
█
█
█
█
Fire Manipulation || Iris has the ability to wield and exploit fire; though technically defined as a "fiery aura" however the effect is still the same regardless and will burn anyone within reach. To use her power, the girl only has to summon the fire from her hands and it will form in a moment's notice; the flames itself coursing naturally through her body, but never harming Iris, unless her ability is pushed to its limit. Additionally the girl cannot directly control fire but she can create and use her own effectively, and likewise dismiss it when she wishes. Although only Iris is protected by her fire as her power can easily harm others, even teammates, if used carelessly.
Water || The biggest weakness perhaps, whenever water comes into contact with her fire the flame will cease to exist. Similarly Iris hasn't learned to swim yet and perhaps never will due to her slight fear of water.
Destruction || Fire can protect as well as destroy, and it doesn't take much for her flames to stem out of control. When perfected her power is a great ally, but if overwhelmed or distracted by motive Iris could burn an entire building down and cause unintentional chaos.
Fire || Her flame is big and powerful, but Iris is small and fragile. If recklessly overused the fire will begin to burn the girl and cause her to feel warmer and uncomfortable, and gradually drain her energy.
↱ NOTABLE SKILLS | ABILITIES ↲
Temperature Resistance || Due to the fire that exists within her, Iris does not feel heat like other humans would. She doesn't get burnt as easily and can touch excessively hot things without worry. Likewise she has a naturally warm body and rarely gets cold or even feels the coldness.
Heat Sense || Iris has the quirky ability to sense body heat and thus is able to roughly guess where another person is, or a group of people are, so long as they are nearby and within a short distance.
Barrier || Her fire is a deadly force on its own and if she wished, Iris could blast a person away. She is able to keep people at a distance by surrounding herself with a protective fire barrier, but is unable to defend others since her fire will harm them if they are near her.
---
---