---
---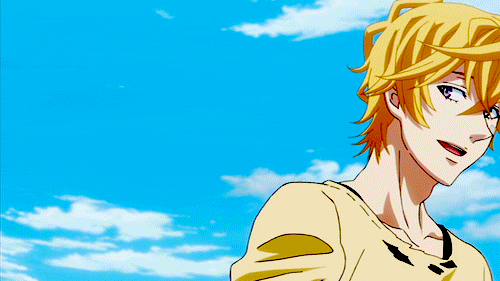 ---
"Why the hell should I listen to you?"
---
B A S I C S
Identity Code:
M 04 2004 CA 9580
"Should I really be telling you this?"
Alias:
Issac Hunter
"I like my name, Issac, it suits me."
Age:
19
"Hmm, yes. I'm almost 20."
Gender:
Male
"Am I the only one who found that offensive?"
Role:
Strategist
"Again! Should I even be saying these things!"
Face Claim:
Yogi | Karneval
"Hmm? Who's Yogi?"
---
I N S I D E
Negative Traits:
[Bossy:]
Issac can be bossy at times when he's telling everyone what their going to do. He doesn't like when people don't listen to him when he telling everyone the plan, it makes him very mad, and bossy almost like an older brother to the others.
[Sarcastic:]
Issac loves to be sarcastic when people ask him questions. He always responds with a sarcastic answer like ; 'No..Are you sure?', or 'If you ask a stupid question you get a stupid answer.'. But after he teases you with sarcasm, he'll give you a real answer.
[Unpredictable:]
Issac is totally unpredictable, he does the most weirdest thing's at the most stupidest times. One time he started a dance off with a person he barely knows, and other times he usually changes the plan right when they start. So he's really unpredictable, and likes doing things his way.
Positive Traits:
[Charming:]
Issac is very charming, and take's good care of his appearance. He always comb's his hair in the mourning, always takes a shower, brushes his teeth, and makes sure he is presentable. Not to mention he is popular with the lady's.
[Brave:]
Issac is very brave, and will do anything it takes to earn attention from his group. He love doing daring things, and he likes dangerous places, where he can use his courage to do something mind-blowing. Like one time when he was in Rio, and there was a stable log in the middle of a crevasse, that he sat on, and then walked across on.
[Gentle:]
Though Issac already seems like a tough guy, he is actually really gentle. He has a soft spot for cats, and love snuggling. Most people find that part of him weird, but it's what makes Issac him.
Sexual Preference:
Heterosexual
Likes:
♥Cats
♥Guns
♥Coffee
♥Manga
♥Snuggling
Dislikes:
✖Brats
✖Bullies
✖Having to boss people around
✖Looking like a mess
✖Downers
Fears:
[Losing his team mates:]
That's Issac's biggest fear, if he loses his team mates in battle, it's all his fault, this is why when he makes a plan, he wants everyone on the team to listen.
[Drowning:]
Issac almost died from drowning when he was younger, so it still effects him now when he's out swimming. When he's swimming he usually brings tubes that he can sit in, so he can't drown.
Strengths:
☻ Using a gun
☻ Using a sword
☻ Planning out things
Weaknesses:
☹ Archery
☹ Electronics
☹ Water
---
O U T S I D E
Hair Color:
Strawberry blonde.
"Oh my hair? It's very wavy, and gets in the way of my eyes."
Eye Color:
Hazel brown.
"Nothing special about my eyes."
Tattoos/Markings:
The dragonfly tattoo on his left shoulder blade.
"I still remember camp."
Weight:
168 pounds
"I'm not that heavy actually."
Height:
6"2
"I'm pretty tall for a 19 year old."
---
L I F E
Career:
He is the strategist of the group, but he does have a part-time job as a pet sitter for cats.
"Oh and I love cats!"
Hobbies:
[Collecting Manga:]
Issac has an obsession over manga, and collects series of manga and puts the manga's on his 'Manga Book Shelf'.
[Biking:]
Biking is Issac's way of exercising, but he does it so much now, that he'd call it a hobby.
"I love biking, and manga's. Some of my favorite past-times too."
---
History:
WIP
---
A B I L I T I E S
Power Description:
Issac has
enhanced vision
. He can see through objects, and use his eyes like an xray. He usually uses his powers to spot missing items, or things inside of a locked building.
Power Weaknesses:
Issac eyes are very sensitive, and he doesn't like being poked around his eye area. Also his other sense like, smell, and touch, are down-graded. He has horrible touch and smell, and usually can't feel a pinch on his hand.
Notable Skills/Abilities:​
☻ Uses guns well
☻ Is amazing with swords
☻ Very fast runner
☻ Fast reader
☻ Great with planning out things
☻ Intelligent
---