Name: Farai Cerberus



Age: 17

Gender: Male

Rank in group: Delta

Species: 50% Human, Homo Sapien + 50% Arizona Black Rattlesnake, Crotalus Oreganus Cerberus

Description:

Farai looks like an average teenager but from the abdomen down, you will find that his tail is half a snakes body. Yep, almost 30 meters of scaly flesh trailing behind him. He still has legs, however, he can lift his entire body off the ground just using his snake like tail. Also, his skin is dotted with little obsidian scales all around his body except his face. When speaking you will find that Farai has a slight slang and when he enunciates certain sibilants, such as [ss] or when he is angered, a long snake-like black and red tongue flicks in the air. He also has two very large fangs on the roof of his mouth and, whenever he needs them, they can fold out. His bite packs major potency meaning, he gives a lot of venom. Farai's eyes are an amber hue and reptilian like. He has a large two foot long rattler at the tip of his tail. When flustered or when giving a warning, the rattler not only intimidates his foes but deafens them as well. I also forgot to mention that his tail begins at the middle of his back. Another thing is, the tendons and muscles along his back are attached rather loosely to his spine allowing him to be quite flexible.



Personality: Farai of course, has an insidious personality. He is deceiving with bonds so don't ever fully trust him. He likes to do what benefits him and the Agency only. He is also relatively smooth. Cool acting, he can play off any situation as if it never happened. Adaptive and sly, he has all the great attributes for a spy only, he never really learned to keep his mouth shut or his urge to kill either. If you are one to get to know Farai a bit better, you will find that in his free time, he mutters nonsense to himself before he falls asleep. He is also, not only quick with his actions but also mentally too. He can snap at one of his closest friends so be careful and choose your words wisely around him. He is very cunning and an adversary to most. His intelligence is average, if not, somewhat higher than the normal human being adult. So don't underestimate this snake. He isn't an oaf and quick on his tail. If you ever cross bad lines with this mutant, the best thing to do is just stay out of his way and if you don't, well...You'll be caught with the fangs.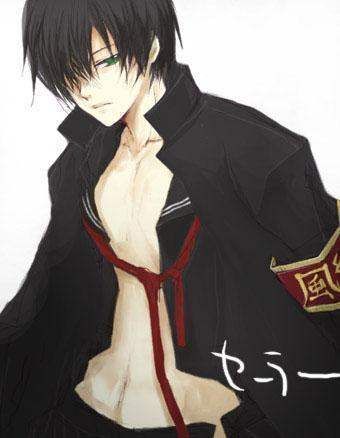 Skilled in: Like I said before, he isn't a brute nor is he a soft spoken mutant. He is insane I'll give you that. Sometimes abruptly bursting into fits of laughter or showing off his tongue, other than any of those things however, he can be quite calm and maintain his behavior just so that he is put in the assassination business. Cunning and insidious, he is perfect for the job. Plus, his talkative condition keeps him in the job.



Weaknesses:
1.) As you can tell, he can be spotted very easily. In fact, his tail is usually what gives him away. His adversaries also have a larger target to aim at. If they want to surprise Farai, they would usually bust the building down along with him inside. Most of the debris falling toward earth would come in contact with Farai's long tail.
2.) He is fast at striking, only one problem. He is so fast that he can only strike in one general direction. When he comes in contact with an undesired object, it takes him a little while longer to 'aim' at his target again.
3.) He is immune to all venom except the venom of the cobra. This is usually the reason why he hates the cobra species and calls them 'show-offs' because of their famous shape of their neck and how some can even spit their venom into their desired targets' eyes.



Job: Assassin

Other: His attire usually consists of a black long jack, black jeans, and a white shirt. For show, his snake body is highly decorated with chains and pieces of fabric attached to them. It creates an unsettling look to the half human half serpent hybrid and the rattling the chains create only heightens the mood.