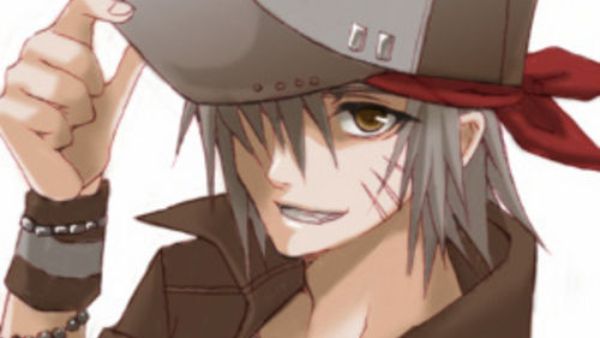 ---
---
"You all look like you could use someone like me to be around!"
---
---
Name
Victor Stellianos

Nicknames/Aliases
LTL (Larger Than Life). Prefers for the name to be spoken as L-TEE-L, but people often mispronounce it as 'Little'.

Age
21

Gender
Male

Sexual Orientation
Heterosexual

Birth Date
June 5th
---
---
Hair
Grey
Eyes
Amber
Height
6'1
Weight
192lbs
Body Build
Athletic build bordering on muscular.
Notable Scars
On the lower left side of his face are three claw like scars that seem to be done by an animal of middling size.
Piercings and Tattoos
Victor has a couple of tattoos. On his right bicep are the names of his immediate family: Carlos, Mariah and Joseph Stellianos. They are embellished with a little curvature flair but otherwise plain and simple. On his right breast is a small but intricately done clockwork heart, black and white but otherwise impressive considering the amount of detail in the small piece of art no larger than the size of one's fist.
Casual Wear
A word that would describe Victor would be flamboyant. His clothing seems to change according to his mood, which always points to 'excited-something'. As such, most of his clothing is loose and layered. T-shirts covered with overshirts covered with jackets, jeans that, despite having a belt attached, seem to sag but never seem to get to that 'ass hanging out' status that a few others have dropped below. He wears bandanas, hats, toques, or anything that he thinks might get a laugh out of people on his head, and not necessarily one at a time as he will often wear a hat with his bandana underneath. He seems to always have a pair of shades on him, along with cigarettes that he never seems to smoke unless the situation calls for a 'touch of cool' according to him.
"Hero" Wear
Much like the man, LTL's hero wear is flashy and designed to attract attention. Grey and white, skin tight and made with a interwoven hyper density mesh, the suit provides more protection than one would assume. A single white band runs down each limb, all connecting on his chest into a single white orb. The mask has a mouth guard similar to Sub-Zero from Mortal Kombat, as was his intention when asking for it to be built. The rest of the mask is much like the suit, skin tight with refractive slots for his eyes to allow him to see clearly while preventing anyone from looking at his eyes directly. They were shaded white as well to match the rest of the uniform.
---
---
Personality
Victor is very much a 'live life to the fullest' kind of person. He's loud and sometimes obnoxious, but no one can ever claim that he's boring. Every party he walks into shortly starts to revolve around him as he simply grabs every piece of attention he can get. He smiles and makes friends as easily as someone breathes, and in this way can sometimes be suffocating to be around. His presence often smothers the quieter people, making it seem like he's pressing into their personal space even when he doesn't mean to be. Now with a temperament like this, your natural assumption would be that he is slightly scatterbrained, and you would be correct. Like a crow seeing a shiny object, Victor is easily distracted by new information, things and people to the point of sometimes acting like the hyperactive puppy. He's always striving for that next 'moment', you know the one, the one that sticks in your memory for years after the fact? It's almost like an obsession with him, pushing all other goals to the wayside in order to get to that specific point in time.
Victor isn't a bad person, and can be incredibly kind, generous and sympathetic, but he often comes across as if he wasn't because his attention can shift in an instant to the next, new and exciting thing. Friends of Victor know that he can't really be relied upon for the little things, to pick something up from the store or to pay a bill on time. He's not that kind of friend, he's the person you call when the party has grown stale or you need a little pick-me-up after work in the form of someone who's just excited to see you. Although a number of people will say that, despite often forgetting the little things, he seems to keep certain things in mind. He remembers birthdays when others have forgotten, he's been around when one of his friends was going through depression, and ultimately is extremely good about the big things. He's the kind of guy who will pull you through the fire and sit with you through your treatment, only to forget to pick up the bread you need or borrow your charger for an insane amount of time.
Victor isn't without his own demons though, and those who truly know him know that he's suppressed so many things they're surprised he hasn't collapsed inward. When his family was killed and he was shuffled around before finally getting a new home, he never seemed to change, like the shock of what had happened didn't even register with him. He never stopped smiling and laughing, even as the world around him seemed to crumble and change. People are waiting for him to cave, but have yet to witness any signs of him doing so. He doesn't talk about his family, and bringing them up in a conversation sees him change the topic entirely. He hasn't shared with anyone his true feelings about that particular aspect of his life, but when asked he smiles and says there's no need to bring the room down.
His Hero form's personality is very akin to his natural persona. LTL is someone who craves attention, and goes about doing it in a very flashy way. He's the kind of person who stops mid fight to sign autographs or pose for the cameras. He'll pause mid rescue to go hit on the beautiful bystander or end up in a discussion about what breakfast place is better with the person currently trying to kill him. He's all about the attention, even though he doesn't go as far as 'at all costs' about it. He enjoys saving people and beating up villains because not only does it make people recognize him, but it gives him a deep sense of satisfaction.
Strengths
Upper: Victor is a naturally upbeat person who is capable of bringing people up to his level even if they don't necessarily want to. His smile and personality exude an aura of happiness and excitement that can't help but make people around him happy that he's there.
Good about the Big Things: Victor can't say that he's the greatest friend around, but he won't stop you from saying that either. Whenever you truly need Victor there, really truly need him there, he's present...even if you never asked or gave him any hint that you did.
Adventurous: Victor is always looking for the newest and greatest thing to create a memory that will last a lifetime, and as such is always open to doing anything and everything at least once. This makes him a great person to have around if you're going to try something but you're unsure about it. Even if it ends up sucking, Victor will find a way to make it fun.
Weaknesses
Easily Distracted: Excluding the really important things, of which he will fully dedicate himself to, Victor can easily be pulled away from whatever he's currently doing by waving a tempting offer in front of his face.
Attention Hog: Victor, either on purpose or not, will do everything he can take the attention of everyone in the immediate area. He doesn't mean to be malicious about this, but sometimes he can come across as arrogant, obnoxious and downright rude when he does so.
Overbearing: You definitely need a certain mindset when dealing with Victor, and unfortunately not everyone can handle that. To those who are more withdrawn or shy, Victor can be downright scary in his insistence on talking to you and getting you to open up or pay attention to him.
---
---
Power Name
Matter Constructs: By touching any surface, LTL can rearrange the structure at a molecular level, creating brand new items and objects that are only limited by the amount of material he has at hand.
Powers Classification
Mover 0:
LTL can use his power to create slides, ladders, and even incase himself in material and move through the world that way (Although doing so often causes mass amounts of collateral damage and as such he only uses it as a last ditch option)
Shaker 3:
LTL's ability allows him to change the terrain around him and shape it to his will. While he can't use sentient organic material or intangible elements such as fire or shadows, his capability to almost immediately transform the environment is impressive and essentially only limited by his access to materials. What he can create is only limited by his imagination and the fact that he can't create working machinery without the proper materials and blueprints, which for someone like LTL, isn't going to come quickly or easily.
Brute 1:
LTL can also use materials around him to form a natural armor around himself that has different properties depending on the materials used. Nearly all forms seem to slow him down to some degree, while protection is entirely reliant on what was used to create the armor. He can seemingly create this shell at will and with a fair amount of speed if provided with adequate materials.
Striker 6:
LTL's construct ability is entirely touch based, and while he can't manipulate sentient organic matter, your clothes and weapons are rarely made of such. For those who use guns, despite his inability to recreate the gun, he could easily turn it into a puddle of goo if he so chose if he got a hand on it. He could rearrange your clothes to temporarily bind you, although they would be of the same material they were originally made of. He could turn your weapons into useless hunks of metal. The only exception to this rule seems to be those who manipulate previously intangible elements as weapons. Dark or Light users can use their weapons without any repercussions as, even though he can touch them, it's as if his power doesn't know what to do with them. Fire, air and mental weapons are also invulnerable. Water and elements like it are a tricky situation. They are tangible, and therefore fall under his realm of control but he has a distinct lack of capability over it, the fluidity of liquids makes it difficult for him to create anything coherent out of the material and as such he usually simply throws waves at people when presented with fluids.
---
---
History



Early Life
Victor was one of those kids who couldn't contain his curiosity at the world around him. Even from a young age, he was constantly exploring places around his house, the hills he could see in the distance, or what was possibly in that tree. His family was happy, if somewhat on the lower end of the middle class spectrum, and he wanted for nothing save for the next big adventure. His mother and father, Mariah and Carlos Stellianos respectively, were loving parents if somewhat distracted with their constant need for work in order to support their family. Joseph Stellianos, Victor's older brother by two years, was essentially Victor's best friend and somewhat of a protector. Sure, they had all the issues that all brothers have where Joseph would tease and pick on Victor from time to time, but it always came with the rule of 'Only I can pick on him'. There were fights sure, but come supper time they were always forgotten and the two of them were off to play more games and explore some more.

Victor's personality allowed for a lot of easy friendships, and so when he came to school, he quickly became one of the more popular children, often surrounded by people who wanted him to lead them on their next adventure. More often than not, these little escapades would end with a teacher reprimanding them for leaving the protection of the school or performing dangerous stunts in the name of fun, but it never deterred them. While this may have caused Victor to not hang around with his older brother as much, their bond endured and they remained close for the remaining years to come.

Trigger Event

Victor's family were travelling cross country to visit some of his parent's friends up north one summer when the event happened. While rounding a corner, a large truck opposite of them was either drunk or not paying attention as it drifted into their lane. Victor's father, who had been driving, had been distracted by Victor and his brother having a playfight in the backseat. He didn't notice the truck swerving into their lane until Mariah screamed and they collided. Everything went black for a moment as the collision caused the two vehicles, who were going a fairly decent clip, to essentially become tangled and roll several yards. When Victor came to, his mother was breathing but unconscious and his brother was bleeding from several injuries and trying to wake up his parents. Victor slowly came to, his brother giving him a once over and it was the only time Victor had seen Joseph so filled with fear. While Joseph was trying to wipe up some of Victor's blood, they both smelled something at the same time.

Gas.

Victor didn't fully understand at the time what that meant, even if he did note it. Joseph did however, and immediately set about trying to get out of the car, ordering Victor to try another way as he pounded on one of the windows. Victor did his best to try and open the door, but he couldn't get it to budge, it was smashed shut. Victor looked back at his brother, seeing him in a near panic as he attempted in vain to use his child body to break a window fully in order to get out. If his brother was this afraid, than that really meant they had to get out...it filled Victor with panic too as he redoubled his effort, essentially doing his best to shoulder charge the door with everything he had, the idea of getting out filling his mind with utter dread.

Until one moment, he fell through the door as if nothing was there. He fell a couple of feet onto the pavement and rolled, when he finally looked back up there was a Victor sized hole in the door where he had been pushing against. Victor didn't understand what had happened, looking at his hands as he saw Joseph's head peak through the hole. Joseph didn't seem to understand what was happening, but the hole was smaller than he was and was a tight fit. He looked at Victor, urging him to run and get help. Victor nodded, knowing that his brother knew best right now, and took off running away from the vehicles. This probably saved his life as a couple seconds later the car exploded and instinctively Victor looked back and threw up his hands to protect himself. The concrete reshaped and formed a wall in front of him, taking the blast and protecting him from the explosion.

The next few moments were of other people arriving on the scene to help. Police, ambulance, fire department, even random civilians were doing their best to put out the fire and help those trapped inside but it was all in vain. Even at that age, Victor knew they were already dead, sitting with a random EMT who was trying to patch him up and make sure he was ok. Victor just sat there, unmoving and not talking for the longest time. They didn't allow him to see the bodies, and to this day he wasn't sure if he wanted to or not.

While his parents didn't have any siblings and all his grandparents were passed on, Carlos and Mariah did have some fairly good friends. One of which lived in Capetown, and opted to take Victor in. His name was Brian Prodd, a DJ who worked at several clubs around town. He was the only one who was free and financially stable enough to care for Victor as the others all had families and money troubles themselves. Brian was fairly successful and living with him, Victor actually had more access to the pleasantries of life. They lived in a penthouse apartment almost constantly surrounded by people as Brian lead a very active social life.

Victor, despite his traumatic event or maybe because of it, didn't seem entirely phased. In fact, more than a few people were worried about Victor when he didn't seem to act like he registered the deaths of his family. Instead he resumed being the Victor he had always been, filled with life and adventure almost to an overbearing degree. As a child growing up with his 'Uncle Brian', he was the adorable centerpiece at their parties. When he started entering his teenage years, he became part of the parties proper, and often took the floor by storm.

Currently

Victor's grown up into a respectable, if somewhat audacious young man. He works with his Uncle as a DJ, either working alongside him or hosting his own gigs. He's also become a decent breakdancer and has generally embraced the nightlife for what it is. He still lives with his Uncle, but considering his Uncle has only just turned 38, it often times looks and feels more like they're roommates. Besides, adding his income to his Uncle's has only increased their way of living, meaning that their apartment has essentially become a party time central.

Whenever he gets the free time, Victor dons his costume and becomes LTL, or Larger Than Life. A name he grabbed from the saying people would use to describe him most of the time. Not a typical cape name, but he likes it even if people often pronounce it as 'Little'. He corrects them of course, not angrily considering he can understand the confusion. His Uncle is well aware of what he does, and uses his connections to find him materials, doctors and general information about everything that goes on in Capetown. In many ways, Brian is his eyes and ears throughout the city.

Victor/LTL isn't officially recognized by the HLA as a member, even if Victor unofficially calls himself one. He's one of the good guys, goes out of his way to protect people and look good doing it. A showboat, notorious flirt and often times narcissistic, LTL has become somewhat of a celebrity in the sense that his sightings are never boring.