Long ago, a powerful alchemist created a powerful gauntlet that could warp reality. He wished that magic and technology could work together perfectly. His wish was granted, creating magitek. After that, he disposed of it, fearing it would fall into the wrong hands. Many years in the future, people began to abuse magitek, such as creating demonic cyborgs and making black magic weapons. The universe constantly shifts from safe to in danger. People do whatever they can to find the gauntlet, and bend reality to their desires, whether good or bad.
People have taken up occupations involving magitek. The most famous being the Neo Exorcist profession. Neo Exorcists are assassins who used magitek usually for the purpose of altering their DNA, although, they could also use it for weapons, as well. When their DNA is altered, they gain special powers, such as invisibility, teleportation, illusion casting, energy projection, regeneration and so on. Neo Exorcists often adopt codenames, and go by that. Also, they work in squads of three. Each squad is named after a letter in the Greek alphabet. When a member dies, a new one can apply to that squad.
There are many other occupations, though, but Neo Exorcist is the most prominent. The first Neo Exorcists were created by an experiment named Project Omni funded by a shadowy organization known as the Illuminati.
Now, there are things called the homunculi. These are the result of combining demon, human, and sometimes clone DNA together via experimentation. These may also become cyborgs. And some could just be altered humans and not contain any foreign race DNA at all (What I mean by foreign race is demons, clones, other homunculi, etc.)
There are two known types. The first type of homunculus is sort of a super soldier or a robot. These are usually humanoid (they may also look like someone else, if the creator wants them to. In other words, a clone). These are usually silent, except for maybe some grunts or so, and also very strong and durable. These are called Doppelgangers, since most of them will look the same as the others. They may also know how to use simple weapons or even magitek.
The second type are far more dangerous. These are similar to zombies and mutants, and considered failed experiments. They are known as Fallen. There are different classifications for these. Each having different weaknesses, powers, and appearances. Some are not listed, because they haven't been discovered yet.
The first, is dubbed the Spectre.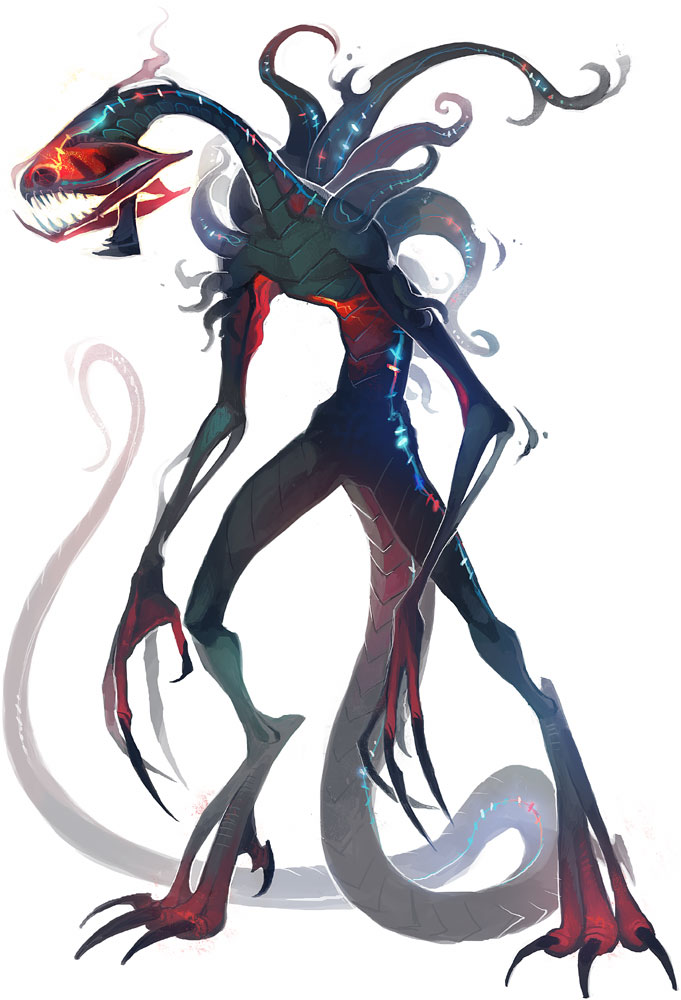 These attack by using their claws and sometimes tentacles. They can also climb on walls and ceilings, and turn invisible, hence the name Spectre. They often hiss, and their eyes stay visible, giving away their appearance.
The next type is known as Cryoids.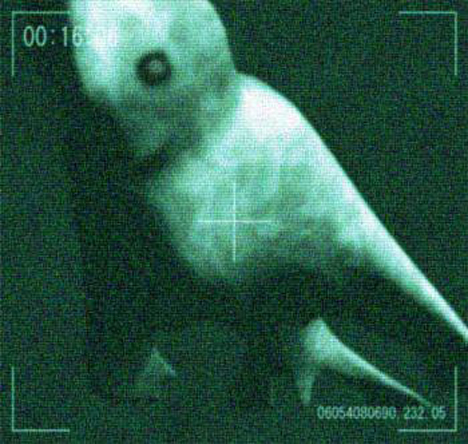 These are amphibious creatures (imagine they have skinny, finned legs) who can resist the coldest of temperatures. These are surprisingly peaceful, but emit a gas that instantly freezes anything it comes in contact with, when provoked. These creatures are very weak, however, and can be killed by even your fists.
The third type are Venomex.
These are very dangerous. They have poison tipped spikes, which they can shoot at enemies, and they can also breath a poisonous gas. However, they aren't good at defending themselves from long ranged attacks.
These Fallen are Fungals. These have the ability to control fungi and root themselves and others into the ground. These are one of the hardest to get rid of, because they are strong and durable. However, at least one root has to be in the ground, or else they will wither away. Destroy the roots and the creature is doomed.
These are currently the most intelligent Fallen, Polaryx. These feed off of electricity, can use to to fight, and they can also manipulate magnetism. They can even turn bullets around while they are in midair. However, its red eye is it's weak spot, and also, if an attack gets passed the magnetism, the Polaryx has few options of protecting itself.
Other terms you should know:
Psyblade: An energy blade conjured up by the user, that can slice through anything, except another Psyblade. It can be any color the user wants, and can even have certain effects, such as draining lifeforce from the opponent.
Nanobots/nanites: Tiny robots that have many uses, such as power instilling, healing, or poisoning. Scientists are working on a liquid nanite armor symbiote that can allow the user to become a human weapon.
And last but not least, the form (For Neo Exorsists. That's what I would prefer you guys' characters to be):
Codename:
Age:
Appearance (pics or description):
Squad (pick a Greek letter):
Personality:
How long have they had powers? (Usually, people are born with them and destined to be a Neo Exorcist):
What is their opinion on the Illuminati?:
Weapon(s):
Powers (up to four):
Do they desire the gauntlet?
Do they get along with their teammates?:
Bio:
Taking place in...
0 posts here • Page 1 of 1
0 posts here • Page 1 of 1
Arcs are bundles of posts that you can organize on your own. They're useful for telling a story that might span long periods of time or space.
There are no arcs in this roleplay.
There are no quests in this roleplay.
Here's the current leaderboard.
There are no groups in this roleplay!
Welcome home, Promethean. Here, you can manage your universe.
Arcs are bundles of posts from any location, allowing you to easily capture sub-plots which might be spread out across multiple locations.
You can create Quests with various rewards, encouraging your players to engage with specific plot lines.
Settings are the backdrop for the characters in your universe, giving meaning and context to their existence. By creating a number of well-written locations, you can organize your universe into areas and regions.
Navigation
While not required, locations can be organized onto a map. More information soon!
There are no groups in this roleplay!
By creating Collectibles, you can reward your players with unique items that accentuate their character sheets.
Once an Item has been created, it can be spawned in the IC using /spawn Item Name (case-sensitive, as usual) — this can be followed with /take Item Name to retrieve the item into the current character's inventory.
Give your Universe life by adding a Mob, which are auto-replenishing NPCs your players can interact with. Useful for some quick hack-and-slash fun!
Mobs can be automated spawns, like rats and bats, or full-on NPCs complete with conversation menus. Use them to enhance your player experience!
Current Mobs
No mobs have been created yet.
Locations where Mobs and Items might appear.
You can schedule events for your players to create notifications and schedule times for everyone to plan around.
Add and remove other people from your Universe.
The Forge
Use your INK to craft new artifacts in Project Omni. Once created, Items cannot be changed, but they can be bought and sold in the marketplace.
Notable Items
No items have been created yet!
The Market
Buy, sell, and even craft your own items in this universe.
Market Data

Market conditions are unknown. Use caution when trading.

Quick Buy (Items Most Recently Listed for Sale)
Newest
"I'll get the gauntlet, and make this universe better! And I won't let anyone get in my way!"
Trending
"I'll get the gauntlet, and make this universe better! And I won't let anyone get in my way!"
Most Followed
"I'll get the gauntlet, and make this universe better! And I won't let anyone get in my way!"
None
Discussions
Topics

Replies
Views

Last post
Most recent OOC posts in Project Omni
It's more Cyberpunk meets Dungeon Punk.
is this like a steam punk world?
This is the auto-generated OOC topic for the roleplay "
Project Omni
"
You may edit this first post as you see fit.