All art is the work of the wonderful
alicexz
. Except for the cat.
---
---
Name:
Ember Marie Littleton.
Nickname:
She was known as Subject #81523 for a little while, but it would not be wise to call her that. She's been called Red before, and occasionally Em. She doesn't usually comment on nicknames, and introduces herself as simply Ember.
Familiar's Name:
Garrett. He's an orange tabby cat.
Age:
19.
Gender:
Female.
Familiar's Gender:
Male.
Height & Body:
Ember is 5'3" tall, and weighs only a little over a hundred pounds. She has a slight, fragile build, with modest curves and a minimum of muscle.
Hair & Face:
Her hair is a striking bright red, almost orange color, and she commonly keeps it cut between shoulder and mid-back length, typically wearing it down. Her skin is pale and freckled, framing soft, light brown eyes that almost approach red in color.
---
---
Role:
Natural born mutant. Rescued by the revolutionaries, been a part of them for several years.
Mutation | Abilities:
Ember is a Feline, and as such her primary abilities come in the form of visions and barriers. The visions come to her randomly, but seem to have a higher frequency when she is in an emotionally heightened state. The visions are often memories, but sometimes contain images that have yet to come to pass, or even abstract images that represent the feelings or emotions of someone nearby. She can perform this at will with a clear surface, but is unable to control what she sees.
Her more trained ability would be her barriers, which consist of both the literal and metaphorical variety. She can create force fields capable of stopping bullets with relative ease, and is expertly trained in guarding her own thoughts from other mutants. Her powers increase in strength when she is close to her Familiar, and conversely decrease in potency if she is separated from him, for whatever reason.
Weaknesses:
The primary downside to being a Feline comes in the form of physical weakness. Ember would be hopelessly outmatched in any kind of physical struggle, and her familiar isn't much help in that regard. In addition, her visions can take her out of action in critical moments, as they have a higher frequency of hitting her when she is overly angry, afraid, or excited. She works on keeping a level head to avoid this. Her barriers, while effective defensive tools, put a physical strain on her, and overuse of them will lead to her being drained of energy to the point of being unable to stand.
---
---
Personality:
Ember is a very private person. This could be a result of her ability to guard her own thoughts so well, or it could simply be a convenient coincidence, but she is extremely slow to open up regardless. Her nineteen years have taught her to keep a level head, and to never take anything at first glance. She doesn't assume anything. She finds proof, and then she acts on it.
She's typically a very solitary girl, able to spend days at a time alone with her Familiar without any other form of human contact. Betrayals in her past have molded her into someone who trusts very slowly. Not only is she unwilling to give people the benefit of the doubt, she is actively mistrustful towards new acquaintances, and will go out of her way to ensure that they are who they say they are, and that they do not mean her, her Familiar, or any of her friends harm.
That said, she doesn't want to, and can't imagine, living alone. She bonds strongly with those that gain her trust, as some of the Revolutionaries have. She's willing to give her life for those that have proven to be her friends, for the people she knows she can always count on. She isn't overly expressive, and even subtle gestures of comfort coming from her have great meaning. She doesn't show it well, but her Feline visions give her a close connection to the emotions of others, most commonly the friends she considers herself the closest to.
In short, she's a very difficult person to become close with, but a solid, immovable, caring ally once you do.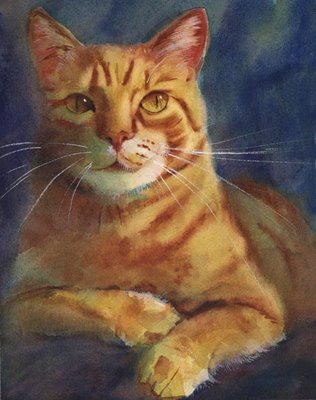 Familiar Personality:
Garrett is her more expressive side. It's awkward for them, sometimes, being different genders, and a very strange experience for them both when they join, but they learned how to adapt to it, and have become the closest of friends over the years. Garrett keeps her spirits up whenever Ember is feeling low, and in general he tends to play the handsome devil, using his charm and his boldness to get what Ember's cautious silence fails to. The one thread of tension between them lies in the matter of the Revolution group. Ember believes wholeheartedly in them, while Garrett gently encourages her to look out for her own well-being above all. Her caution leads her to believe she needs others to survive, while Garrett believes they could survive just as well, if not better, on their own, and avoid getting killed fighting against the human overlords.
Likes:
Quiet, calm places | The color red | Garrett | The company of close friends | Music, specifically acoustic guitar | French toast |
Dislikes:
Rain and bodies of water | Slys | Humans | Laboratories | Liars |
Fears:
Ember fears betrayal from within shattering the fragile world she's built around herself. It's happened before, and she doesn't think she can handle the ordeal again.
---
---
History:
Ember Marie Littleton's grandparents (on her mother's side) were actually Australian, but they moved to the States back when they were just children, during a time in which the Imperial Japanese Army was encroaching too close to the Australian homeland during the early years of the Second World War. Ember was born just outside of Portland, Oregon, the second of three daughters that her parents would have. She was the only member of her mutant family to have a Familiar of the opposite gender, but aside from a little good-natured teasing directed at her and Garrett, she never experienced any discrimination from her family.
They survived against human oppression and mutant hunters by laying low and hiding their identities, which often required Ember to spend prolonged periods without the company of her Familiar. During these times she relied on her sisters for strength and companionship, and the three of them developed an incredibly close bond. It simply wasn't safe to reach out to kids at her school, or to any friends she made outside of the family, because the second any of them screwed up and exposed their status as mutants, the entire family would be in danger. So they had to rely on each other.
They knew of the Revolution that was brewing, but Ember's parents decided together that it was not something they wanted a part of. They would be safer, they declared, if they simply kept to themselves, if they just minded their own business and allowed the tumultuous times to pass. For a while, Ember allowed herself to believe that she was safe. What little girl wouldn't believe what her father told her, what her big sister told her? They were her heroes, and she would follow them anywhere.
In the end, it was her family's compassion, specifically that of her little sister Lauren, that was their downfall. When Ember was fifteen, her thirteen year old sister brought back a child of no more than twelve years, a little black haired boy named Charlie, whose face she still remembers to this day. He was a sly, and even had his familiar stowed away in his backpack to prove it. Lauren had already let slip that her family was all mutants. Charlie claimed to be alone, that his parents were caught and captured by mutant hunters. The wise thing to do would have been to demand the boy leave their home and to relocate the family immediately, but they could not find it in themselves, and instead allowed the boy shelter.
They did not suspect that the child would actually be working for the human scientists and their roaming bands of mutant hunters. They attacked in the night in force, and there was little that could be done to stop them. All five were captured alive and sent to laboratories, where they were split apart shortly thereafter, each of them being sent to a different institution. Ember has no idea where the other members of her family are, or if they are still alive. She spent one year in confinement, a period during which she endured brutal experimentation alongside her Familiar. It was the most difficult time of her life, but luckily it did not last long.
A group of mutants, part of the growing resistance to human oppression, attacked and successfully breached the institution, freeing a large number of mutants, Ember included. Many chose to go their own way following that, but Ember remained with the Revolution, traveling around with them and assisting in any way she can. It took a good deal of time for her to earn the trust of the mutants she fights alongside, but they have since become her closest friends. She hopes to someday destroy the institutions that hold her sisters and parents hostage, to be reunited with her family. In the meantime, fighting against the humans gives her a constant goal to strive towards.