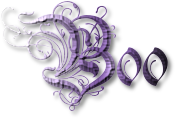 "Sometimes I wonder if dying would be better then dealing with the life I have been given"
---
---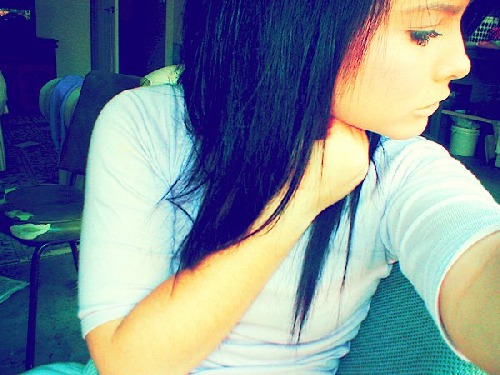 Name:
"I have no recolection of my name but Alex has told
me it but I prefer my nicknames"
Brookelle Rose Lockwood

Nickname:
"Had to come up with something other then being called Subject 546738
or my real name, such a mouthful!"
Her brother and Vera call her Boo
Everyone else calls her Raven

Age:
"I have learned that it doesnt really matter how old you are if your one of us"
around 15 almost 16

Gender:
"Are you freaken blind?"
Female

Role:
"Role? hmm not sure what your askin"
Escapee number three, made
---
---
Mutation | Abilities:
"I never will be normal again but I am glad that I have Rikia now"
Boo was made a stripe, but she wasn't made a white or orange tiger. She got made
with a black tiger, they are extremely rare and the scientists were intrigued with her.
She has the abilities that most stripes have. Uncanny strength, better balance, enhanced
senses, stamina and speed, the ability to manipulate water and ice at her will, and last
but not least others seem not to be able to lie around her, when she asks a question
they have a hard time getting out of it.

Weaknesses:
♣Large groups of people "I really only like being around Alex or Vera, big groups causes me anxiety"
♣Her stubborness "Once I get my mind set on something it doesn't change, whatsoever"
♣Anything that reminds her of labs "If something reminds me of the labs I sorta just blank out for
a few minutes because of flashbacks"
♣Partial Blind in left eye "One of the scientists experiments screwed up and now I can hardly see
out of my left eye and it seems to just get worse"

Likes
♥Water "I would live in water if I could"
♥Sombra "I don't think I could have made it this far
without her"
♥Her brother "Alex has always been there for me
he is truly the best brother someone could ask for"
♥Vera "I have seemed to always looked up to Vera,
she definately is the best person to be our leader"
♥Being her familiar "I love the feeling of being able
to run with Rikia, it actually almost feels like freedom"

Dislikes
♠Scientists "All they want to do is poke and prode and
I have had about enough"
♠Cages, being locked up "Has anyone ever told you
TIGERS DO NOT LIKED TO BE LOCKED UP!"
♠Needles "I have had enough of these"
♠The loss of her memory "Sometimes I wish I could remeber but what Alex has told me maybe its
best that I dont"
♠Being away from Alex "He is like my rock, not sure if I be alive if it wasn't for him"

fears
X Being locked up again "I don't think I could mentally deal with being caged up again."
X Scientists "Look what they have done to me, enough said"
X Losing Alex or Vera "I can't even think about that"
---
---
::DESCRIPTION::
"People like to judge on how people look but its on the inside that counts"
Height: 5'6"|Weight: 118lbs|Eyes: Right eye is tealish green, Left eye is deep blue
Boo is scrawny because of what the scientists have done to her, a lot of physical tests and not as much food, she is not really filled out like she should be. Her eyes are one of her distinct features, anyone that looks into her eyes could tell she was different. It was her left eye color that changed after one of the scientist experiment, it was when she lost most of her eye sight in that eye. Her hair is raven black but with two white streaks on either side of her head, she calls them her lucky stripes. Her skin is a milky white, that makes her eyes stand out more. As for scars, she has many. Many puncture scars on her arms because of the needles. She has scars from the battles she had to do with some of the others. On her stomach she has one long gash that happened in her last fight and still is healing. The only tattoo she has is the one that each stripe has, its right on the back of her neck.
Her second form is the most appealing, because she is a black tiger her skin becomes a little more darker, her eyes become as black as her hair, and her stripes and a bright white. She has a couple grey stripes on her temples. Her ears and tail are black but her tail has a few white and grey stripes. She loves this form because she loves how people just stare at her, the first time she shifted in front of the scientists into her second form they stood their staring at her before they started taking pictures and talking about her.
---
---
::PERSONALITY & HISTORY::
Personality:
"Being an experiment has sorta messed up my social skills, I am not one of the best people to be
around. Just warning ya" Boo is very timid and only trust two people, Alex and Vera.
She can snap easily and has attacked a scientist more then once which cause them to sedate
and restrain her. She hardly talks, being one that follows Vera and her brother and has learned
sign language like her brother, which she prefers to do unless she is trying to get the truth from
someone.

Sometimes she freaks out and the only one that can calm her down is Alex. She will scream
and cry until Alex calms her with some peaceful illusions. She is known to stare, she could
be staring at someone for five minutes and not even know it. She would do anything for her
brother and Vera, helping them escape gave her some hope.

The scientists liked to use her to get to Alex or Vera, they would torture her just to get Alex
or Vera to cooperate. Because od this she has severe night terrors and has a hard time
sleeping. Unlike her brother she hardly sleeps. She is deeply scared that she is going to
get locked up again and the scientist doing more experiments on her. It was good they
escaped when they did because she was definately on the verge of losing her mind
and ready to just end it all.

History:
"So I dont remember anything of my childhood. Its like I never was her before the age of eight"
Boo was actually adopted by Alex's parent right after she was born. Her biological
parents were teenagers that wasn't ready to deal with kids, they were still in high-
school. She was just a mistake. Her adoptive parents were not able to have any
other children after Alex so that is why they adopted her. They named her
Brookelle Rose. Alex always called her Boo though. As she got older she
followed Alex everywhere, she loved her big brother and hated being seperated
from him. She knew Alex was different but she didn't mind she believed that was
what makes him special.
Everything changed for her one day all in one day. They were going somewhere
in a plane, she was sitting next to Alex, holding his hand because she was scared
of flying. Next thing she knew the plane was falling and her parents and the crew
members went insane. Her brother told her that they will be okay. The plane
crashed and she blacked out. When she awoke she was in some kind of
operating room, she was strapped down to a table and was hooked up to all
kinds of machines. She screamed for Alex, it was the last time she
remembered her past and how her life became a living nightmare.
It was a year later that she awoke, she lost part of her vision in her left eye because one of the experiments they tried to enhance her eye sight but something went wrong. They didn't think she would wake up but ahe did but could not remember anything except for Alex. She became very scarred and started to attack the scientists. They had to put her into a steel cage and keep her locked up. After a few days she finally got to see Alex, he used his illusion ability to help calm her down when she became upset. She also became close to Vera through Alex and soon became to trust her.
As the years went by she became more secluded, attacking anyone that came near her except for Alex or Vera. They kept chains on her just incase she decided to shift. They would use her to get to Alex or Vera, torturing her mentally and physically, sometimes they even used the hunters just to add some "fun". By the time she was around the age of fifteen she was ready to just give up, she even told Alex and Vera that. They put her in the arena with Vera once and that jist cause her to freak out and shutdown, there was no way she would have fought Vera. She was glad they escaped when they did because if they didn't she would have just gave up.
---
---
::FAMILIAR::
Familiars Name:
"Shes like my best friend, not sure if I could have made it this far without her"
Sombra
Familiars Gender:
"I think it would be kind of weird if she was a he"
Female
Familiars Personality:
"Sombra is like a rock and pretty stubborn"
Sombra is very protective of Boo, she is also very stubborn and doesn't like being around others that much except for a few. She has learned through Boo that she can trust Alex and Vera. She likes to be at the top, just like any tiger would be. They are the queen/kings od the jungle. She does like to be playful at times when she wants Boo to be less stressed out. She hates being away from Boo, its a big weakness of hers if she is far away from her girl. She can be a bit pessimistic when it comes to certain things. She doesnt like to be around others that much and would much prefer to be alone with Boo then be with a group.
---
---
::Right Now (We'll Stand)|Fades Away::
How can I face this monster?
He's looking right through me again
Caught in the midst of the fire.
Don't even try to pretend
That there's even a single shred of hope left for me
This pathetic excuse of a plan
Will right my ending.

Do I look like your hero
Hiding alone in the shadows?
If you're looking for some sort of strength
I'm afraid you're mistaken.

Taking my last step forward
I stand with my eyes to the ground
Blood thirsty vultures surround us
All I can hear is the sound
Of my heartbeat awaiting the ending
Why did they choose me?
Did the great ones all stand at the ledge
And beg for mercy?

Do I look like your hero
Hiding alone in the shadows?
If you're looking for some sort of strength
I'm afraid you're mistaken.

I close my eyes,
Look deep inside.
We won't stand down
This time

Right now (we'll stand)
Right now
Right now (we'll stand)
Right now
Right now (we'll stand)
Right now (we'll stand)
Right now (we'll stand)
Right now

Do we look like your heroes
Hiding alone in the shadows?
If you're looking for some sort of strength
I'm afraid you're mistaken.

Do I look like your hero
Hiding alone in the shadows? (Is there anybody listening)?
If you're looking for some sort of strength
I'm afraid you're mistaken.
---