"I hate what they make me do, I wish they would just kill me"
---
---
Name:
"It will always be my name but it brings back too many memories for me"
Amelia Delilah Shade

Nickname:
"I didnt want to go by my first nams but my last name suits me well"
Most call her Shade
Some that are brave call her Amy, Mel, Lia
Mel was what her siblings called her before she was taken
The scientists call her Subject 1278L

Age:
"Im finally of age but that really doesnt matter"
18

Gender:
"Are you seriously asking this?
Female

Role:
"Im the used and abused, the one that they use against the ones I love"
Rescued mutant 2/Natural born/ Revolution leader and younger sisters
long lost sister
---
---
Mutations|Abilities:
"Its because of what I am that caused them to use
me against my family"
Amelia is a flock, her bird type is a raven. She has four different
abilities that the scientists have taken a real liking too.
1.Tracking-She has the ability to track most anything, if she
touches something she knows where to find it. To her its like
there is a string and its pulling her to the who or what.
2. Blend in and manipulate shadows-Its pretty self
explanatory. She is able to hide herself into a shadow
if there is one around, she can also use the shadow to
her advantage.
3.Invisibility-She is able to become invisible at will,
but the scientist came up with a chain locked collar
that prevents her from doing so.
4.Necromancy- She is able to communicate and
control ghosts/spirits but she has to be able to
see them to communicate with them. That is why
they have a special blindfold on her that she is
unable to take off.

Weaknesses:
"I have got plenty of these, and the scientists seem
to know most all of them"
◇The collar-The scientists put a collar on her that doesnt
let her become invisible but also has a tracking device in
it so they can always find her.
◇Being blindfolded-They keep her blindfolded when they
dont need to use her so she cant use her abilities.
◇Her tracking ability-The hunters use her to find other
mutants. They threaten her familiar if she doesnt
cooperate.
◇Sage- Her familiar is the only one she has left
and the scientists know this and use her against
Amelia if she doesnt cooperate.
◇Jay-He is the only one that seems to care for her
now and she would do anything for him.

Likes
♥Sage
♥Ghost/Spirits
♥Flying
♥Her second form
♥Other mutants
♥That her siblings are free
♥Jay and Argon


Dislikes:
♠The Lab
♠The scientists
♠The experiments
♠Having to track her family
♠Being used to track others
♠Being caged up
♠Jay taking her pain
♠Being tortured
♠Sage being used against her
♠Herself for having the tracking ability

Fears:
♠Her Siblings being caught again because of her
♠Forver being locked up
♠Sage dying
♠Something happening to either Jay or Argon
♠Experiments
♠The scientists and hunters
♠Dying and never seeing her siblings again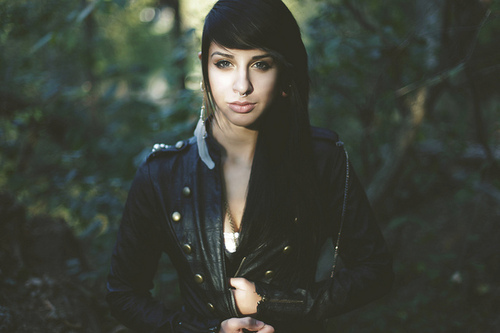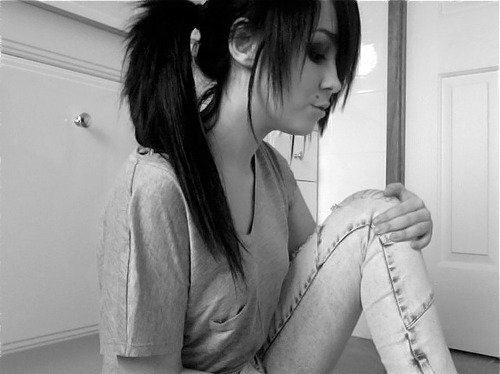 ---
---
::Description::
"Beauty doesn't get you far"
Height: 5'11"|Weight: 108Lbs|Eye color:Dark grey
Amelia is a tall girl which is not normal for a flock but she is tiny when it comes to weight, she has these dark grey eyes that hold mystery and depth that others can't help but stare into them. She is very thin because of how long she has been in the lab. Her rib bones stick out and the scientists always have her wearing a long grey shirt that is way to big and a pair of grey pants that can hardly stay up. Her hair is as black as the night sky but it has been shaved off on one side because of one of the experiments the scientist done. As for scars she has way too many that decorate her skin, some old some fresh. She has the tattoo that every Flock has, its on her right hip. As for piercings she got one of the hunters to pierce her ears and she kept gaging them with different things she could find.
Her second form is her favorite because she has her wings. They are sixteen feet across and are as black as Sage with some light coloring on the inside. They are so long because of her height. They are strong and able to keep her flying for hours, if only she was able to fly. Whenever she goes into her second form the scientists bind her wings up so she isnt able to use them, so even though this is her favorite form she hardly shifts into it.
---
---
::Personality & History::
Personality:
"I dont even know who I am anymore, I dont even feel like I am alive anymore"
Amelia has lost hope in everything, being caged and used like she is nothing has
taken a big toll on her mentally and physically. She is scared almost all the time
crouched in the corner of her cage blindfolded almost all day unless she is being
used for her tracking ability or being experimented on. She mentally has given up
and is not the girl she used to be thirteen years ago. She feels helpless and guilty,
she never has forgiven herself for tracking her family when she was eight years
old. She saw them kill her mother and it broke something inside her. For awhile
she had hope that Aindreas and Adalind would come for her but as the years
went by all hope was lost for her. She is very selfless, she would give herself up
to be experimented on before she would let one of the younger mutants get used.
She feels protective over the others and wishes she could do something to calm
their fear but she cant even calm herself. She has been having major anxiety
attacks lately and the scientists arent sure how much longer they plan on
keeping her alive.

History:
"Its not a happy story"
Amelia was born the second child to two mutant parents. She was born a Raven Flock, she was a free spirited child. Her parents had a hard time keeping her on the ground especially when Sage would get her going. She was very close to her siblings, Aindreas and Adalind. They were inseperable.
Everything went downhill after she turned five. She wanted to go out to the meadow to fly around, her mother agreed and took Sage and her to the nearest meadow. It was a beautiful day out, clear skys, she could hear the birds singing. She was in her second form, her wings opened fully on her back and she took for the sky. Next thing she remembered she heard her mmother scream for her to come down but she wasnt fast enough. A helicopter came and captured her and Sage in a net. She remembers crying and watching her mother run for the forest.
Amelia was taken to the nearest lab and was tested on. The figured out her abilities and made things so when she was alone she wouldnt be able to use them. Her necromancy ability still hadn't come around so they didn't know about that one yet. They worked and trained her hard, physically and mentally. They mostly wanted to use her because of her tracking ability and they were going to make her do it whether she liked it or not. If she didn't cooperate they would threaten her by torturing Sage. Thats what they used to gwt her to track her own family down.
She was eight years old, almost nine. They believed she was ready and made her track down her family. She refused at forst but when they threatened Sage she caved in. So she tracked them down, she watched as the hunters went into the house. She was kept in chains so she wouldnt be able to run. She watched one hunter shoot down her mother and take her baby sister. Shr was taken into a different truck and was sent to a different lab because they didnt want the siblings together. She was glad that her brother escaped, it gave her hope that he will come and free them.
Seven years later she heard the talk going about in the lab, in a different lab in another state there was a breakout. She heard that the one that freed the group of mutants was a pride mutant. She had a feeling it was Aindreas and she really hoped that he saved Ada. Around that time she learned she had the ability to communicate and control ghosts/spirits. She came up with an idea and was going to send a ghost to find her brother and sister but one of the scientists saw what she was doing and they made a blindfold that she could not take off.
One boy was the only one she would really talk to, he called himself Jay and had a wolf Familiar named Argon. She soon became close to him and he tried to help her in many different ways even when she knew he was hurting from taking away her pain. She told him to stop but to this day he has stuck by her side and she isn't sure what would have happened if Jay wasn't around.
Now she was eighteen and she was mentally and physically not right. She mostly stayed curled up in the corner of her cage shaking, the torture and experiments have made her pretty useless. The scientists have decided they are going to use her once more for tracking down the Revolutionary group then they planned on ending her.
---
---
::Familiar::
Familiars Name:
"Sage is my best friend and has been by my side since the day I was born"
Sage
Familiars Gender:
Female
Familiars Personality:
Sage is very much a trickster, she likes to try to keep Amelias spirits up and try to have the girl keep at least a bit more hope. When she is able to she tries to play pranks on the scientists. She tries to get Amelias anxiety down and is very protective of the girl. Sage tries to keep an optimistic view on things and really believes Amelias siblings will come and free her.
---
---
Caged Bird|Alicia Keys
Mmm, mmm
Right now I feel like a bird
Caged without a key
Everyone comes to stare at me
With so much joy and revelry
They don't know how I feel inside
Through my smile I cry
They don't know what they're doin' to me
Keepin' me from flyin'

That's why I say that I know
Why the caged bird sings
Only joy comes from song
She's so rare and beautiful to others
Why not just set her free?
So she can fly, fly, fly
Spreadin' her wings and her song
Let her fly, fly, fly
For the whole world to see

Mmm, mmm
Hey, hey
Mmm, mmm
She's like a caged bird
Fly, fly
Ooh, just let her fly
Just let her fly, just let her fly
Spread wings, spread beauty
Hmm
---