Adult content advisory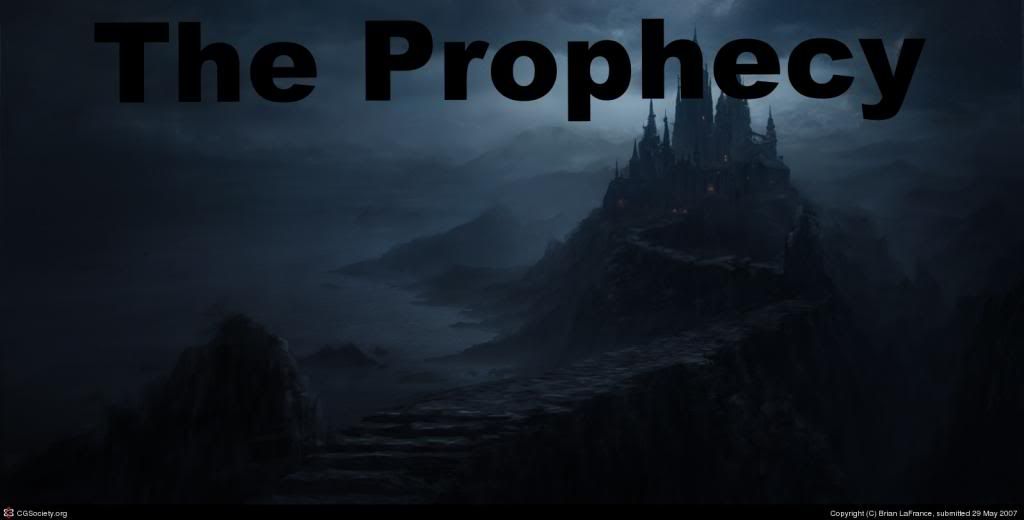 Buried deep in the realm of fantasy lies a land of mystic wonder, Aurora. This is the land in which your story will begin,, the land in which your story will end. A world of many races, vast variety in landscapes and most importantly, adventure.
However, for a land of such beautiful culture, it has had a very dark past.
When the world was new, and the policies of man first began their monarchy, there was one supreme ruler of the world. Emperor Zaxon, he ruled Aurora with a hard fist but a kind heart. He was known for his strict policies and his armfuls of compassion. Some said they hoped that Zaxon would never leave the throne. But there was one who envied him. Bandrial, his most trusted adviser lusted for Zaxon's throne. She spent her days whispering poison words in his ear, hoping that one day, won over by her trust, She could finally deliver to him the fatal blow that she had dream't of for years.
The year grew cold, some of the fiercest and deadliest frosts Aurora had ever seen. Even the oceans began to freeze over, and turn hard like the adviser's heart. The people, unaware and uneducated blamed Zaxon.
"You have dishonored the gods!" they cried. "There is no other explanation." Bandrial also told him this.
"My liege," She cried. "Don't you see how the gods cry to you, what have you done?" But Zaxon had done nothing. The frost was just another part of Bandrial's scheme for she was a mighty and terrible sorceress. However, even Zaxon began to think he had done something wrong. He went to his adviser for guidance.
"You are a powerful sorceress," He said. "Tell me, how do I right my wrongs with the gods." Behind her false worried eyes danced fires of glee and hope.
"Sacrifice my lord, human sacrifice, only then will the gods be appeased." Zaxon did not agree.
"Sacrifice is wrong, especially that of my own people," He argued. "I do not believe our loving gods wish for bloodshed."
"Let's think for a moment of what you have done, who is the one person you put above all else, including your country." She said trough her forked tongue.
Solar, his queen, his bride, his one and only love. The shining sun of the nation.
"They've grown envious of her," The witch lied. "Once she is gone, the storms will stop." Of course Zaxon immediately refused. Solar was his life, and he would not loose it to a petty storm. It took more work on Bandrial's part.
"Will you really let all these people suffer for one woman?" she asked. "You are their king sir, the look to you for protection!"
Zaxon fought about mentally for weeks. The greatest inner conflict a man could have. His love, or his people? He couldn't decide. Solar, in all of her bright and shining glory came to him.
"My king," she whispered sweetly in his ear. "My love, you have to do this." She told him.
"Who am I to take your life?" he asked.
"You cant take it, when I give it freely," Like a true martyr to the cause, His blade left his sheath and found a new one deep between her breasts. Zaxon fled to his wife, holding her to him. He pulled the blade from her body, the gift from his father never seeming so vile. He held her to him, her blood soaking through her white gown, into his blue tunic. He let out a wail of turmoil, of defeat. The entire nation shook with fear at its sound. He went to the balcony, dagger in hand, cursing the gods.
"I cant live without her," he shrieked. "I've been good to this country, am I not allowed this one courtesy?" and without another word, the dagger found a similar resting place in Zaxon's own chest.
Bandrial took the throne, no heirs yet born to the young king. The day the sorceress took the throne; a veil of darkness swept Aurora, and hasn't left. The castle prophet came shaking into her throne room, the entire plot becoming coming clear to him now.
"You may have won your power Bandrial," The Prophet cried. "But there will be those who will strip it away."
"What do you speak of old man?" the new queen sneered. His eyes turned white and the prophecy chanted as such.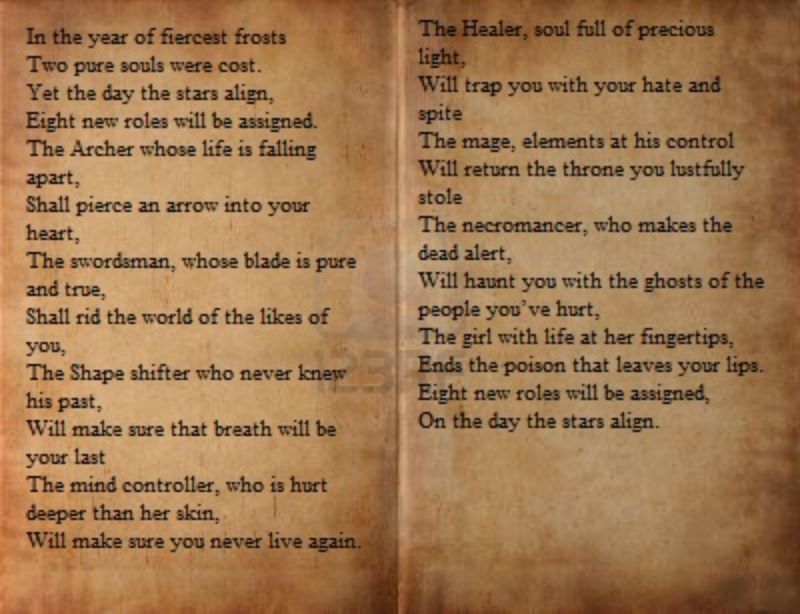 In the year of fiercest frosts
Two pure souls were cost.
Yet the day the stars align,
Eight new roles will be assigned.
The Archer whose life is falling apart,
Shall pierce an arrow into your heart,
The swordsman, whose blade is pure and true,
Shall rid the world of the likes of you,
The Shape shifter who never knew his past,
Will make sure that breath will be your last
The mind controller, who is hurt deeper than her skin,
Will make sure you never live again.
The Healer, soul full of precious light,
Will trap you with your hate and spite
The mage, elements at his control
Will return the throne you lustfully stole
The necromancer, who makes the dead alert,
Will haunt you with the ghosts of the people you've hurt,
The girl with life at her fingertips,
Ends the poison that leaves your lips.
Eight new roles will be assigned,
On the day the stars align.
Bandrial grabbed the old man up by his torn robes. "What do you speak of old man?" she hissed.
"I tell the story of your very fortunate demise," he sneered back. Bandrial began to laugh.
"And now that I know what makes you think that I'll be so stupid as to not fix it?" she asked.
"Because, the decision you make, have a funny way of turning on you," With that the old man morphed into a hawk and left. Leaving Bandrial to her worries. It would be 17 years before the stars would align; she decided to kill every newborn that was birthed that year, protecting her own skin.
What she didn't realize was each of the children was born the day she came into power.
- an excerpt from the Book of Eternal Knowledge.
This one mistake on Bandrial's part, leads us to your adventure.
On the day the stars align, a comet will lead overhead, marking those who would be heroes with a symbol on their hand. This day is coming soon my heroes. Prepare yourselves for the tasks ahead.
Gods and Goddesses
(Keep in mind each of the hero's have their own god they worship. I'll leave their names and lore up to you. Be creative!
The God of War- Worshiped by the Swordsman
The Goddess of the Hunt Worshiped by the Archer
The God of Death Worshiped by the Necromancer
The Goddess of Life Worshiped by the Animal whisperer
The God of Beasts Worshiped by the Shape-shifter
The Goddess of Wisdom Worshiped by the Mage
The God of Will Worshiped by the Mind Controller
The Goddess of Love Worshiped by the Cleric
Keep in mind you can create anything you want within these areas. Towns, villages, monsters. Please keep most creatures within fantasy creature guidelines.
Mallowpine Forest
These forests are a mystery to even the oldest resident of Aurora. They are filled with magical creatures of different varieties. The trees themselves have been rumored to have life to them, those who have to travel through the woods get lost in the ever changing landscape.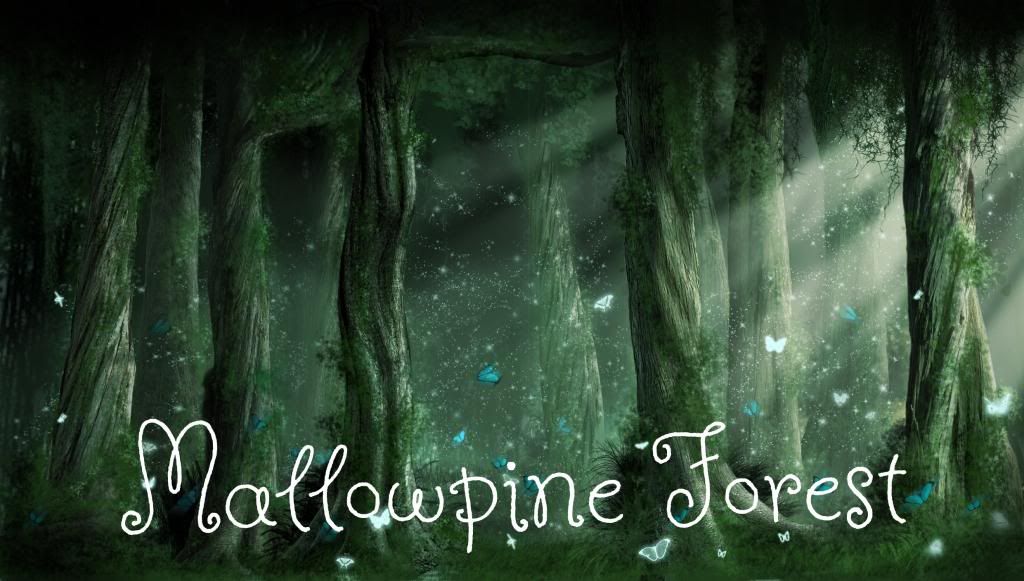 Northhedge Fields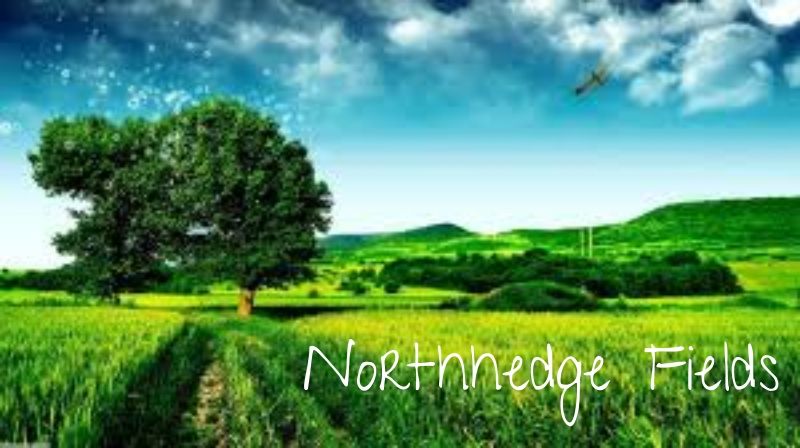 The Northhedge fields are used as a passing point between the other areas. It is a relatively safe area and is used for trade. There are many towns on the outskirts of the fields.
Sageburrow Desert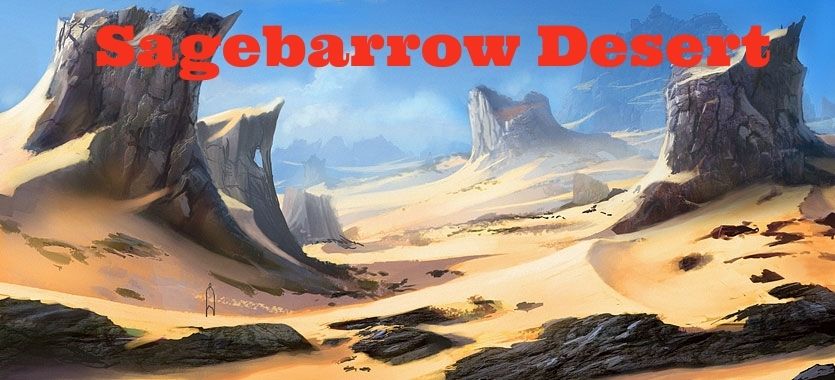 Many a soul has been lost to the blistering heat of the Sageburrow Desert. There are a few encampments, but mostly it is just predators, sun, and dehydration out there.
Napgliss Mountains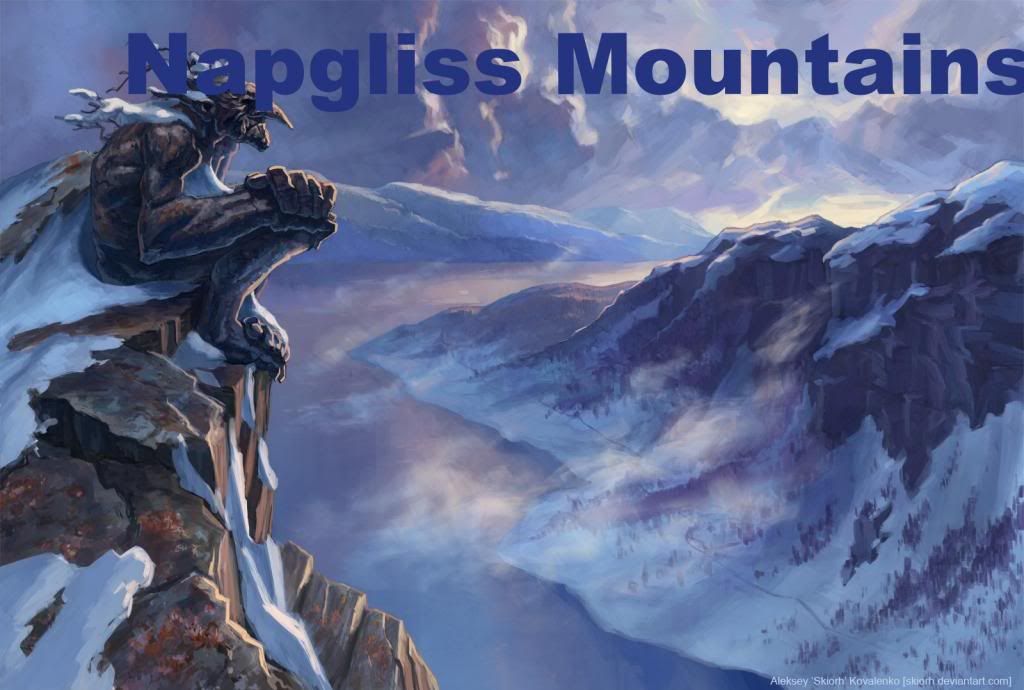 This is the coldest part of Aurora, many races make their homes in the mountains, they are hard to traverse and the cold is enough to keep many from traveling among the peaks. Many believe this is where the god's reside. It is on the other side of these mountains where Bandrial's castle is located.
Ironedge Marsh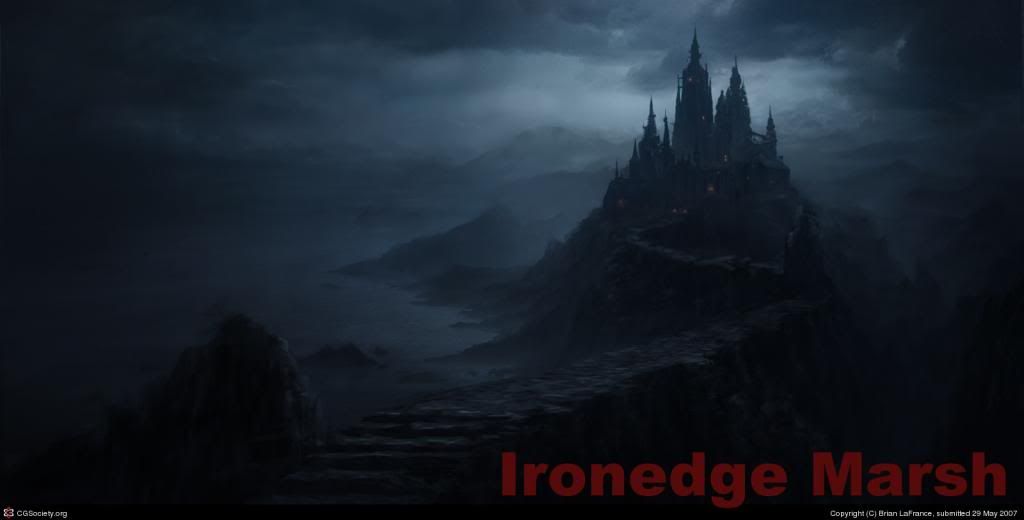 Poisonous gas, deadly creatures, inhabitable terrain and Bandrial's castle. There is nothing good in this area.
CHARACTERS
The 8 heroes in the prophecy above
all characters will grow in power through the role play. All powers posted are starting powers.
Not mandatory, but I would like to keep a good male to female ratio. The sexes in the prophecy above can be changed. They were written in as a place holder.
The Archer – TAKEN
Inhumanly good with a bow. Not good in up close combat, all melee combat is made to disarm and get away. No magical powers of any kind.
The Swordsman - TAKEN
One of the best swordsman in Aurora. Pretty much worthless from a distance. No magical abilities.
The Necromancer - TAKEN
Can hold his/her own in close combat. Can speak with the dead. Can raise one dead skeleton at a time they are pretty fragile.
]The Cleric - TAKEN
Not a great fighter. Healing magic consists of healing minor to moderate injuries. Can stanch severe injuries but not fully heal. Some light magic (shields, or light bursts)
The Shape-shifter - TAKEN
Can turn into any animal they have physically touched. Shifts can only last up to an hour, going over that has the chance of being stuck in animal form.
The Mind Controller-TAKEN
Can read thoughts and emotions of most people. With weaker minded people (sleeping, drunk ect) can implant thoughts or emotions. Can do some hand to hand fighting.
The Dark Mage- TAKEN
Not a great hand to hand fighter. Can control the four elements. Starting out it is not great feats. It is easier if the element is present.
The Animal Whisperer- TAKEN
Can speak to most animals, with feral animals he/she mostly gets emotions or feelings. Animals often come to aid them in battle.
(Pm me for these positions below. I will allow you to have one of these and a hero if you can keep up with it, but keep in mind that these character could quite possibly die.)
Bandrial- ShadowSeductress
Her four Main Minions
1. TAKEN
2. TAKEN
3. TAKEN
4 TAKEN
Other Characters:
The Bard: TAKEN
Character Skeleton
Name
Age: (If you are a hero it is 18)
Gender:
Sexuality:
Role:
Powers:
Skills:
Weaknesses:
Fears:
Likes:
Dislikes:
God: (include lore and your characters feelings on said god.)
History:
Family:
Hometown:
RULES
Please abide by all RPG rules and regulations

All reservations are for 24 hours. Extensions may be given if you contact the GM. No extension goes beyond 48 hours.

If you have not posted in 3 days, and I have not heard from you I will assume you are gone and your character will be killed or given away. The prophecy can go on without all the heroes but it works best if all characters are alive and fighting. Please only submit a character if you are dedicated enough to see this through till the end.

The GM has the ability to refuse a character if the writing character sheet does not meet standards. I will take your character sheet as an example of what your posts will look like. I need legible, well written posts. Write in your reservation the sex you want for your character.

All reservations are to be done in the OOC thread or by PM. Please post a joke somewhere in your post so I know you have read all the rules.

Most importantly, have fun. I am sorry if the rules seem harsh, but I really want a smooth run
Taking place in...
Arcs are bundles of posts that you can organize on your own. They're useful for telling a story that might span long periods of time or space.
There are no arcs in this roleplay.
There are no quests in this roleplay.
Here's the current leaderboard.
There are no groups in this roleplay!
Welcome home, Promethean. Here, you can manage your universe.
Arcs are bundles of posts from any location, allowing you to easily capture sub-plots which might be spread out across multiple locations.
You can create Quests with various rewards, encouraging your players to engage with specific plot lines.
Settings are the backdrop for the characters in your universe, giving meaning and context to their existence. By creating a number of well-written locations, you can organize your universe into areas and regions.
Navigation
While not required, locations can be organized onto a map. More information soon!
There are no groups in this roleplay!
By creating Collectibles, you can reward your players with unique items that accentuate their character sheets.
Once an Item has been created, it can be spawned in the IC using /spawn Item Name (case-sensitive, as usual) — this can be followed with /take Item Name to retrieve the item into the current character's inventory.
Give your Universe life by adding a Mob, which are auto-replenishing NPCs your players can interact with. Useful for some quick hack-and-slash fun!
Mobs can be automated spawns, like rats and bats, or full-on NPCs complete with conversation menus. Use them to enhance your player experience!
Current Mobs
No mobs have been created yet.
Locations where Mobs and Items might appear.
You can schedule events for your players to create notifications and schedule times for everyone to plan around.
Add and remove other people from your Universe.
The Forge
Use your INK to craft new artifacts in Prophecy. Once created, Items cannot be changed, but they can be bought and sold in the marketplace.
Notable Items
No items have been created yet!
The Market
Buy, sell, and even craft your own items in this universe.
Market Data

Market conditions are unknown. Use caution when trading.

Quick Buy (Items Most Recently Listed for Sale)
None
Discussions
Topics

Replies
Views

Last post
Most recent OOC posts in Prophecy
There have been no posts in the OOC topic for this roleplay!