---
---
---




Name: Toran
Age: 28
Gender: Male
Sexuality: Heterosexual
Role: Minion/Mage Hunter/Champion of the Goddess (This is what he considers himself)


---
---




Powers:
Annulment: Toran was raised to kill those who have magical talents. Using a mixture of runes, chants, and natural resistance, Toran can disrupt and even stop magical attacks. The stronger the spell the harder it is to annul with direct damage spells (Fireballs, Mind Control, etc) being the easiest for him to disrupt.

Skills:

Resistant: Toran has a natural resistance to magic which is what made him a target for his training in the first place.
Melee: Toran is an extremely potent warrior having spent his entire life training to be Her weapon. He is one of the greatest warriors in Bandrial's service.
Torture: Toran has experienced much of this growing up and enjoys allowing others to experience it.
Rune Lord: Toran can create, use, and manipulate complex runes.
Chants: While in combat Toran chants a pray to Bandrial constantly. While, the chant itself, does nothing it does aid him. The act of chanting keeps his mind on the task so strengthening his mental resistance as well as being unnerving for the foe. Such is Torans dedication and discipline that when wounded he will not scream and, instead, merely chant.

Runes Info: Runes are letters written in an ancient language and infused with magic which allow people who do not have magic, such as Toran, to be able to use it. Runes are extraordinarily difficult to make with even basic ones taking months to forge. A single piece of equipment can only contain one rune as any more than that would cause the item to explode in a torrent of magical energy and kill whoever was working on it.

Weaknesses:

Obsession: Toran loves Bandrial to the point of obsession. Should any insult Her or dare impede Her divine honor; he would fly into a uncontrolled rage. This is terrible in court due to the attention of others. Bandrial is a seductress and so constantly bestows favors on others. For other wretches to attempt to get close to Bandrial is unforgivable, as such he will attempt to have them killed, slowly. As they are favored by Bandrial; he cannot merely attack them, instead he will plot for weeks on end and wait for that perfect chance to cut them down. Should Toran run into a woman who is beautiful or one who resembles Bandrial he will disfigure their faces before killing them as nothing can exist that draws away from Her glory. His perversion extends even to corpses as even a dead beautiful woman is not allowed to be such. This makes dealing with Toran extremely difficult for any save Bandrial.

Sadist: Toran enjoys hurting others. It is euphoric, and he will prolong a fight simply to watch his opponent suffer when he should simply finish them off.
Discipline: Because Toran was schooled in the arts of combat and the idea of 'perfection' it is very hard for him to adapt to new situations. Should such a thing occur; Toran will generally lash out and attempt to kill whatever is causing the disruption.
Self-Loathing: Toran constantly berates himself on his looks, his skills, even his 'impurity'. For he is a maggot that disgustingly tries to cling to the feet of Bandrial.
Deformity: The left half of Torans face is a mass of burn scars. He is self-conscious of it and so constantly wears his helm especially around Bandrial as he would never force her to have to look at him. Should his helm be knocked off; Toran would hide his face or dive for his helm making him extremely vulnerable at that point.

Weaponry:

Khadon: Wroth. It is a longsword that has the Rune of Flame inscribed onto the hilt. It causes the sword to become alight with blue magical flames when Toran calls its name. The flames cannot be put out until sheathed as the sheath has the Rune of Silence inscribed on it. This blade personifies his sadistic nature as should he cleave off someones arm it will cauterize the wound allowing the person to stay alive and continue to enjoy his 'touch'.

Var'shon: The screaming blade. It is a dagger that drips a sickly red liquid resembling blood. Should someone be cut by the dagger their body would feel as if fire ran through their veins. It would not kill, but the pain would be unimaginable. Such is its name. First comes the cut then, then comes the screams.

Shun: His breastplate has the Rune of Annulment on it. When the command is spoken, the rune begins to disrupt magic in the area; it also gives him a high resistance to magic.

Tun: This Rune is placed on his Boots and is called the Rune of Feathers. The rune is always on and makes his armor lighter making it easier to move and allowing him to surprise opponents with how nimble he is despite his full-plate armor.

Vul: Crush. The Rune of Power is inscribed on his gauntlets and when activated greatly increase his physical strength.

Ka'Shun: Mind Annulment. This rune is much like the Rune of Annulment but specializes against magic that attack against the mind. It has the added bonus of making the helm more comfortable to wear as Toran, rarely, if ever takes it off. Only to sleep (And only indoors with the doors sealed), or should She ever command it.


---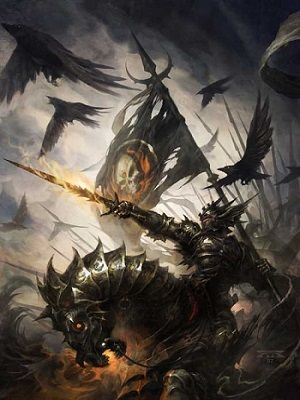 ---




Fears:
- Rejection: The ideas of being unwanted by Bandrial is his deepest terror.
- Revolting The look on others when they see his face bites deeply to the point where Toran no longer reveals his face.
- Death: Toran has seen enough of it to fear it.
- Bandrial: Not herself, but the prospect of her loving another.
- Hunger
- Defeat: To be defeated is to have failed Bandrial.
- Water: Toran cannot swim.

Likes:
- Bandrial
- Wine/Ale/Spirits
- Killing
- Torturing
- Creating Runes
- Snow
- Being noticed by Bandrial
- Children, but he will still kill them if commanded.
- The Stars
- Dogs/Horses

Dislikes:
- Any who Bandrial shows favor to
- Those who deny Bandrials Divine Right
- Water
- Fire. He once feared it, but now he hates it. Fitting that it should be the thing that slaughters his foes.
- Himself
- Sunlight/Heat
- Tomatoes
- Korak, a pathetic creature that contiunes to try and raise himself above the level of maggot, but he forgets. All are maggots before Her.
- Being wounded
- Books. Toran cannot read and envies those who can.

God: Bandrial, while Bandrial is not truly a God, and instead and incredibly powerful Sorceress, Toran considers her to be. He will often pray to Her and chant to Her while in combat for She is perfection. She is his Goddess, his reason for existence, the core of his obsession. Toran believes that Bandrial is omnipotent and could see anyone anywhere which means he believes that through great services and slaughter he can attract Her attention. He would happily slaughter an entire village if he believed it would make Her look at him for a moment.


---
---




History:

Toran has no recollection of his parents nor where he was born, but all have parents even should they not know them. Toran's mother was a small village 'girl of the wash' or simply a woman who washes the local lords clothing in return for a few coppers, but this was a charming young peasant who attracted the attention of the old lord. Desiring the young woman, he approached her offering her a pouch of coins only to be turned down. Enraged that a lowly peasant would dare refuse him; he took her there in the middle of the foyer. Fitting that such a man was born of such a union. Despite the young girls best efforts the child was born on a cold winter day and around the babe was a sense of wrongness. It was not a fortnight later that the girl was approached by a hooded figure offering a bag of gold for the infant. It was far more gold then the young girl would ever see, and so she accepted for she had planned on throwing the babe into the river and be done with it, and so young Toran was taken from his mother into the embrace of the cloaked figure that reeked of death.

The hooded figures name was Haldred, a man who ran a secret training facility for Bandrial, the goal was simple to make a warrior capable of slaying enemy magic-users. Scouts scoured the land for babies born with a resistance to magic which was an incredible rare trait. In the entire realm, only seven were found. The seven children, including Toran, were all given names. Names to remind them of their place. Toran, in the old tongue, means worm for that is what he is. They needed a powerful warrior, but the warrior had to be properly broken like a good slave for there was nothing more loyal than a broken slave.

Day and night Toran was told of Bandrial the benevolent, powerful woman who stood upon the top of the world by old men who huddled over the cradle, and indeed, his first word was Bandrial as it should be. 'Conditioning' is what they called it, and at age six the combat training began. At first it was simple, but two children into a pin and force them to fight. The one who lost did not eat. If they both did not fight, neither ate. A child has no true conception of defiance, and after starving for a few nights, the children learned to win for losing meant another night of pain.

Year after year the training intensified, and so did the punishments. Whipping, cutting, starving, burning, carving... such were the punishments for disobedience or defeat. Many times the 'instructors' would 'believe' the child was harboring thoughts of disobedience and would be tortured. Karso, Flea, was the only child to ever attempt to escape. The instructors unleashed dogs upon the nine year old boy and brought him back bleeding and limping. To make an example out of the boy they had him flayed alive and then hung in a tree for weeks as the birds and bugs ate away at his rotting corpse.

Despite the cruel world they lived in, the children developed bonds with each other. They were all 'friends' as they were all each other knew. Toran can still remember huddling in the dark in the scraps of clothing that clung to their bodies as they tried to stay warm through the winters. Secretly sharing food with the losers from the night before... but the 'instructors' had counted upon that fact, and they continued to feign ignorance as they trained them with weaponry from staves, to blades, to axes, to bows.

Then at the age of fifteen the fragile world they had built crumbled to pieces. The 'instructors' were men, and there was one female among Toran's group. Varth, slut, was the first girl Toran had ever met. She had long black hair and bright blue eyes, and she would always preach about as long as they had each other. Varth and Toran, then everything would be fine. She was the only person Toran had ever truly loved besides Her, and on a rainy night. The old men took her and forced them to watch. The old men were not fools and had purposely starved them the days earlier. The teens had no way to see it coming as being starved on purpose was something they did on occasion, but because of that they did not have the strength to oppose them as they took her screaming out of the cell and onto the ground, all of them save for Toran. Lashing up, Toran used the only weapon he had, his own teeth, to tear out the throat of the man who first tried to grab Varth. Toran can still see the old pathetic wretch chocking on his own blood and that iron taste that filled his mouth... but he was beaten down, and then his face was pushed into the coals of the fire. The smell of burning flesh, the sounds of his screams undercut by Varth's sobs and the grunts of old men were beyond what the mind of a young teenager can endure, and Toran's mind broke.

From then on, Toran was a shell of his former self. He killed when ordered even the other children whom he loved, and on his eighteenth year he was congratulated as the last surviving member of the original children, and the one to take him... and save him was Her. Oh, he could still remember the way she looked with the black gown that seemed to ripple like waves at every move. The soft voice that welcomed him, but it was the command that made his soul return to his body. Wanting to ensure his loyalty and obedience she ordered him to kill the instructors... How they pleaded and begged for their pathetic lives as he cut each one down and with each blow his mind was filled with conviction and for the first time in his life, Toran felt alive. Afterwards he threw himself at Her feet and found his salvation.

In the capital, and in civilization, Toran quickly learned how revolting he looked. He had never been around many other people and so had no true definition of handsome, the old instructors and the dirty other children were the normal for him. The men She looked at... the men She smiled at were so much better looking then he who caused children to scream and women to look away in disgust... and he began to hate. Hate himself for being ugly and the men for grabbing Her attention away from him. In the darkness of civilization, bitterness and envy filled Toran's heart that only bloodshed could cure.

How many men, women, and children had he killed in the decade following? How many people that She looked at too long? How many villages burned? It does not matter. All that matters is Her. For only She is eternal.

Family: None. Toran was an orphan. His only 'family' were the other orphans at the 'training' camp, and they are all dead. Some by his own hand.

Hometown: Unknown.