Saniana Linny Coldyk
Gender:
Female
Age:
18
Birth date:
February, 11 1994
Blood type:
A+
Sexuality:
Straight
Role:
Protected Female Student
---
Appearance:
Saniana is in general quite a pale girl, though not too pale, and often looks quite normal. She's an average girl with red hair. She has amber coloured eyes and her hair reaches until her shoulder blades, so it isn't that long. She has a slender form, not too think and not too thin.
Personality:
Saniana is generally cheerful, friendly, and helpful. She is optimistic, but not without downfalls, however. She values her friends very much and would always be troubled if they are not on good terms. She doesn't feel well when she lies and would always do anything to make up for whatever her mistake. She is hard working and loves music and playing the violin. She doesn't usually concern herself with romance but she reacts when asked about who she likes among her fellow concours participants.
Skills/Abilities:
Saniana loves music, and is very skilled at playing the violin. She enjoys playing the violin, and practices a lot when she can. She can also cook quite right, it isn't bad but she sometimes makes tiny mistakes in recipes.
Likes:
*School
*Learning
*Music
*Nature
*Animals
Dislikes:
*People distracting her
*Bullies
*Too loud noises
*Making mistakes in front of the class
*Arriving late in class
Fears/Phobias:
Spiders; They freak her out, but she respects them.
Disappointing her family and teachers.
---
History:
Saniana was never a bad girl, well almost never, and always enjoyed school. She often got good marks, and hardly ever got bad marks, making her parents and teachers proud. Her family went on holidays with her a lot in vacations, and she often enjoyed it. She's been to many places and loved to see the nature and animals around those places. She has always been fascinated by animals and nature, she doesn't really know why, she just is. She never really found someone to love though, it didn't bother her at all, but sometimes it made her feel lonely when she saw couples in school. She hangs out with her friends when she can, and growing older, her parents were very proud of her, but no major events happened in her life. She still lives with her parents and goes to school everyday.
Family:
Father; Kind guy, police officer, so she doesn't want to get in trouble with the police. Very protective over his daughter.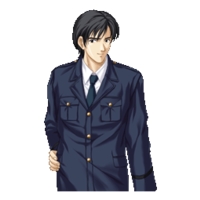 Mother; Kind, caring. She cares for her daughter and husband.
Theme Song:
Natasha Bedingfield - Unwritten
"Unwritten"
I am unwritten, can't read my mind, I'm undefined
I'm just beginning, the pen's in my hand, ending unplanned
Staring at the blank page before you
Open up the dirty window
Let the sun illuminate the words that you could not find
Reaching for something in the distance
So close you can almost taste it
Release your inhibitions
Feel the rain on your skin
No one else can feel it for you
Only you can let it in
No one else, no one else
Can speak the words on your lips
Drench yourself in words unspoken
Live your life with arms wide open
Today is where your book begins
The rest is still unwritten
Oh, oh, oh
I break tradition, sometimes my tries, are outside the lines
We've been conditioned to not make mistakes, but I can't live that way
Staring at the blank page before you
Open up the dirty window
Let the sun illuminate the words that you could not find
Reaching for something in the distance
So close you can almost taste it
Release your inhibitions
Feel the rain on your skin
No one else can feel it for you
Only you can let it in
No one else, no one else
Can speak the words on your lips
Drench yourself in words unspoken
Live your life with arms wide open
Today is where your book begins
Feel the rain on your skin
No one else can feel it for you
Only you can let it in
No one else, no one else
Can speak the words on your lips
Drench yourself in words unspoken
Live your life with arms wide open
Today is where your book begins
The rest is still unwritten
Staring at the blank page before you
Open up the dirty window
Let the sun illuminate the words that you could not find
Reaching for something in the distance
So close you can almost taste it
Release your inhibitions
Feel the rain on your skin
No one else can feel it for you
Only you can let it in
No one else, no one else
Can speak the words on your lips
Drench yourself in words unspoken
Live your life with arms wide open
Today is where your book begins
Feel the rain on your skin
No one else can feel it for you
Only you can let it in
No one else, no one else
Can speak the words on your lips
Drench yourself in words unspoken
Live your life with arms wide open
Today is where your book begins
The rest is still unwritten
The rest is still unwritten
The rest is still unwritten
Oh, yeah, yeah