Name
: Faith Mackenzie
Age
: 30
Gender
: Female
Appearance
: Shoulder length dark brown hair cut in a choppy style, dark brown eyes, long and narrow face. Five feet eight in height with an athletic and slender build. In physically very good shape, her build reflects this as she has enough curves to show her as being female but not much more. Small bust and hips and trim figure shows her as being on the healthy side of being thin. Her skin is normally slightly tanned from her time spent outside on her various missions. She has various scars due to injuries received in the line of duty. She has one scar on her shoulder from a knife wound and another on her thigh from a phase pistol. She also has one scar on her face, slanting diagonally from the bridge of her nose to the the top of her right cheekbone, which is another knife wound.
Skills
: Military trained in armed and unarmed combat, Experienced leader, Specialist training in interrogation and intelligence gathering.
Psychic Ability
: Telepathy - Can hear the thoughts of others. Faith hears a constant background noise of the thoughts of those around her but over the years she has managed to learn how to ignore it and only focus on it when she wants to. She can hear the surface thoughts of others around her within a large radius but only the surface thoughts (what someone is thinking about at that moment) However with skin contact she is able to perform a deep scan in which she can penetrate the deepest recesses of the mind. She has honed this over the years and is adept at pushing past the minds natural barriers to reach what she wants. There are times where she is unable to read someone and that is when she uses her influence ability or interrogation skills.
Influence - Another aspect of her psychic ability is the ability to influence others effectively overriding their willpower for a short time. She has to make eye contact to use this aspect of her ability and can only use it on one person at a time. She can influence almost anyone to do anything but there are some who have either a natural defence or there willpower is simply too strong.
Combat Reading - As a side effect of her telepathy Faith can predict how someone will act before they perform their action, this is because people always think their action before doing it even if this is on a subconscious level. Faith's psychic talent transform's this thought into an image of the person performing the action seconds before it actually happens. This allows her to react to the actions before they can do her any damage. This only works during combat situations however and Faith has no precognitive abilities.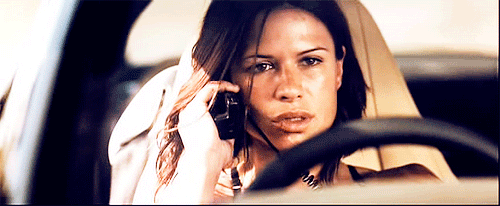 Faith carries mostly standard military issue equipment but she has her own preference on which equipment she chooses to use. She carries two phase pistols as she prefers their accuracy over the heavier yet faster models. She does carry a phase rifle as she recognises that some situations require the messier approach.
She also carries a knife in each boot as the ultimate last resort.
Faith is a strong willed and determined woman who does not allow anything to get in the way of getting the job done, she can be cold and ruthless when the job demands it. She is able to switch off her emotions and this allows her to do things, such as interrogate criminals, without the emotions getting in the way. She has learned during her years in the military that being soft only gets you dead and as such she strives to always maintain a professional and objective view to whatever her current mission is. She is known in the PSEA as one you can rely on to get the job done no matter how difficult it is or how high the odds are stacked against you.
But underneath this hard exterior lies a warm blooded woman like any other, she feels just as anyone else does and in some ways more so than others. Having access to people's deepest thoughts means that she cannot help but feel strongly. Switching off her emotions in order to do her job effectively also has the drawback of her feelings rebounding on her later and being much stronger by being repressed. She keeps these strong emotions under iron control and only those closest to her ever sees her let them out. However those she trusts are few and far between. Most of those she called friends have died in action.
She is generally seen to others as either coolly professional or dry and sarcastic, the latter becoming stronger the more stressful the situation. She has a very morbid sense of humour and finds things amusing that others would be disturbed by. This is a legacy of being a soldier and having to find a way to deal with the unpleasant and dangerous things they see on a daily basis.
She may not know her new team yet but they will soon learn that she is dedicated and loyal to those she works with and will not put them in unnecessary danger or risk. She expects no more of others than she does of herself and would never ask her team to do something she wouldn't. In time she hopes to form a bond with her unit, perhaps even a friendship yet she knows this will be difficult with her normal demeanour. Perhaps if she knew another way of life she would leave the military and begin again, try and have a normal life and even a relationship. But no matter how lonely she is deep down, her job is the only thing she knows.
Faith was born on one of Earth's outermost colonies and as such during her early life she knew very little about Earth, except that it was of course her people's homeworld and where the important people lived. Her parents were farmers and that was all that Faith was told to expect from her life, they were out in the reaches of space and as a relatively new colony there was little in opportunity's for someone to grasp. Her life changed dramatically however when she was still young enough not to care about her future. Though technically humanity was not at war with anyone there were still races out there who thought humanity's colonies were fair game. Mostly alien criminal organisations or warrior races who were not part of the treaty's that kept peace in the galaxy.
One such group were the pirates in that area, they specialised in raiding colonies and selling their haul to bidders on the galactic black market. They had no qualms on what was sold and they had been known to sell people as slaves. In this case when they raided Faith's colony it was for slaves to sell to other races or for other equally unpleasant reasons. They attacked the colony and being so far from Earth the people there were vulnerable and helpless and had no one to help them. The colony was also still small enough that the pirates could raid it and not attract attention for quite a while. By the time Earth heard of the attack the pirates were long gone and the colony was in ruins.
The colonists taken by the pirates were separated and those discovered to be psychic were sold on the black market to an alien organisation who wanted to study the evolved humans. She was kept prisoner by them for years as they studied her and experimented with her abilities, wanting to understand how she did what she did. She was kept by them for five years until she was fifteen and by then she had almost completely forgotten her previous life on the colony. She was almost sixteen when the complex where she was held was attacked by the government of that aliens who held her. They and a human task force had discovered the complex and agreed to work together to shut it down.
Faith and the other prisoners were rescued and taken to Earth where she spent years in rehabilitation recovering physically and psychologically from her ordeal. During this time she was adopted by one of the soldiers who had rescued her, he and his wife helped her recover and raised her the last of the way to adulthood. Though she will always remember her ordeal she managed to move past it and become a functioning individual, she felt a burning drive to make a difference to stop others from experiencing what she had. She joined the military when she turned twenty and quickly proved herself to be an excellent soldier. She spent years in various hot zones before joining the PSEA where she headed a unit based in a system near sol.
Her unit was killed however on a mission gone wrong and she only just survived, though some suggested retirement at that point or a leave of absence she refused to let them win, she saw quitting as doing just that, and continued working for the PSEA, she worked as a lone operative for a time (that was when she first met and worked with Mal Reynolds. Now she has taken command of a unit again with Mal as her second in command.