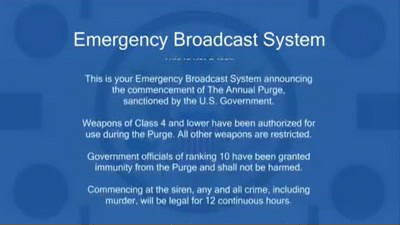 ---
CONTENT WARNING: soft gore and bloody images below
---
xx
Xx
xx
Xx
xx
Xx
xx
Xx
xx
xx
xx
xx
xx
xx
Xx
xx
Xx
xx
Xx
xx
xx
Xx
xx
Xx
xx
Xx
xx
Xx
xx
Xx
xx
Xx
xx
Xx
xx
Xx
xx
Xx
xx
Xx
xx
Xx
xx
Xx
xx
Xx
xx
Xx
xx
Xx
xx
Xx
xx
Xx
xx
Xx
xx
Xx
xx
Xx
xx
Xx
xx
Xx
xx
Xx
xx
Xx
xx
Xx

xx
Xx
xx
Xx
xx
Xx
xx
Xx
xx
xx
xx
xx
xx
xx
Xx
xx
Xx
xx
Xx
xx
xx
Xx
xx
Xx
xx
Xx
xx
Xx
xx
Xx
xx
Xx
xx
Xx
xx
Xx
xx
Xx
xx
Xx
xx
Xx
xx
Xx
xx
Xx
xx
Xx
xx
Xx
xx
Xx
xx
Xx
xx
Xx
xx
Xx
xx
Xx
xx
Xx
xx
Xx
xx
Xx
xx
Xx
xx
Xx

THIS IS NOT A TEST, THIS IS YOUR EMERGENCY BROADCAST SYSTEM. Announcing the commencement of the annual purge sanctioned by the U.S. Government. Weapons of class four and lower have been authorized for use during the purge. All other weapons are restricted. Government officials of ranking 10 have been granted immunity and shall not be harmed.

Commencing at the siren, any and all crime (including murder) will be legal for 12 continuous hours. Police, fire, and Emergency Medical services will be unavailable until tomorrow morning at 7:00 a.m. When the purge concludes. Blessed be our new founding fathers and America... A nation reborn. May God be with you all.
_____________________________________________
It's been over a decade since the first purge. For many it was hard to remember what life was like before. The nation divided between the purger's and the purge-nots, but people are finding that eventually the lines start to blur. The purge was not going anywhere, and when humans couldn't overcome – they adapted.

The wealthy stayed in their homes, safe behind their top of the line security. If they were fortunate enough they could nab a ticket to an elite Purge gala where the 1% came together to relish in their privilege. There were always the few who went out armed to the nines, usually in a group, just for kicks. Families and small business owners of lesser means often huddled behind whatever barricades they could create, just trying to survive.

Among those who participate in the purge, most tend to default in one of the following roles:

Gangs, after all there's strength in numbers. These folk can be friends, coworkers or maybe even just strangers having a good ole time. Some have specific objectives, others might be more invested in creating a spectacle to sow terror while some just want to destroy. Over the years some gangs have become a permanent fixture in their local purge, creating unspoken boundaries into different territories – though the rules are there more for breaking.

Medics often allied with one another, they communicate via radio during purge night to stay in contact. Some create a makeshift camp somewhere to provide aid while other ride around in a makeshift emergency vehicle. There is no law preventing anyone from killing medics, though most tend to avoid it. Many of them are familiar with those who participate in the purge and the members of the community so they hold a special rank that others project to them by default.

Vigilantes There's always someone who want's to play hero. There are some known figures and operations across the nation such as The Vanguard, a group of radical justice purgers who focus on murdering those they deem as "truly evil", compiling lists through cross referencing several databases to procure the names.

Workers There are people who make most of their annual income on Purge night, creating an off-the-books business for 12 hours once a year. The biggest operation is the Carnival, an annual tradition in many cities on Purge Night.
A once a year off the books operation where people pay top dollar to live out every deviant fantasy. There are several perverse attraction such as a shooting range with living human targets, an auction house where you can buy victims and several torture and murder attractions you can rent out to take them to. Whether you're working security, collecting individuals to auction off or working one of the attractions – the Carnies were a bit like a family. Coming together every year to help feed into everyone's worst desires.
---
---
Wilder Hughes || 25 || Painter of the Macabre ||
fc.codyfern
|| Ivisbo
Jac da Trigga || 26 || Leader of Las Serpientes || fc.kehlani || Rosa



Manny Herrera || 28 || Serial Killer Let Loose || fc.zachvilla || Rosa



Malfyre || ? || Hacker in the Vanguard || fc.billieeilish || Wolf



The Shrike || ? || Vigilante || fc.cillianmurphy || Ivisbo



TBD || 19 || Jab Molassie || Ash Stymest || Char



Paxton James || 26|| Hedonistic Participant || Dylan Obrien || Char



character name || age || role || fc

1. First and foremost - this will be a violent RP, likely gratuitous violence. This is meant to cover the 12 hours of the purge so in that sense will be a "one-off" rp. It's the spooky season so I wanted to create something where we can all just have fun with it.
2. While murder and gratuitous violence in encouraged, any other crimes of similar caliber must include content warning as well as fade to black
3. Do not murder or assault anyone else's character without their permission.
4. I do not have a set overall plot for this roleplay. I will be creating some storylines that everyone is welcome to collaborate one.
5. We love drama! Just keep it in character.
6. No godmodding or powerplaying, keep it fun for everyone
7. Feel free to collab, check out the gangs and organization OOC for some ideas and get up in that plot!
8. If you have any other questions feel free to ask!
Taking place in...
0 posts here • Page 1 of 1
0 posts here • Page 1 of 1
Arcs are bundles of posts that you can organize on your own. They're useful for telling a story that might span long periods of time or space.
There are no arcs in this roleplay.
There are no quests in this roleplay.
Here's the current leaderboard.
There are no groups in this roleplay!
Welcome home, Promethean. Here, you can manage your universe.
Arcs are bundles of posts from any location, allowing you to easily capture sub-plots which might be spread out across multiple locations.
You can create Quests with various rewards, encouraging your players to engage with specific plot lines.
Settings are the backdrop for the characters in your universe, giving meaning and context to their existence. By creating a number of well-written locations, you can organize your universe into areas and regions.
Navigation
While not required, locations can be organized onto a map. More information soon!
There are no groups in this roleplay!
By creating Collectibles, you can reward your players with unique items that accentuate their character sheets.
Once an Item has been created, it can be spawned in the IC using /spawn Item Name (case-sensitive, as usual) — this can be followed with /take Item Name to retrieve the item into the current character's inventory.
Give your Universe life by adding a Mob, which are auto-replenishing NPCs your players can interact with. Useful for some quick hack-and-slash fun!
Mobs can be automated spawns, like rats and bats, or full-on NPCs complete with conversation menus. Use them to enhance your player experience!
Current Mobs
No mobs have been created yet.
Locations where Mobs and Items might appear.
You can schedule events for your players to create notifications and schedule times for everyone to plan around.
Add and remove other people from your Universe.
The Forge
Use your INK to craft new artifacts in Purge: A Nation Reborn. Once created, Items cannot be changed, but they can be bought and sold in the marketplace.
Notable Items
No items have been created yet!
The Market
Buy, sell, and even craft your own items in this universe.
Market Data

Market conditions are unknown. Use caution when trading.

Quick Buy (Items Most Recently Listed for Sale)
None
Discussions
Topics

Replies
Views

Last post
Most recent OOC posts in Purge: A Nation Reborn
There have been no posts in the OOC topic for this roleplay!