xxxxx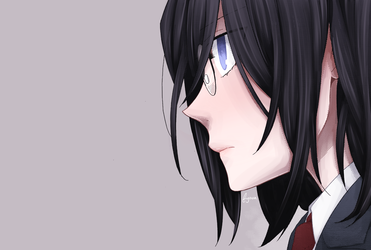 XX
XX
XX
XX
XX
XX
XX
XX
XX
XX
XX
XX
XX
XX
XX
XX
XX
XX
XX
XX
XX
XX
XX
XX
XX
XX
XX
XX
XX
XX
XX
XX
XX
XX
XX
XX
XX
XX
XX
XX
full name - sato jirou 佐藤 次郎 ; age - seventeen ; sexuality - homosexual
face claim - miyamura izumi, horimiya ; creator - cl.love
xxx
xxx
xxx
i've been sleeping with this silence in my mind,
xx
❋
XX
A p p e a r a n c e
Not much stands out in Jirou's appearance. He has a slightly-above-average height of 170 centimeters and whilst not a body-builder by any means, he has good strength, stamina, and flexibility. ( ͡° ͜ʖ ͡°) He doesn't quite excel at sports but he does often put more effort in than his classmates. Jirou's skin is pale but clear, blemishes hidden under a barely noticeable layer of makeup. His hair is black, perfectly straight, and long, hanging just past his shoulders.
xx
Jirou is very careful with how his appearance influences his public image. At school he's almost invisible- clean uniform fitting all school guidelines, thin-wired glasses, hair kept loose but neatly combed. Jirou has tight control over his expressions in almost every situation, the exception being when he's angry. His sharp glare could probably kill and when he can be incredibly intimidating when he wants to be. It's just that normally, he doesn't want to be.
xx
In the Red Light District, however, it's almost like Jirou is an entirely different person. He often wears his school uniform while there in order to draw in customers but abandons the studious look- sleeves and pant legs rolled up, open buttons, and contact lenses to avoid his glasses being accidentally broken. Jirou is a master manipulator and when he's trying, he can be more seductive than even some of the younger working girls, a gift in his line of work.
xx
XX
P e r s o n a l i t y
As with his appearance, Jirou is also careful of how he acts around others. Or as careful as he can be, at least. Jirou is easily angered and wears his emotions on his cheek- he's not skilled enough to hide his emotions entirely, and if they will show clearly if strong enough, but Jirou does know how to bite his tongue and shut up. This is mostly due to the necessity of keeping a low profile in school. He's polite but distant from others, having made it clear from freshman year that he's not the making-friends type, and with that established, most of his classmates leave him be.
xx
Jirou, when not surrounded by classmates (and thusly, potential threats) he's a bit more open with his emotions, though not by much, and more often than not those emotions will be yet another mask for him to hide behind. Jirou is clever and manipulative as a result of his occupation, though not the type to take advantage of someone who isn't actively an asshole. He's observant and cautious, but he is kind and will help others when needed, if carefully so.
xxx
XX
H i s t o r y
Jirou was born to an older woman whose younger boyfriend bailed on her the second he knew she was pregnant.
Ai
, who had no partner and no relatives to help her, relocated to a cheap, one-room apartment- the place she and her son would come to live for the next seventeen years. She gave birth in the apartment with the help of a neighbor who was a retired midwife, and she named her son Jirou, in honor of her father. And thus, Sato Jirou's life began.
xx
From a young age, Jirou recognized that his mother was different from other people. She said strange things, saw people when Jirou did not, and sometimes lost track of what she was doing. Jirou quickly learned to cook and clean and take care of his mother as best he could. Ai had been a model student in her youth, had dreamed of becoming a college professor, and her greatest wish was for Jirou to be as accomplished as she was and be able to achieve his dreams where she did not. Jirou took her wish to heart and studied hard, working day and night to fulfill her vision.
xx
Ai's condition only worsened as Jirou got older. Her delusions became more pressing, emotional outbursts more frequent, and she eventually got fired from job after job after job. Unable to work, Ai stayed at home full-time, and while on some days she could cook and clean on her own, most days she relied on Jirou for everything. And so he was faced with a decision: institutionalize his mother so she could get help, or find a way to support them himself.
xx
It wasn't a difficult decision. The last thing he wanted was for his mother to be separated from him. As a minor, Jirou was at a loss on finding a job that would hire him, but after a loosely-defined sexual encounter with a horny male classmate, Jirou came to realize that there were a lot more ways to make money than he had yet considered.
xx
❋
xxx
character sheet and content by cl.love
xxx
xxx
xxx
xx